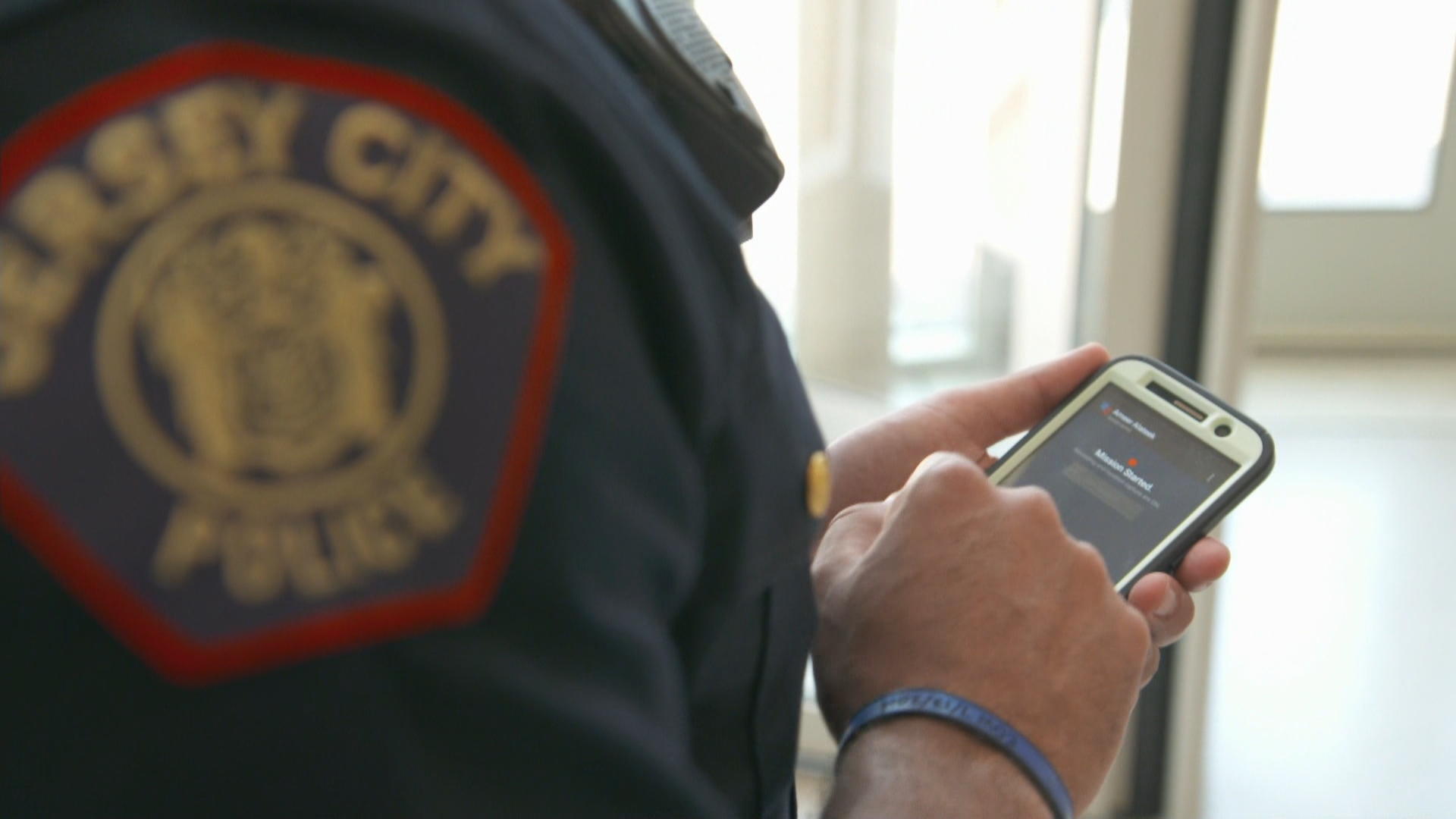 Jersey City police testing cellphone cameras as affordable alternative to body cams
Recent officer-involved shootings are increasing the demand for police body cameras, but high prices of those cameras are delaying new programs. In New Jersey alone, it would cost an estimated $88.5 million for the more than 35,000 officers in the state to have one. Instead of buying new cameras, police in Jersey City will be using cell phones.
When Officer Ameer Alateek prepares to go on foot patrol, he straps on his gear – which now includes a body camera in a cellphone, reports CBS News correspondent Anna Werner.
"Anytime I have a community interaction, the camera will be in use," Alateek said.
The police-issued cellphone is set to a mode that only allows it to function as a cop camera. The officer turns the camera on and the recorded footage streams directly to a secure server at the police department.
Jersey City is one of the first cities in the U.S. to try this less-expensive method to record officers' actions.
"When we started exploring body cameras, Google mentioned that, hey, they may have a solution that they've worked with elsewhere in the world. Would we be open to it? And we said, 'Yeah, we'll take a look,'" said Mayor Steven Fulop.
A sister company to Google, Jigsaw, developed the app, called CopCast. CopCast was created in partnership with the Igarapé Institute, a not-for-profit, Brazil-based think tank.
Mayor Fulop says the new system offers more data storage options than traditional body cams, which also helps lower the system's price by millions of dollars.
"So I think Jersey City is a great place to try innovative solutions to challenges in government," Fulop said. "It's big enough that you can actually see what happens and try different things and it's small enough that if it doesn't work, you can change and adapt."
Jersey City plans to roll out the cellphone cameras to all of its 932 officers in the fall.
The system isn't perfect. The department wants to make the cameras less bulky and lighter weight and Officer Alateek, who helped test them, admits not all residents liked being recorded.
"There are situations where there's service to calls and people kinda don't want the police there and we come in and we have the cameras on, they kinda get camera-shy and they don't wanna deal with us," Alateek said.
Fulop says, get used to it. He foresees a day when those phone cams might be worn by every Jersey City government employee who deals with the public.
"The quality of the service from our employees are gonna be top-notch. And I think that if anything slips, there's gonna be a chance to review that and correct it," Fulop said. "I think ultimately our goal is to deliver the best quality service possible."
ACLU privacy advocate Jay Stanley says that may be taking things a bit too far.
"Last time I checked there hasn't been any housing inspectors who have shot unarmed black men," Stanley said. "There's no reason to have the privacy problems that come with these cameras for government employees that don't have that power that police officer has to shoot and kill."

Still, Fulop defended using the cameras.
"When you're in a world of terrorist risk and security risks, that these sort of tools are important. It's just a reality of where we are today. So do I think that some people are gonna say, 'This is like big brother.' Yes. Do I think that ultimately this is where we end up from a technology standpoint for all police departments? Yes, as well," Fulop said.
For now, the cameras are staying within the police department and the department says it'll be focused on looking at recorded video after any incidents. But supervisors do have the capability to live stream the video and monitor it as it happens. The department isn't ruling out the possibility of using that capability eventually.
Thanks for reading CBS NEWS.
Create your free account or log in
for more features.