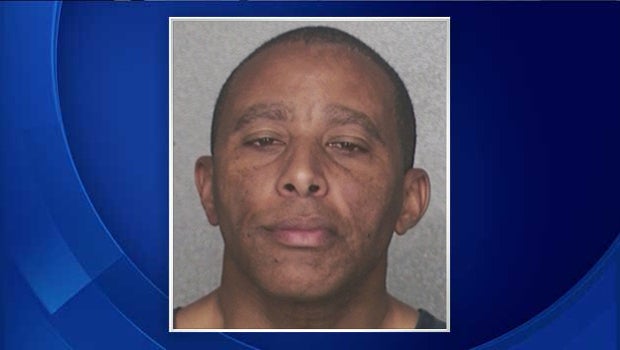 Florida police chief fired after prostitution arrest
DANIA BEACH, Fla. -- A South Florida police chief is out of a job after being accused of soliciting a prostitute who turned out to be an undercover deputy, CBS Miami station WFOR-TV reports.
Miami Gardens Police Chief Stephen Johnson was arrested in Dania Beach Friday evening. He bonded out hours later and had some words for the public.
"I want to apologize to the community, and I want to apologize to my elected officials," said Johnson. "Tonight was a very unfortunate situation for me dealing with an incident that occurred today. It just overwhelmed me. The stress overwhelmed me, and I made a very bad decision to deal with that moment that I have never experienced before."
Johnson blamed his actions on stress at work.
"When I saw two grieving families and the overwhelming issue to face them, it brought something that's totally out of character with me," he said. "And people know me. This is just not my character. Bad decision on how to deal with that, but I've never dealt with that kind of feeling before, so I can't even explain it."
A senior law enforcement source told WFOR-TV that Johnson allegedly solicited sex from an undercover Broward Sheriff's Office deputy posing as a prostitute.
The undercover team had put up an advertisement in the escort section of the website backpage.com with contact information, according to the arrest report.
That's when, deputies said, a man called the telephone number in the advertisement. During various conversations, the report states, the man "stated that he wanted to do everything" and "wanted [the woman] to wear heels since he had a fetish for heels."
The report also states the man was interested in having two women and agreed to pay $100 for 30 minutes. That's when the undercover deputy gave him the location and time to a Dania Beach hotel.
The man showed up to the hotel room just after 6 p.m. While inside, the report states, the man, later identified as Johnson, gave one of them $100 "as agreed upon during the telephone conversation."
Meantime, cameras captured the whole thing, according to the report. Shortly after that, deputies said, Johnson was arrested.
The sheriff's office notified the Miami Gardens city manager following the arrest.
On Friday evening, the department issued a statement saying in part, "We will not allow Mr. Johnson's bad judgment to reflect negatively on the hardworking officers of the City of Miami Gardens and the residents they serve on a daily basis."
Johnson was fired after his arrest. He had served as chief since May. He took over the department after the previous chief resigned amid allegations that his officers repeatedly harassed and intimidated Miami Gardens residents.
Assistant Chief Antonio Brooklin will serve as the interim chief in his stead.
A South Florida resident, Katron Fulwood, said the alleged situation calls for a thorough investigation into the department.
"In regards to this, I feel like the whole Miami Gardens police force just needs to be thoroughly investigated," he said. "If the top of the ladder is like this, it has to rain down on the other individuals underneath."
Thanks for reading CBS NEWS.
Create your free account or log in
for more features.