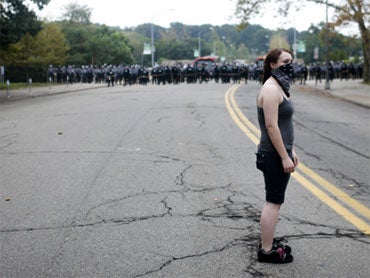 Pittsburgh Braces for More G-20 Clashes
The City of Pittsburgh has spent more than $18 million on security for the Group of 20 summit, and it's already flexed its muscles.
Riot police turned back hundreds of protesters trying to march downtown on the first day of the G-20 meeting, arresting nearly 70 people as authorities braced for smaller, scattered protests at dozens of businesses and organizations Friday.
CBS News correspondent Susan Koeppen said the city had prepared for the worst. Some stores have been boarded up for days now, and protesters have been hit with a massive police presence.
Police, in an overwhelming show of force, declared Thursday's march in the Lawrenceville neighborhood illegal almost as soon as it began, firing rubber bullets and canisters of pepper spray and smoke, after small bands of anarchists responded to calls to disperse by rolling huge metal trash bins, throwing rocks and breaking windows.
Mayor Luke Ravenstahl commended police for their "swift decisions to send a message to the anarchists that we will not tolerate unlawful behavior," adding there was minimal property damage as a result.
According to Pittsburgh police, 24 people were arrested during the day and another 42 people were arrested overnight as protesters and students thronged in the city's Oakland section, home to the University of Pittsburgh. Police said six people were treated for injuries and other medical problems, including heat exhaustion and reaction to pepper spray; two people were taken to hospitals, but details weren't available.
Protesters complained about the city's response, saying their rights were trampled and that violence would not have broken out if police had allowed the marchers their say.
Jesse Ericson of the Pittsburgh G-20 Resistance Project, an umbrella organization of protest groups, condemned the city for a "bumbling and violent police action."
The G-20 Resistance Project has encouraged "affinity groups" to protest Friday morning at companies that it says represent greed, exploitation, warfare and other social ills, with potential targets including banks, Starbucks, McDonald's, grocery stores and a Marine Corps recruiting center.
Ravenstahl said police will be ready.
"We'll continue to make sure our neighborhoods are safe," he said.
Pittsburgh G-20 Summit (Official Site)
The Pittsburgh G-20 Partnership (Guide to Events)
Pittsburgh G-20 Resistance Project (Protest Site)
Thursday afternoon's march turned chaotic at just about the time President Barack Obama and first lady Michelle Obama arrived for a meeting with leaders of the world's major economies.
The clashes began after hundreds of protesters, many decrying capitalism, tried to march from an outlying neighborhood toward the convention center where the summit is being held.
The protesters clogged streets, banged on drums and chanted "Ain't no power like the power of the people, 'cause the power of the people don't stop."
The marchers included small groups of self-described anarchists, some wearing dark clothes, ski masks and bandanas and carrying black flags. Others wore helmets and safety goggles.
(AP Photo/Matt Rourke)
(Left: A woman makes a V-sign as protestors march through the Lawrenceville section of Pittsburgh, Sept. 24, 2009.)
The marchers did not have a permit and, after a few blocks, police declared it an unlawful assembly. They played a recorded announcement over a loudspeaker ordering people to leave, as well as ear-piercing sirens, then police in riot gear moved in to break it up.
Some rolled large metal trash bins toward police, and a man in a black hooded sweat shirt threw rocks at a police car from Charlotte, N.C., breaking the front windshield. Protesters broke windows in a few businesses, including a bank branch, a Boston Market restaurant and a BMW dealership.
Officers fired rubber bullets, pepper spray and smoke at the protesters and set off a flash-bang grenade. Some of those exposed to the pepper spray coughed and complained that their eyes were watering and stinging.
"The demonstrators were being aggressive toward the officers who felt it was necessary to utilize that kind of force," Harper said late Thursday.
At one point, officers surged onto the sidewalks and grabbed several protesters who had been shouting at them.
"That was ridiculous," said T.J. Amick, 22, of Pittsburgh. "People were being grabbed if they just got too close to the cops. It didn't matter what they were doing, what they were saying. They were just asking what was going on, and they were being taken off the streets to God knows where."
Pepper spray forced marchers (and the media) to flee. But the protesters didn't give up, as they split into smaller groups.
Koeppen and her crew cut through an alleyway and caught up with demonstrators who continued their march by a different route.
"There is no freedom of speech in this country," demonstrator Jeff Rousset told Koeppen. "There is no right to assemble. These are all rights that have been violated today."
The protesters' cat-and-mouse with police lasted less than 2 hours before officers in riot gear brought this march to an end.
(KDKA)

"We hope we sent a clear message, that we aren't going to tolerate any unlawful activity," said Pittsburgh Chief of Police Nathan Harper.

Last night in the Oakland section (left), police fired smoke canisters, pepper spray and rubber bullets on a crowd after calling for people to disperse, calling it an illegal assembly. About 1,000 police were on hand.

CBS Station KDKA reports that, according to police, the clashes started when a couple of students tried to get close enough to the Phipps Conservatory and Botanical Garden to catch a glimpse of President Barack Obama at a delegates dinner.

Police then attempted to disperse the crowd of about 1,000 who had gathered.

At that time, protestors began throwing rocks at the police, who responded with pepper spray and rubber bullets.

Self-proclaimed anarchists then began smashing store windows along Forbes Avenue.

The National Lawyers Guild, a liberal legal-aid group, said one of its observers, a second-year law student, was among those arrested during the march. Its representatives were stationed among the protesters, wearing fluorescent green hats. That man was released and was cited for failure to disperse.
(AP Photo/Don Wright)

Most of the 24 people arrested during the daylight protests were charged with failure to disperse or obstructing traffic. But four face more serious charges of aggravated assault, and two of those are also charged with inciting a riot, according to a Pittsburgh police news release.

(Left: Protesters Wednesday hung a sign from the West End Bridge over the Ohio River before the start of the G-20 summit in Pittsburgh.)

Such street demonstrations have become the norm at world economic gatherings, including a G-20 meeting in London in April.

The protesters here appeared to number fewer than 1,000, a fraction of the 50,000 that took to the streets of Seattle a decade ago at a World Trade Organization event.

The G-20 ends late Friday after a day of meetings at the David L. Lawrence Convention Center.
Thanks for reading CBS NEWS.
Create your free account or log in
for more features.