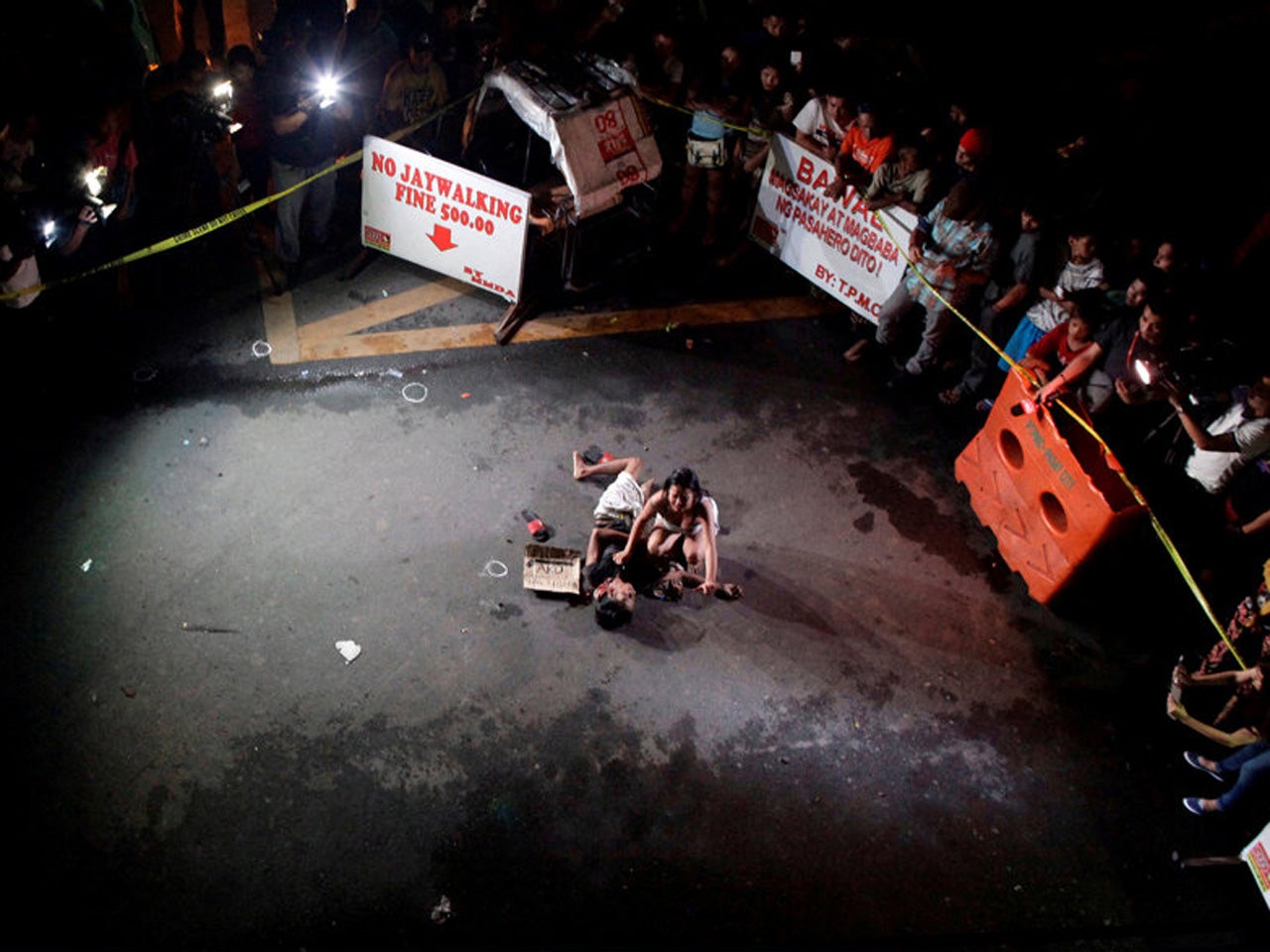 Philippines President Duterte on vigilante drug war: "You can't stop me"
MANILA, Philippines - Philippine President Rodrigo Duterte publicly linked more than 150 judges, mayors, lawmakers, police and military personnel to illegal drugs Sunday, ordering them to surrender for investigation as he ratcheted up his bloody war against what he calls a "pandemic."
Duterte, dubbed the "Filipino Donald Trump," promptly relieved members of the military and police he named from their current posts and ordered government security personnel to be withdrawn from politicians he identified in a nationally televised speech. He also ordered gun licenses of those named revoked.
"All military and police who are attached to these people, I'm giving you 24 hours to report to your mother unit or I will whack you. I'll dismiss you from the service," Duterte said in the speech at a military camp in southern Davao city.
He said that the list of politicians, judges and law enforcers given to him by the military and police might or might not be true, but that he had a duty to disclose to the public how the drug problem had become so pervasive.
"There is no due process in my mouth," Duterte said. "You can't stop me and I'm not afraid even if you say that I can end up in jail."
The list of names, which Duterte said included some friends, has been validated by authorities but did not contain details of the officials' alleged involvement to the drug trade or offer any evidence. Some names were incomplete, while others had no rank or government position.
They included eight judges, as well as five retired and current generals. The rest were mostly town mayors and police officers. One retired general, Vicente Loot, has been previously named in public by Duterte and has denied any wrongdoing.
"It's a pandemic," said Duterte, a former mayor of Davao, where he built a reputation for his crime-busting style that allegedly involved extrajudicial killings.
Duterte's latest salvo ups the ante in his war on drugs, which has already left more than 400 suspected dealers and pushers dead and more than 4,400 arrested in more than a month since he took office. Nearly 600,000 people have surrendered to authorities, hoping to avoid getting killed.
As soon as he was elected president, Duterte encouraged the public to help him in his war against crime, urging citizens with guns to shoot and kill drug dealers who resist arrest and fight back in their neighborhoods.
"Please feel free to call us, the police, or do it yourself if you have the gun - you have my support," Duterte said, warning of an extensive illegal drug trade that involves even the country's police.
If a drug dealer resists arrest or refuses to be brought to a police station and threatens a citizen with a gun or a knife, "you can kill him," Duterte said. "Shoot him and I'll give you a medal."
The Telegraph reports that "Quezon City Jail, in Manila, is home to 3,800 inmates - nearly five times more people than it was designed for."
The crackdown has been one of the biggest and bloodiest in the Philippines' recent history and has alarmed human rights groups and the dominant Roman Catholic Church. But Duterte has dismissed their concerns and has openly threatened to kill crime suspects, assuring law enforcers that he would defend them if they face lawsuits while battling criminality.
Church leader Archbishop Socrates Villegas issued a statement, read in churches Sunday in his northern district, expressing deep concerns over the killings of drugs suspects and lamenting a lack of widespread outrage over the deaths.
"Is not humanity going down to the dregs when bloodthirsty humans encourage the killers and ask for more blood?" Villegas said. "Will you kill me again and again on social media for saying this?"
Vice President Leni Robredo, who is on a trip to the U.S., said media can do a lot to help raise awareness on the need to stop the killings.
"There have been a few voices already out there against extrajudicial killings, but I think that public outcry is not there yet," Robredo said. "I think all of us should do our share in making sure that this has to stop."
Duterte also attended the wake of four soldiers who were killed in two clashes with communist rebels last week in the gold-mining town of Monkayo in southern Compostela Valley. Three of the soldiers were killed by a land mine blast, the military said.
Duterte criticized the rebels for using land mines, which have also killed civilians. He warned that if anyone else dies from a rebel land mine attack, he would call off peace talks that are scheduled to start Aug. 20 in Norway.
Thanks for reading CBS NEWS.
Create your free account or log in
for more features.