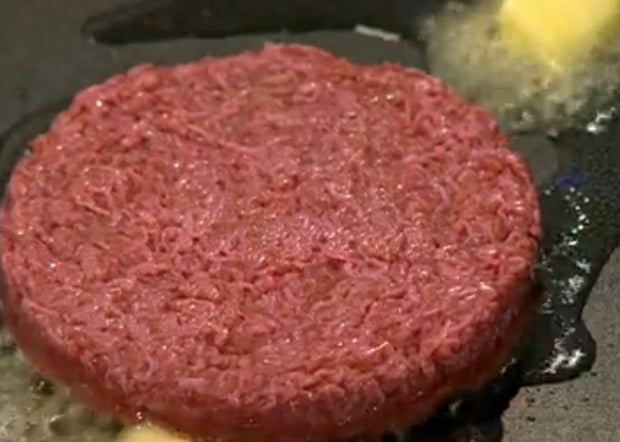 PETA praises in vitro meat
It's strange to hear the president of People for the Ethical Treatment of Animals (PETA) calling a chunk of meat a "dream becoming a reality." Of course, Ingrid Newkirk isn't just talking about any burger; she is referencing the first-ever in vitro hamburger, created by researchers at Maastricht University in the Netherlands.
The burger should not be confused with imitation meat or veggie burgers. In vitro meat is engineered using animal stem cells grown in a petri dish. It is meat, but it was never part of a living animal.
Lead researcher Mark Post offered a taste of the burger on Monday morning.
The reality of lab-generated meat has been a long time coming: Newkirk recalls reading about the possibility about 15 years ago. She saw a tiny paragraph about the idea in New Scientist. "I thought, 'that's it, this is the future,'" she told CBSNews.com on Tuesday.
As two taste testers dove into the petri-dish patty on Monday morning, the staff at PETA's Washington, D.C. headquarters popped open a bottle of champagne. "Yesterday was a joyous day for us, we're very excited," said Newkirk. "The amount of suffering one can reduce by switching to in vitro meat for whatever reason -- environment, health, practicality -- it's a godsend."
In 2010, the United Nations Environment Programme (UNEP) addressed the global environmental impact of meat and dairy farming and consumption. "Impacts from agriculture are expected to increase substantially due to population growth increasing consumption of animal products. Unlike fossil fuels, it is difficult to look for alternatives: people have to eat. A substantial reduction of impacts would only be possible with a substantial worldwide diet change, away from animal products," a UNEP panel said in a June 2010 report. They found that agriculture accounts for 70 percent of global freshwater consumption and 19 percent of global greenhouse gas emissions.
Global population is expected to reach 9.1 billion people by 2050, and food production is estimated to increase 70 percent over the same period. Low-impact production methods, such as bioengineered meat, could significantly reduce the environmental hazards that the United Nations associates with livestock farming.
Dr. Nicholas Genovese is also studying ways to produce lab-generated meat. Funded by PETA, he is conducting his research at the University of Missouri's Division of Animal Sciences. His presence there was initially met with resistance from local farmers, who see bioengineered meat as future competition.
With a $332,000 price tag, the first burger is well out of consumer price range. Newkirk hopes that the attention will bring in new funding sources and hasten the research process. This is not a campaign to offer animal rights' activists a chance to taste meat again, she noted. Rather, it presents an opportunity to allow burger-loving carnivores a chance to eat a cruelty-free patty.
Thanks for reading CBS NEWS.
Create your free account or log in
for more features.