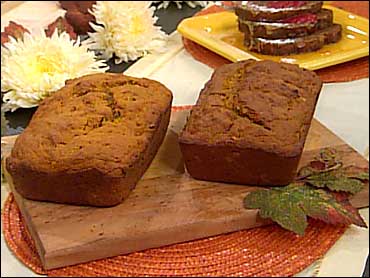 Perfect Pumpkin Bread, From Bobby Flay
Pumpkins are great for carving or for pies, but The Early Show's resident chef, Bobby Flay, has a great pumpkin bread recipe, and you can use the bread as the base for many other treats, such as French toast!
RECIPES
Pumpkin Bread
Yields: 1 9-inch loaf
2 cups AP flour
1 teaspoon baking soda
1 teaspoon baking powder
1 teaspoon cinnamon
½ teaspoon nutmeg
½ teaspoon ginger
½ teaspoon salt
1 15 ounce can pumpkin puree
1 cup sugar
1 stick unsalted butter, melted and cooled
2 large eggs
2 teaspoons vanilla extract
1 cup toasted walnuts or pecans or cranberries, coarsely chopped
1.Preheat oven to 350 degrees F. Spray a 9-inch loaf pan with nonstick baking spray. Whisk together flour, baking soda, baking powder, cinnamon, nutmeg, ginger and salt in a large bowl.
2. Whisk together pumpkin puree, sugar, butter, eggs and vanilla in separate large bowl until smooth. Add the flour mixture to the pumpkin mixture and mix until just combined. Fold in the walnuts.
3. Scrape the mixture into the prepared pan and bake in the oven until a toothpick inserted into the center comes out with a few moist crumbs. Let cool in the pan for 10 minutes before unmolding onto a wire rack to cool for 1 hour.
Pumpkin Bread French Toast
4 large eggs
2 tablespoons sugar
1 cup whole milk
½ teaspoon vanilla extract
4 tablespoons unsalted butter
4 tablespoons vegetable oil
8 slices of day old pumpkin bread (recipe above), cut into ½-inch thick slices
1. Whisk together the eggs and sugar in a large baking dish. Add the milk and vanilla and whisk until combined.
2. Heat 2 tablespoons of the butter and 2 tablespoons of the oil in a large nonstick sauté pan over medium high heat. Dip the pumpkin bread into the egg mixture and soak both sides for about 30 seconds. Place 4 slices of the bread into the pan and cook on both sides until golden brown, about 2 minutes per side. Remove to a platter and repeat with the remaining butter, oil and bread.
For more recipes, go to Page 2.Individual Pumpkin Bread Trifles with Spiced Whipped Cream & Apple Caramel Sauce
Serves: 4
Apple Caramel Sauce
1 cup sugar
½ cup water
½ cup heavy cream
2 tablespoons apple brandy (such as Calvados) or ¼ cup apple cider
Combine sugar and water in a small saucepan over high heat. Cook until the sugar has dissolved and turned a deep amber color, 8 to 10 minutes. Remove from the heat and add the cream and apple brandy. Return to the stove over high heat and cook until combines, about 1 minute. Transfer to a bowl and keep warm.
Spiced Whipped Cream
1 ½ cups cold heavy cream
2 tablespoons sugar
½ teaspoon ground cinnamon
¼ teaspoon freshly grated nutmeg
Using a hand-held mixer, mix together the cream, sugar, cinnamon and nutmeg in a large bowl until soft peaks form.
Assemble
1/2 loaf of day old pumpkin bread (recipe above) cut into small cubes
1/2 cup apple brandy or dark rum
Apple Caramel Sauce
Spiced Whipped Cream
Toasted nuts, optional
Put a few cubes of the bread in 4 parfait glasses. Drizzle with a few teaspoons of apple brandy then top with some whipped cream and apple caramel sauce. Repeat to make 3 layers ending with whipped cream and caramel sauce. Sprinkle with toasted chopped nuts, if desired.
Incidentally, he says canned pumpkin is fine to use!
Toasted Pumpkin Bread with Cranberry Butter
1 cup cranberries
1/2 cup water
1/4 cup sugar
1 teaspoon grated lemon zest
1 1/2 stick unsalted butter, slightly softened
1. Combine cranberries, water, sugar and zest in a medium saucepan and bring to a boil over high heat. Cook until the cranberries pop and become soft. Let cool.
2. Combine the butter and cranberries in a food processor and process until smooth.
3. Toast the pumpkin bread until golden brown on both sides. Spread each slice with a few tablespoons of the butter.

Thanks for reading CBS NEWS.
Create your free account or log in
for more features.