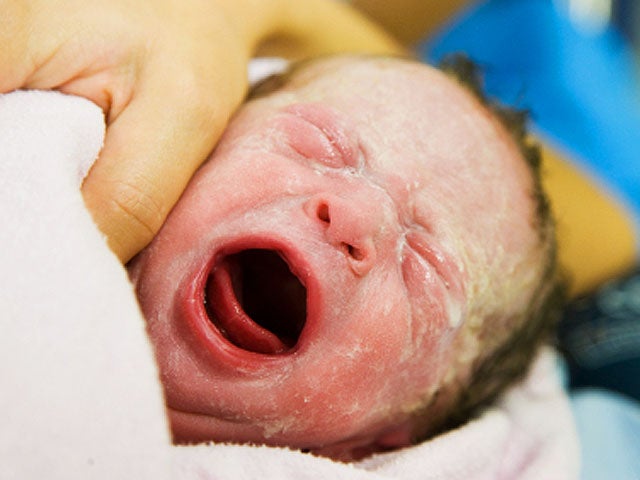 Pediatrics group says circumcision's benefits outweigh risks amid U.S. decline in procedure
(CBS News) The health benefits from male circumcision outweigh the risks, says the American Academy of Pediatrics in its latest guidelines on the controversial procedure published Monday.
In its first policy statement on the subject since 1999, which was later reaffirmed in 2005, the academy stops short of recommending routine circumcision for males, but adds that based on the current evidence, insurers should cover its costs.
Circumcision tied to lower prostate cancer risk
Circumcision foes should cut it out, experts say
Circumcision pluses outweigh risks: Pediatricians

The group's previous stance said the procedure can prevent bladder infections and sexually transmitted diseases like HIV/AIDS, but also carried potential downsides like reduced sensation and infection.

"In 1999, there was some data suggesting that there were some small medical benefits to circumcision but, at the time, there was not a compelling medical reason to recommend circumcision. So the previous policy didn't argue for or against circumcision," Dr. Douglas S. Diekema, a member of the circumcision task force behind the new statement, told AAP News. "However, now there is much stronger evidence about protective medical benefits associated with circumcision, so the tone of this policy statement has changed."
For the new policy statement, researchers formed a task force in 2007 to review evidence from 1,000 studies that took place between 1995 and 2010. They found that the procedure had preventive benefits, including a major risk reduction for male urinary tract infections - especially during the first year of life - and a lower risk of cancer, and heterosexual acquisition of HIV and other sexually transmitted diseases. Specifically, risk for herpes was 28 to 34 percent lower for circumcised men and risk for HPV was reduced by 30 to 40 percent.
The new policy is published in the Aug. 27 issue of the academy's journal, Pediatrics.

The task force members also said the procedure is safe when performed by trained professionals in a sterile environment, and complications are rare and much lower for newborns - less than 1 percent - compared with adult males who get the procedure.
However the group said the health benefits are not great enough to recommend routine circumcision.
"Ultimately, this is a decision that parents will have to make," Dr. Susan Blank, chair of the task force that authored the policy statement and corresponding technical report, said in a written statement. "Parents are entitled to medically accurate and non-biased information about circumcision, and they should weigh this medical information in the context of their own religious, ethical and cultural beliefs.
Based on current rates, it appears an increasing number of parents are opting to skip the procedure. A recent analysis from the Centers for Disease Control and Prevention found the U.S. circumcision rate fell from about 63 percent of newborn boys in 1999 to 55 percent in 2010. In the 1980s, the U.S. circumcision rate was about 79 percent of newborn boys.
A study in last week's Archives of Pediatrics and Adolescent Medicine found the 20-year decline may have already contributed to about $2 billion in additional medical costs, for care related to treating urinary tract infections and sexually transmitted diseases throughout a male's lifetime. The researchers say if the trend continues to where only 10 percent of U.S. males are circumcised - rates similar to Europe - the country could face about $4.4 billion in health care costs - an added $407 per man.

That's in part because 18 states have already abolished Medicaid coverage for male circumcision. In the new policy statementt, the American Academy of Pediatrics says the procedure's benefits warrant third-party payment by insurers should parents opt for the procedure for their kids.
"It's a good idea to have this conversation during pregnancy, and to learn whether your insurance will cover the procedure, so you have time to make the decision," said Dr. Blank.
Psychologist Ronald Goldman, director of an anti-circumcision group, the Circumcision Resource Center, told the Associated Press that studies show circumcision causes loss of sexual satisfaction -- a claim the academy said is not supported by the research it reviewed -- and can be psychologically harming. Goldman says medical studies showing benefits are flawed and that the academy's new position is "out of step" with international opinion on male circumcision.
Controversy over circumcision has ramped up in recent years, highlighted in the U.S. last year when a male circumcision ban almost made the November ballot in San Francisco. A judge eventually ruled such a decision should be a state matter, rather than decided by a city election.

In Cologne, Germany, a court ruled this July that circumcision went against the"fundamental right of the child to bodily integrity,"and should be decided by the child himself once he gets older. The German government is currently working with the German Medical Association to clarify the ruling to ensure religious freedoms.

Thanks for reading CBS NEWS.
Create your free account or log in
for more features.