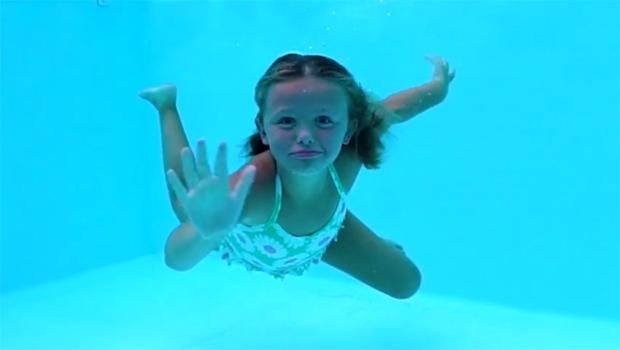 Pediatric cancer: Miracles in small packages
Thanks to ongoing research, the ranks of children saved from once-fatal cancers are growing by the day. Tracy Smith has a progress report:
When we first met Edie Gilger in 2013, she seemed like your typical, healthy four-year-old.
You'd never know she'd just been to hell and back.
At six months old, Edie was diagnosed with neuroblastoma -- cancer of the nerve tissue -- with tumors in her spine and belly that were growing out of control.
Chemo and surgery weren't working, so doctors threw a "Hail Mary" pass and gave her an experimental drug that turned off the specific gene in her body that was making her cancer grow.
She says it tasted awful. But in less than a month, her cancer was totally gone.
Today, at home in South Carolina, Edie is almost eight, and still cancer-free. Her parents, Nick and Emily, are, of course, over the moon.
And how much medicine is Edie taking now?
"She is not on anything right now," said her mother, Emily. "Nothing."
The good news is that a little girl survived pediatric cancer. The better news is that it's happening more often. "We're making advances in certain childhood cancers that we hadn't envisioned five years ago," said Dr. Peter Adamson, at the Children's Hospital of Philadelphia, who heads up the nationwide Children's Oncology Group.
He says there's good reason for hope.
"So let's start with the most common childhood cancer, acute lymphoblastic leukemia (ALL)," said Dr. Adamson. "In the 1960s, a child with ALL had a less than 10 percent chance of being cured. The same child born today has close to a 90 percent chance of being cured. So that's dramatic progress in a relatively short span of history."
If there's a downside to saving children's lives, it's that most young cancer survivors are in for problems down the road.
"We have children who as teenagers require hip replacements because of our treatment," said Dr. Adamson. "Then, there are a number of children who by the time they're in their 20s, early 30s experience heart failure."
And here's the real zinger: Since more adults get cancer than kids, there's less government research money for childhood cancer cures … far less.
"The estimate from the National Cancer Institute is about four percent of their budget goes to studying childhood cancer," said Dr. Adamson.
Why is that so small? "There are some who believe that we solved the childhood cancer problem. We haven't. We're curing children today that 10 years ago we knew we couldn't cure, and that only comes through research."
So, a large chunk of pediatric research money comes from private charities. One of the biggest, Alex's Lemonade Stand Foundation, was started by Alex Scott, a young cancer patient who raised money for research by selling lemonade on her front lawn.
Alex died in 2004, but her foundation has attracted thousands of volunteers (this reporter included), and raised more than $100 million to bankroll new treatments, like the one that saved Edie Gilger's life.
The people at Northwestern Mutual Life Insurance, who were already big contributors to childhood cancer research, were apparently moved by Edie's story, and made her the star of a recent public service announcement:
They even built a float in her honor for this year's Rose Parade in Pasadena: A giant floral sculpture of a blonde former cancer patient -- just being a little girl again.
Smith asked Edie, "How do you feel about all this?"
"I'm very lucky that they made that medicine," she replied, "because if they didn't make that medicine, I would be in heaven."
And that's something her parents thank heaven for every day.
"Edie had literally just been rushed to the ICU," Nick Gilger recalled, "and I left the hospital that afternoon. And I looked in the rearview and I saw Edie's car seat empty. And I remember that there are people that leave the hospital and they don't get to, you know, put their child in that car seat ever again. When we left the hospital, she came with us -- she left with us – you know, it's a big, big thing."

For more info:
Thanks for reading CBS NEWS.
Create your free account or log in
for more features.