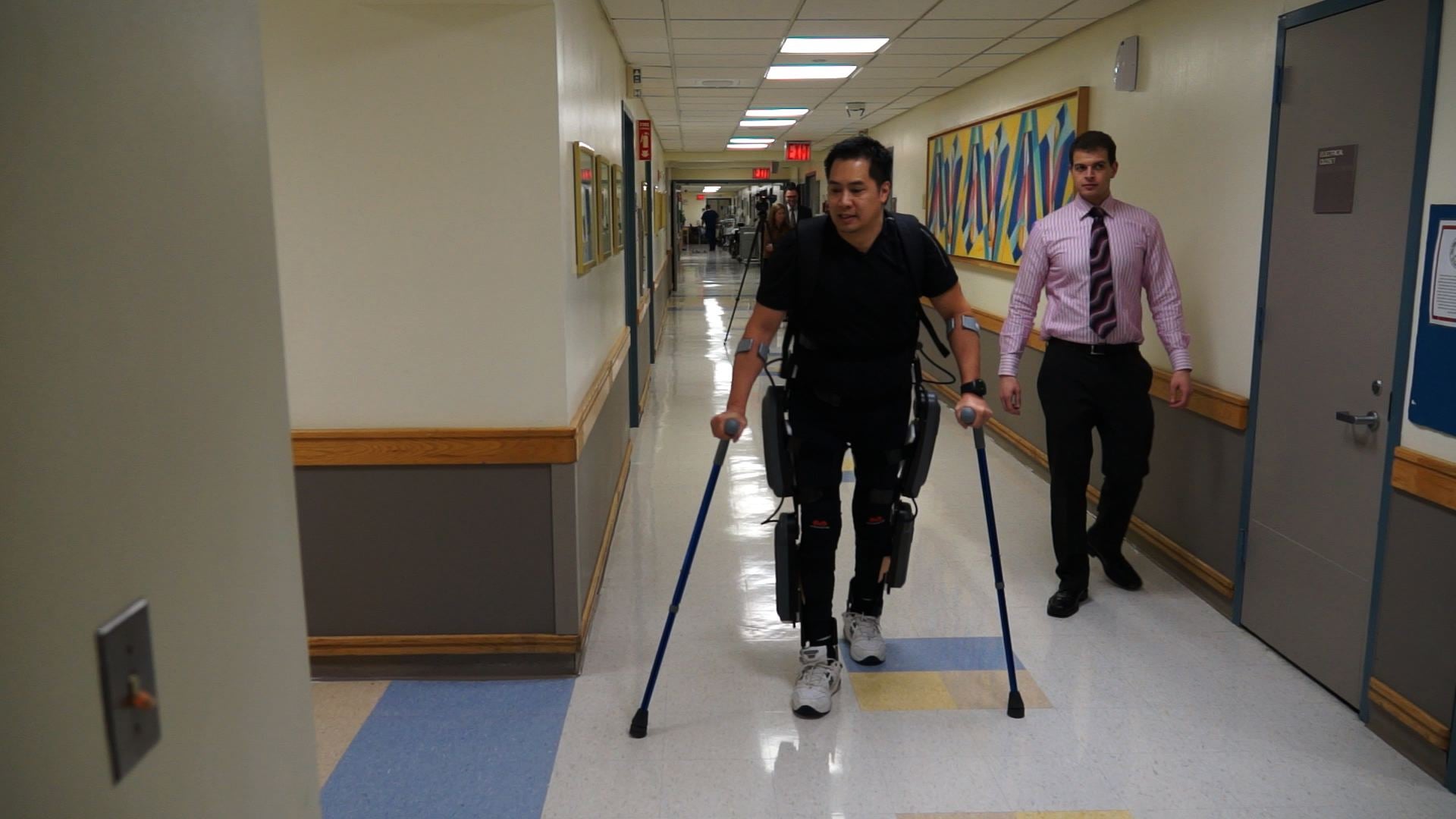 Paralyzed patients hope ReWalk exoskeleton gets approved by FDA
Doctors told Robert Woo he would never walk again following a December 2007 accident when seven tons of steel fell about thirty stories onto his construction trailer.
Years later, with the help of a robotic exoskeleton called the ReWalk, he can walk, climb stairs and stand up with his family.
"To be able to stand up next to my wife and give her a hug for the first time. To be able to walk with my children to the park," said Woo, the father of three young boys, "these are things that we take for granted that I missed."
Woo, an architect, had been working on Goldman Sachs' new world headquarters in lower Manhattan when the accident happened. He says he was "folded in half" and crushed from the neck down.
When doctors told him he'd be paralyzed, the news left him despondent.
"I didn't think I could be useful, and I wanted to die," he told CBS News. "And the worst thing is I couldn't even pull the plug."
After his first few surgeries, when he regained use of his arms, he did what many of us would do in times of uncertainty -- he turned to the Internet to research. He came across
The ReWalk
, a robotic exoskeleton developed by Argo Medical Technologies in Israel. Its inventor, Dr. Amit Goffer, was a quadriplegic who was searching for a better alternative to the wheelchair.
Woo followed news of its development and watched YouTube videos of people using it. When it finally came to the United States, he jumped on the opportunity to apply for a research program.
The James J. Peters VA Medical Center in the Bronx had partnered with Mount Sinai Medical Center in New York -- where CBS News met Woo in January -- to enroll patients in clinical trials of the ReWalk and also test another exoskeleton, the Ekso (Ekso Bionics). Woo applied for both programs and ended up testing each device.
Twenty-two-year-old Errol Samuels from Queens, New York has also trained on the Ekso at Mount Sinai.
The week before his college finals last May, Samuels and his friends attended an off-campus party. He went out on a deck and the roof of it collapsed directly on him.
"The doctor didn't need to tell me what was wrong. Once it happened I couldn't move at all," he told CBS News.
Within three weeks of the injury he learned about the Ekso, which he said let him believe that anything was possible. He intends to start training on the ReWalk soon, and hopes one day to bring one home.
"Reaching for higher things, getting up steps, pretty much just being mobile around the house. Instead of rolling around, walking around," he said.
Dr. Ann Spungen, an associate professor of rehabilitation medicine at Mount Sinai and associate director of the Bronx VA's Center of Excellence on the Medical Consequences of Spinal Cord Injury is one of the lead researchers.
She has been studying spinal cord injuries since 1990, and remembers engineers coming to her with preliminary ideas of exoskeletons sketched on notepad paper. She told them to come back when they had a prototype.
She wouldn't see that day come until 2010.
"The technology finally caught up with the idea," Spungen, told CBS News.
The ReWalk exoskeleton has an external frame that adjusts to a patient's legs. Motors power movement at the hips and knees, and a battery-powered computer coordinates that movement into a walking pattern when the patient shifts body position. A device that looks like a wristwatch can be pressed to get the exoskeleton ready to stand upright, sit, walk and -- unlike the Ekso -- climb stairs.
"Essentially they're a wearable robot," Dr. Allan Kozlowski, an assistant professor in the department of rehabilitation medicine at the Icahn School of Medicine at Mount Sinai in New York, told CBS News.
Patients are trained on the device after a learning curve which Kozlowski compared to learning to ride a bike, then engage in anywhere from 24 to 70 sessions, depending on ability, three times each week.
First they learn how to stand up, then progress into taking steps. Eventually they graduate to walking 10 meters and walking for six minutes straight. There are tests to ensure they can reach fast enough speeds to safely use the device outdoors someday, such as from the parking lot to a grocery store.
Some patients like Woo have taken the device outside and walked laps around a track.
"I'm not generally an emotional guy, but I felt quite a rush the first time that I saw someone get up in device," said Kozlowski. "I hate to sound cliché, but it did bring a tear to my eye."
It is only approved the Food and Drug Administration for use in rehabilitation facilities like at Mount Sinai, and not yet for personal use at home. That's something the researchers are hoping to change.
"Everybody wants to walk. I have not ever met anyone who does not want to walk again,"Dr. Kristjan T. Ragnarsson, the Lucy G. Moses Professor and Chairman of the department of rehabilitation medicine at Mount Sinai, told CBS News.
Argo Medical Technologies applied for home use application with the device according to the researchers, who said they have submitted data on their testing and the product's safety to the agency, and could hear about approval as early as this spring. The device is already approved for home use in Europe.
An FDA spokesperson told CBS News in an email that the agency was unable to confirm the existence or status of a product application, which is standard FDA policy.
But the preliminary research Spungen and colleagues submitted to the FDA suggests the ReWalk offers many health benefits, not just the emotional boost from being able to stand upright and walk.
Inactivity from paralysis can lead to secondary health conditions people may not think about, she said, including constipation and increased risk for diseases like diabetes, heart disease and osteoporosis.
"All the terrible things that go wrong from a sedentary lifestyle are magnified in a person with spinal cord injury, so any activity that we can provide for them, stands to reason to have benefit," said Spungen.
These patients have experienced improvements in bowel and bladder function, their ability to regulate their blood pressure and reductions in fat. Woo gained 1.5 pounds of lean muscle, she added.
"It's not only the thrill of walking, I feel a lot better,"said Woo. "My quality of life has actually approved."
That's why he and fellow patients like Samuels are also pulling for FDA approval to bring the devices home.
Samuels is an athlete with a self-described "high competitive IQ," who approaches his rehabilitation with the drive and never-give-up attitude he says he's had his whole life.
He doesn't expect to just walk in the ReWalk -- he said he wants to run.
"If the FDA approved it, it would be great." He added, "It gives me so much hope, and makes be believe in the future I will walk again."
Thanks for reading CBS NEWS.
Create your free account or log in
for more features.