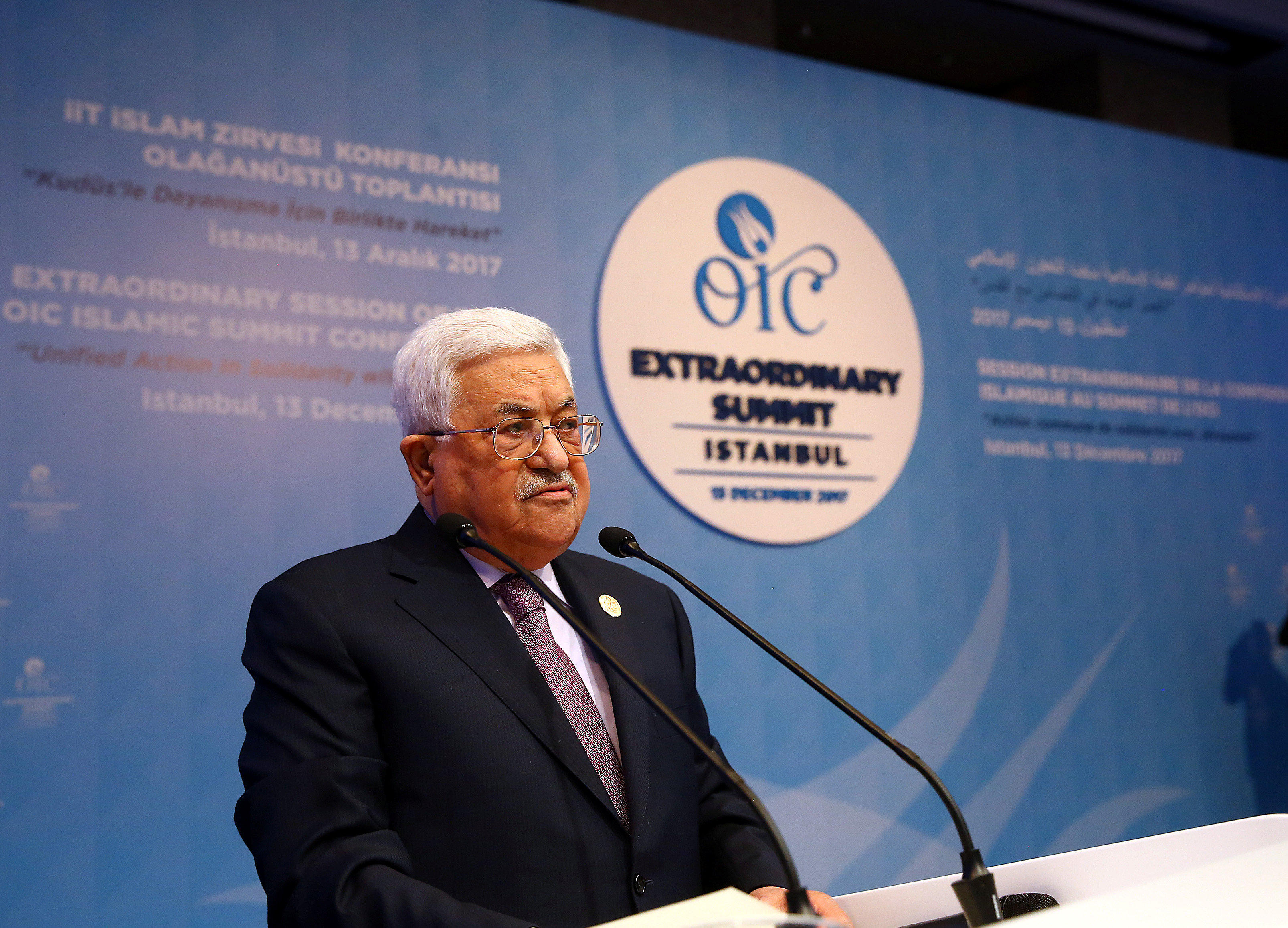 Palestinian leader Mahmoud Abbas: No more role for U.S. in Mideast peace process
ISTANBUL -- Palestinian President Mahmoud Abbas said Wednesday that the Palestinians won't accept any role for the United States in a peace process with Israel "from now on" after the Trump administration's decision to recognize Jerusalem as the capital of the Jewish state.
Abbas was speaking at a gathering of leaders and top officials from Islamic nations in Turkey, expected to forge a unified stance against President Donald Trump's recognition of Jerusalem as Israel's capital -- a move widely criticized across the world but lauded by Israel.
The summit of the 57-member Organization of Islamic Cooperation could also offer the Muslim world's strongest response yet to Washington's move. Turkey, the summit host, has sharply criticized what it described as weak Arab response so far on the issue of contested Jerusalem.
Abbas said Mr. Trump's decision was a "crime" that threatens world peace. He said there would be no peace in the region if the world doesn't recognize east Jerusalem as the capital of a future Palestinian state.
He said the international community had nearly unanimously opposed Mr. Trump's decision, calling it a "provocation" to Muslim and Christian sentiments and saying measures are needed to protect the identity of the divided city.
Abbas called on the United Nations to take charge of the Mideast peace process, and revamp it with a new mechanism as, he said, Washington is no longer "fit" for the task.
Israeli Prime Minister Benjamin Netanyahu has urged European leaders to give a yet-to-be-seen U.S. peace plan a chance. Mr. Trump has promised that his administration will offer up a new peace initiative in the new year, spearheaded by his son-in-law Jared Kushner.
Abbas said the Palestinians were committed to a peaceful resolution of the Israeli-Palestinian conflict and would continue to fight violence. But he added that following Mr. Trump's move on Jerusalem, Washington was not accepted as a fair negotiator.
There have been angry protests in the Palestinian territories of the Gaza Strip and the West Bank, and sporadic violence elsewhere in the region since Mr. Trump's declaration. Fears of a more widespread violent backlash took hold immediately following the move, and the militant Palestinian Hamas movement warned more violence was to come.
Turkey's President Recep Tayyip Erdogan sharply criticized Israel at the opening of the summit, calling it a "terror state."
Erdogan said in his speech to the gathering that Jerusalem was a "red line" for Muslims who will not accept any aggression on its Islamic sanctuaries. He said East Jerusalem is the capital of a future Palestinian state and called on states that have not recognized a Palestinian state to do so.
Erdogan said the "process to include Palestine in international agreements and institutions should be sped up."
Jerusalem's status is at the core of the decades-long Israeli-Palestinian conflict and Mr. Trump's Dec. 6 announcement was widely perceived as siding with Israel.
Most countries around the world have not recognized Israel's 1967 annexation of east Jerusalem. Under a long-standing international consensus, the fate of the city is to be determined in negotiations.
Palestinian President Mahmoud Abbas, Iranian President Hassan Rouhani, Lebanon's President Michel Aoun, Jordanian King Abdullah II and top ministers of numerous nations were to attend the gathering in Istanbul.
In an emergency meeting in Cairo last weekend, Arab foreign ministers demanded that the United States rescind Trump's decision to recognize Jerusalem as Israel's capital.
In a resolution long on rhetoric but short on concrete actions, the ministers also called for the U.N. Security Council to adopt a resolution condemning Trump's decision, but acknowledged that Washington would most likely veto it.
Israel has considered Jerusalem its capital since the state's establishment in 1948 and sees the city as the ancient capital of the Jewish people. In the 1967 Mideast war, Israel captured the city's eastern sector and later annexed it in a move that is not recognized internationally.
The Palestinians equally lay claim to Jerusalem and want the eastern part of the city as capital of their future state. Some 200,000 Palestinians live in that part of the city and Palestinians claim a deep cultural, historical and religious connection to the city.
The Old City, located in east Jerusalem, is home to sites holy to Jews, Christians and Muslims. These include the Western Wall, the holiest site where Jews can pray, and the Al-Aqsa Mosque, Islam's third holiest site.
Thanks for reading CBS NEWS.
Create your free account or log in
for more features.