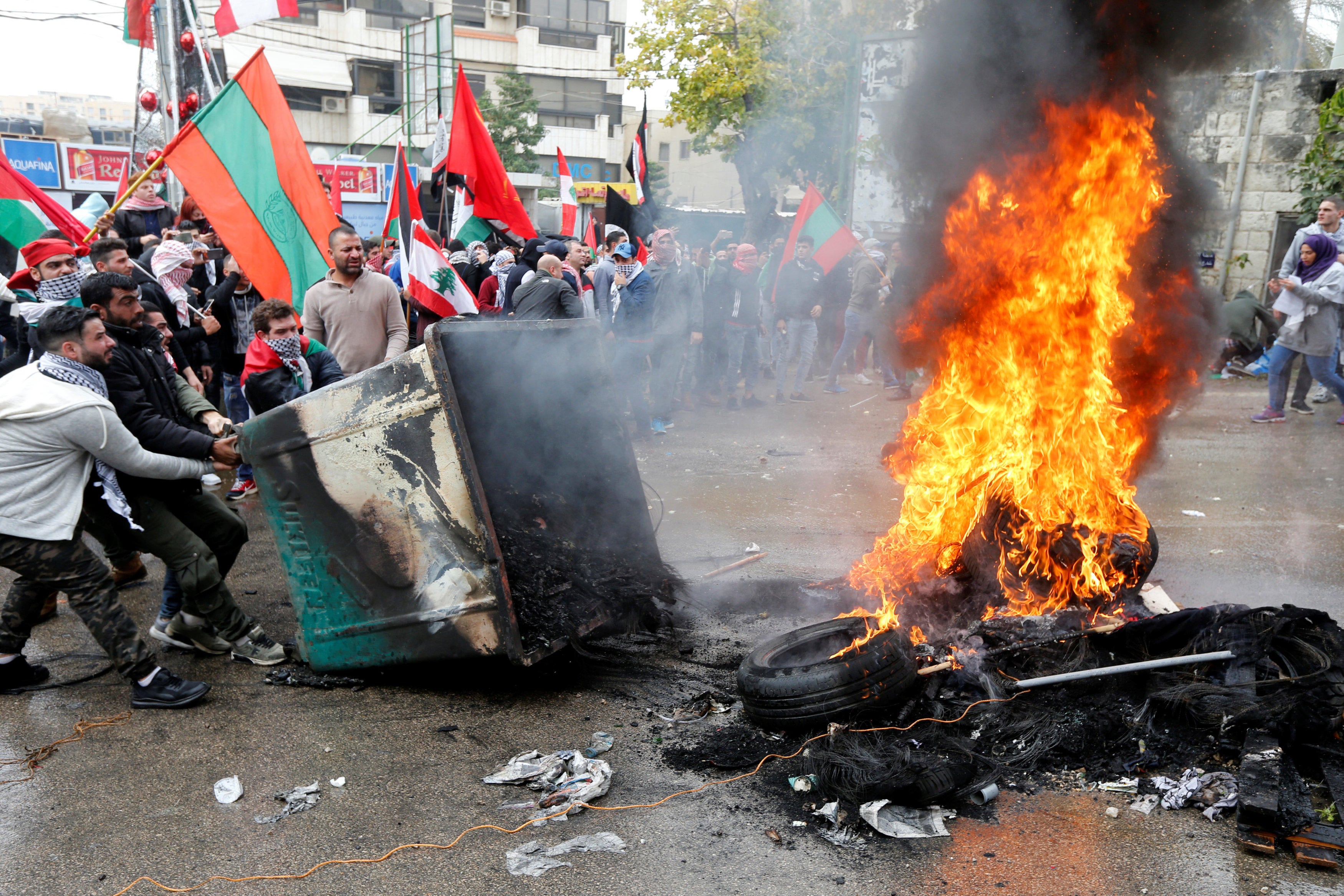 Demonstrators, security forces clash outside U.S. Embassy in Beirut
JERUSALEM -- Scores of Lebanese and Palestinian demonstrators have clashed with security forces outside the U.S. Embassy in Beirut over President Donald Trump's decision to recognize Jerusalem as Israel's capital.
The protesters gathered hundreds of yards away from the embassy on Sunday, where they burned an effigy of Mr. Trump, U.S. and Israeli flags, as well as piles of garbage, sending plumes of smoke into the air. As they hurled stones, security forces responded with tear gas and water cannons.
Many demonstrators wore black and white scarves, BBC News reports. They chanted slogans decrying Mr. Trump.
The U.S. decision has ignited protests across the Middle East, where it is widely seen as a blatantly pro-Israel move that threatens the decades-old peace process.
Lebanon is home to 450,000 Palestinian refugees, nearly 10 percent of the population.
In Israel on Sunday, police said a security guard was stabbed near Jerusalem's central bus station. Police spokesman Micky Rosenfeld said the guard was seriously wounded and his attacker arrested. The Magen David Adom medical service said a 30-year-old male suffered a stabbing wound in his upper body.
The incident appeared to be the first attack since Mr. Trump's recognition of Jerusalem as Israel's capital.
In more than two years of intermittent attacks, Palestinians have killed more than 50 Israelis, two visiting Americans and a British tourist in stabbings, shootings and car-ramming attacks. Israeli forces have killed more than 260 Palestinians in that time, mostly attackers.
Earlier on Sunday, Israel's prime minister said he is ready to defend Mr. Trump's recognition of Jerusalem as Israel's capital against its European critics. Upon leaving on a diplomatic mission to Paris and Brussels late Saturday, Prime Minister Benjamin Netanyahu said he "will present Israel's truth without fear and with head held high."
Mr. Trump's announcement has triggered denunciations from around the world, even from close allies like France, that suggested he had needlessly stirred more conflict in an already volatile region.
An international consensus has long held that Jerusalem's final status should be determined through negotiations. Israel claims the entire city as its unified capital, while the Palestinians want east Jerusalem, captured by Israel in 1967, to be the capital of their future state.
The Arab League condemned the U.S. decision overnight and said the U.S. could not be relied upon as a broker of peace in the Middle East, BBC News reports.
Thanks for reading CBS NEWS.
Create your free account or log in
for more features.