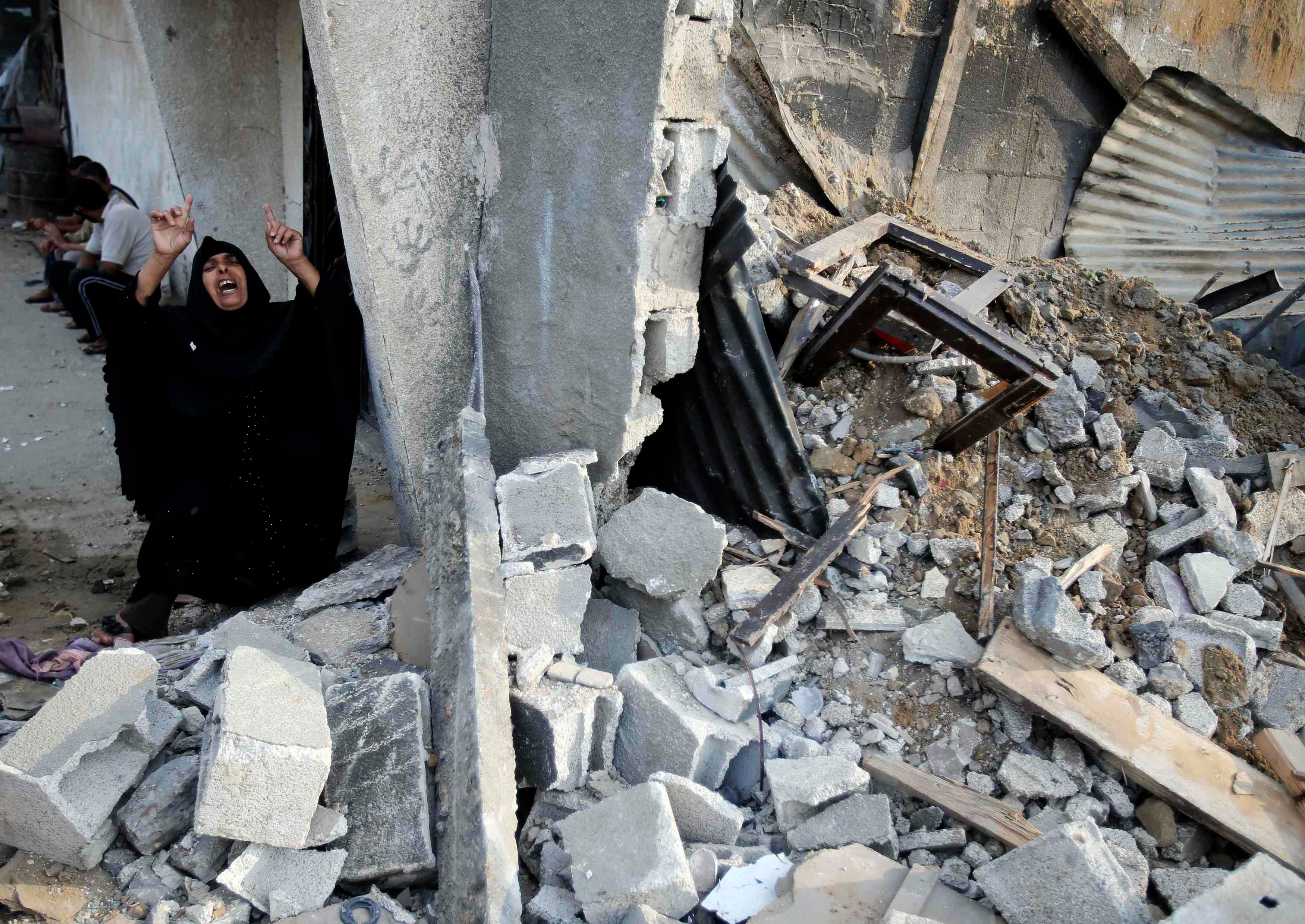 Amid rising death toll, Hamas and Israel both vow to keep fighting
GAZA CITY, Gaza Strip -- The top Hamas leader in the Gaza Strip signaled Monday that the Islamic militant group will not agree to an unconditional cease-fire with Israel, while Israel's defense minister pledged to keep fighting "as long as necessary" - raising new doubt about the highest-level mediation mission in two weeks.
U.N. chief Ban Ki-moon and U.S. Secretary of State John Kerry arrived in Cairo on Monday to launch a new push to end the deadliest conflict between Israel and Gaza's Hamas rulers in just over five years.
Kerry said that the U.S. is providing $47 million to help address the humanitarian situation in Gaza, CBS News correspondent Margaret Brennan reported.
Meanwhile, cross-border fighting continued unabated, with Israeli strikes leaving entire families buried under rubble and Hamas militants firing more than 50 rockets and trying to sneak into Israel through two tunnels, the latest in a series of such attempts.
For the second day in a row, the daily Palestinian death toll surpassed 100 on Monday, pushing the total number killed since the new round of fighting began on July 8 to more than at least 570, Palestinian officials said, adding that some 3,350 have been wounded.
Seven Israeli soldiers also were killed Monday in clashes with Palestinian militants, the Israeli military said. That raised the overall Israeli death toll to 27, including two civilians. The Israeli military said four soldiers were killed in a firefight with Hamas fighters trying to sneak into Israel through a tunnel, and that the other three were killed in battles in Gaza.
Authorities and family members say two Americans who were Israel Defense Force soldiers were among Sunday's fatalities. Max Steinberg, 24, whose family lives in California, and Nissim Sean Carmeli, 21, a native of South Padre Island, Texas, were among 13 Israeli soldiers killed in a ground battle Sunday.
Mounting casualties on both sides have led international officials to step up diplomatic efforts to end the worst bout of fighting between the two sides since 2009.
On Monday, President Barack Obama reaffirmed his belief that Israel has the right to defend itself against rockets being launched by Hamas into Israel. Yet he contended that Israel's military action in Gaza had already done "significant damage" to the Hamas terrorist infrastructure and said he doesn't want to see more civilians getting killed.
Ban and Kerry were in Egypt to try to salvage an Egyptian cease-fire proposal that had been accepted by Israel last week but rejected by Hamas, which is demanding the lifting of a 7-year-old blockade of Gaza first.
When asked about such conditions, Ban told reporters Monday in Cairo that "the best way at this time is to stop the violence and return to dialogue and address the root causes of the problems."
"I am asking again without any condition, they must stop," he said. "I know that this proposal by Egyptian government ... has been rejected because of certain conditions. If they really want to discuss all these conditions, they will take a very long time."
Israeli fighter planes struck homes and a high-rise tower in Gaza, in at least four cases burying more than two or more members of a single family under the rubble, said Ashraf al-Kidra, a Palestinian health official.
The strike on the Gaza City tower brought down most of the building, killing 11 people and wounding 40, witnesses and a health official said.
Also, rescuers going through the wreckage of a house targeted late Sunday retrieved 28 bodies in the town of Khan Younis, including at least 24 from the Abu Jamea family, according to al-Kidra and a local human rights group.
"Doesn't this indicate that Israel is ruthless?" said family member Sabri Abu Jamea. "Are we the liars? The evidence is here in the morgue refrigerators. The evidence is in the refrigerators."
Israeli tank shells also hit the Al Aqsa Hospital in the central town of Deir el-Balah, killing at least four people and wounding 60, al-Kidra said.
A doctor at the hospital, Fayez Zidane, said the third and fourth floors and the reception area were damaged, and patients were evacuated to the lower flowers.
The Israeli military said an initial investigation suggests that anti-tank missiles were stored near the hospital and that the cache was successfully targeted. "Civilian casualties are a tragic inevitability of the brutal and systematic exploitation of homes, hospitals and mosques in Gaza," the army said.
The military has consistently said it makes great efforts to minimize civilian casualties but Hamas puts Gazans in danger by hiding weapons and fighters in residential areas.
In fighting, the Israeli military said 10 Hamas infiltrators trying to sneak in through the tunnels were killed after being detected and targeted by Israeli aircraft.
Hamas also fired 50 more rockets at Israel, including two at Tel Aviv, causing no injuries or damage. Since the start of the Israeli operation, Hamas has fired almost 2,000 rockets at Israel.
Israeli Defense Minister Moshe Yaalon said the Gaza military operation would have no time limit.
"If needed we will recruit more reservists in order to continue the operation as long as necessary until the completion of the task and the return of the quiet in the whole of Israel especially from the threat of the Gaza Strip," Yaalon told a parliamentary committee.
Israel accepted an Egyptian call for an unconditional cease-fire last week, but resumed its military operation after Hamas rejected the proposal.
Hamas says that before halting fire, it wants guarantees that Israel and Egypt will significantly ease a border blockade of Gaza.
Ismail Haniyeh, the top Hamas leader in Gaza, signaled Monday that his group is sticking to its position.
He said the aim of the battle is to break the 7-year-old blockade of the Palestinian territory, which was imposed by Israel and Egypt after Hamas overran Gaza in 2007. Over the past year, Egypt has further tightened restrictions, driving Hamas into a deep financial crisis.
Haniyeh said in a televised speech that "we cannot go back, we cannot go back to the silent death" of the blockade.
He said all of Gaza's 1.7 million residents shared this demand.
"Gaza has decided to end the blockade by its blood and by its courage," he said. "This siege, this unjust siege, must be lifted."
Cairo's cease-fire plan is backed by the U.S. and Israel. But Hamas has rejected the Egyptian plan and is relying on governments in Qatar and Turkey for an alternative proposal. Qatar and Turkey have ties to the Muslim Brotherhood, which is also linked to Hamas but banned in Egypt.
Hamas remains deeply suspicious of the motives of the Egyptian government, which has banned the Muslim Brotherhood, a region-wide to which Hamas also belongs.
Israel invaded Gaza late last week, preceded by a 10-day air campaign. Air and artillery strikes have targeted Gaza's border areas in an attempt to destroy tunnels and rocket launchers.
Thanks for reading CBS NEWS.
Create your free account or log in
for more features.