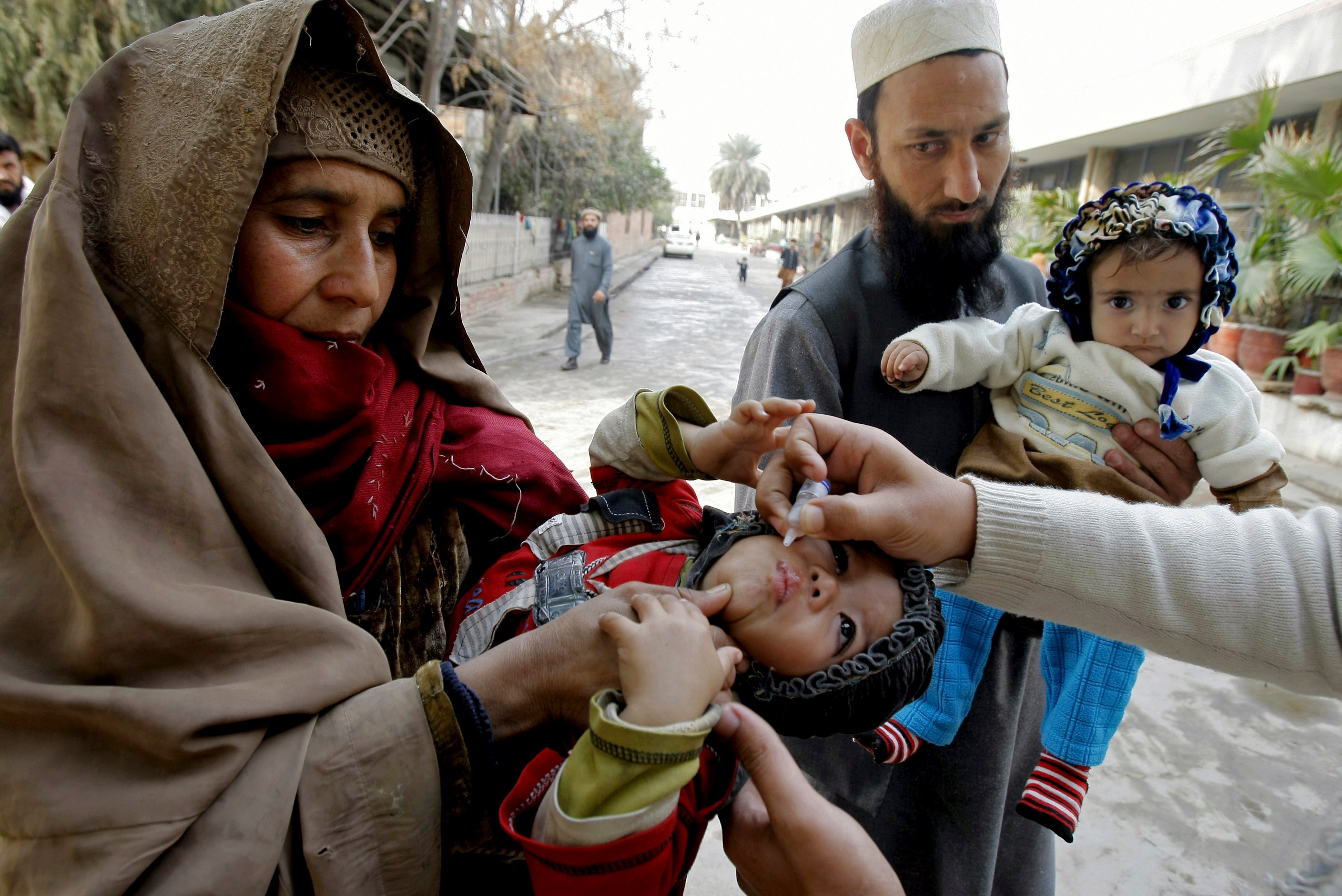 Pakistani polio strain threatens global eradication effort
PESHAWAR, Pakistan -- Just a few weeks ago, 11-month-old Shaista was pulling herself up, giggling as she took her first wobbly steps with the helping hand of her teenage mother.
Then the poliovirus struck and Shaista was no longer able to stand, her legs buckling beneath her weight. Today, her mother cries a lot and wonders what will become of her daughter in Pakistan's male-dominated society, where a woman's value is often measured by the quality of her husband.

"It is not a hardship just for the child, but for the whole family," said the child's 18-year-old mother, Samia Gul. "It is very difficult for a poor family like us. She will be dependent on us for the rest of her life."

Shaista is one of five new polio cases to surface in Pakistan in just the first month of this year. Last year, Pakistan recorded 92 new cases, beating Nigeria and Afghanistan - the only other polio-endemic countries -- by almost 2 to 1, the World Health Organization (WHO) said.

Pakistan's beleaguered battle to eradicate polio is threatening a global, multi-billion-dollar campaign to wipe out the disease worldwide. Because of Pakistan, the virus is spreading to countries that were previously polio-free, U.N officials say.

"The largest polio virus reservoir of the world," is in Peshawar, in northwestern Pakistan near the border with Afghanistan, according to WHO.

The WHO says about 90 percent of polio cases found around Pakistan can be linked to the city, including 12 of 13 cases reported in 2013.

Shaista and her parents share a two-room mud house with a couple of goats, a half-dozen squawking chickens and 10 other relatives in Pakistan's western Khyber Pukhtunkhwa, or KPK, province, where Islamic militants often gun down health workers distributing vaccines and send suicide bombers to blow up police vehicles that protect them.

The latest casualty was a police constable killed Tuesday protecting a team of vaccination workers in northwest Pakistan. During a two-day vaccination campaign in Peshawar earlier this month, 5,000 police were deployed to protect health workers, most of whom earn barely $2 a day.

Fresh cases of polio - traced through genetic sequencing to the Pakistani strain of the disease - are showing up in countries that were previously polio-free, including Syria and Egypt, as well as in the Gaza Strip, said Ban Khalid Al-Dhayi, the spokeswoman for UNICEF in Pakistan. UNICEF is tasked with persuading a reluctant tribal population that lives along Pakistan's border with Afghanistan -- perhaps one of the most dangerous places on the planet -- to vaccinate their children.

"A lot of countries that spent so much money and resources eradicating polio are worried," Al-Dhayi said in an interview.

Pakistan's neighbors are particularly vulnerable.

Just last week, a 3-year-old was diagnosed with polio in the Afghan capital of Kabul, the first case since 2001.

Neighboring India, with a population of 1.2 billion, has been polio-free for three years, and expects to be declared officially eradicated by the WHO in March. Fearful that Pakistan could wipe out that achievement, India is demanding that Pakistani visitors provide proof of vaccination.

It wasn't so long ago -- 1988 -- that more than 350,000 people, most of them children under 5, were afflicted by polio in 125 countries where the disease was endemic. Today the disease is endemic in only three.

In the late 1940s through early 1950s, polio crippled about 35,000 Americans each year, according to the Centers for Disease Control and Prevention. The United States was polio-free by 1979 thanks to vaccine efforts, the CDC added.

Last year, the Bill and Melinda Gates Foundation, a multi-billion-dollar charity that funds polio vaccinations, vowed to wipe out the crippling disease by 2018.

Underlining the danger that Pakistan poses to achieving that goal, Al-Dhayi said there are 350,000 Pakistani children in just one small area of the country who have not been vaccinated - and it takes only one child left unvaccinated to reverse global gains against the disease.

The area -- North and South Waziristan -- is too dangerous for health workers to venture. Islamic militants, many with ties to al-Qaida, banned polio vaccinations there in 2012 to press their demand that the United States end its use of drones to target their hideouts.

Militants have also created suspicion among ultraconservative parents in Pakistan's deeply religious northwest, saying the polio vaccine will make their children impotent. The vaccine, they claim, is a ploy by the West to limit the world's Muslim population.

But health workers and militants alike agree the biggest setback was the highly publicized use of a Pakistani doctor and a vaccination ruse to ferret out al-Qaida chief Osama bin Laden in May 2011. Dr. Shakil Afridi is in jail in Pakistan for his role in the CIA operation that uncovered bin Laden's hideout in the northwestern city of Abbottabad, 60 miles (100 kilometers) from the capital, Islamabad.

While Afridi never got DNA samples from the bin Laden family, his involvement in the covert operation that led to bin Laden's death caused residents to look with suspicion on many vaccination programs. Devastating for the polio campaign were the images of Afridi standing beside a banner promoting polio vaccinations as television commentators told of his collusion with the CIA.

"We have deep sensitivity about the polio vaccination after the martyrdom of the great mujahed and leader of Muslims, Sheikh Osama bin Laden," Taliban spokesman Ehsanullah Ehsan told The Associated Press. "We still have strong suspicions that the vaccination campaign could be used again and again to spy on Muslims and the mujahedeen."

The ruse also turned the polio campaign violent. The first attack against a health worker occurred in June 2012, said Dr. Imtiaz Ali Shah, the KPK provincial government polio campaign coordinator. Since then, 40 people participating in vaccination campaigns have been killed in Pakistan and another 39 injured, according to UNICEF figures.

"Before 2011, we never saw health workers being attacked," he said. "Now there are parts of Pakistan that are so volatile that vaccinators can't go there."

Mohammad Wasil's 19-year-old son, Hilal, was killed by militants as he vaccinated children in rural northwest Pakistan. Sitting on a bed made of rope in his village, where women are rarely seen without the all-enveloping burqa, Wasil said his son volunteered because he loved children and wanted to earn money for his education.

Still, there have been small gains. In 2012, new polio cases in northwest Pakistan were found in 13 districts; a year later, that was reduced to six districts. But the virus is stubborn, and in the provincial capital of Peshawar, it keeps reappearing, forcing tens of thousands of children to be revaccinated because they may not have built up enough immunity.

"That makes everyone suspicious," said Al-Dhayi, the UNICEF spokeswoman. "They wonder whether there was something wrong with the vaccine or with the new vaccination being administered."

It has been impossible to eradicate the polio virus from Peshawar, says Shah, because people from the heavily infected tribal regions that are off limits for health workers arrive daily in the city, bringing with them a fresh outbreak.

The tribal regions "are producing so many cases and the (tribal people) travel regularly," he said.

Al-Dhayi said some of the new polio cases showing up elsewhere in Pakistan have also been tracked to Peshawar and other areas of northwest KPK province.

In the meantime, UNICEF is trying to get Pakistan's senior Islamic clergy to support the polio campaign, with some success, according to Al-Dhayi. Among those recruited is the so-called father of Afghanistan's Taliban movement, Maulana Sami-ul-Haq.

"The effort is really intensive and proving positive," she said, but the clock is ticking. "Pakistan is the worst of the three (polio-endemic countries) in terms of the number of cases and the complexity."
Thanks for reading CBS NEWS.
Create your free account or log in
for more features.