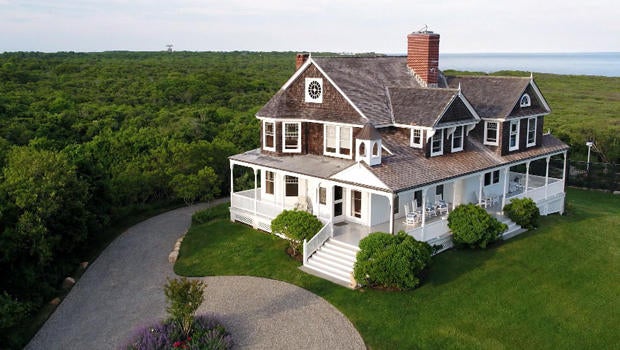 Out of the ashes: Dick Cavett on rebuilding his historic Montauk home
For years many of us were pleased to welcome talk show host Dick Cavett into our living rooms -- and now he's welcoming us into his grand summer home, along with Lee Cowan:
Amid the pounding surf, Dick Cavett pointed out nearby Cavett's Cove.
Cowan asked, "I read at some point that clothing was optional in Cavett's Cove, on the beach?"
"Oh, you could wear it, if you wanted to," Cavett replied.
There are lots of endearing stories like that, that happened at this endearing place: Dick Cavett's ocean-front getaway in Montauk, Long Island.
"It's just, people fall in love with it," Cavett said. "Watch, you'll ask if you can come back."
The house is historic -- it was one of seven beach cottages designed back in the 1880s by flamboyant architect Stanford White.
Cavett and his late wife, actress Carrie Nye, bought the house in 1966, just before his TV star went super-nova.
His talk show was often the talk of TV, and many of the celebrities Cavett hosted on stage he also hosted out at that beach house, including Woody Allen, Lauren Bacall, and even playwright Tennessee Williams.
"Tennessee said, 'Dick, it's the most beautiful house I've ever seen in the North!'" Cavett laughed.
But on one tragic night in 1997, a fire destroyed it all, leaving only the brick chimney as a grim sentinel.
"You can't imagine your house being gone," Cavett said. "Every cell, I think, in your body probably, if they could be seen magnified, moves at that moment."
"Because you lost everything, right?"
"Yeah, yeah."
Cavett and Nye set about to rebuild it -- but only had their memory and pictures to go by ("forensic architecture," they called it). Out of the ashes came an exact replica of Stanford White's historic home. "I think Stan would have said, 'Hey Dick, you done good!'"
He did good in his career, too. Cavett started as a comedy writer for Jack Parr, then continued for writing Johnny Carson, and did a little stand-up himself.
When he finally got his own show in 1968, he just shut up and let his guests talk -- a piece of showbiz advice he had gotten from Jack Parr.
"He said, 'Hey kid, when you're going to do the show, don't do interviews,'" Cavett recalled. "Make it a conversation."
It landed him guests who rarely did other shows, like Marlon Brando; John Lennon and Yoko Ono; and Groucho Marx.
The conversation didn't even have to include Cavett. He got Muhammad Ali and Joe Frazier to square off, not only verbally and almost physically. "I didn't think they'd hit me, but I didn't know!" Cavett laughed.
"I have to say though, sitting across from someone who made conversation on TV the best it could be is a little intimidating, for me," Cowan said. "Because you're so good at this."
"Is that why you've stuttered and stammered the whole way through?" Cavett said.
"That's exactly why I've stud, stamm, see, I doing it now!"
"I dare them to cut this out. You are really good, really good."
"Well, coming from you that means a lot."
"I say that to everybody, of course!" Cavett added.
But perhaps his greatest back-and-forth chat was with Katharine Hepburn, who famously thought of talk shows as being mostly tactless. "She was wary, because nothing in her experience had any real connection with sitting and talking about herself," he said.
She made him move the furniture on the set, and told him his carpet was ugly, but Cavett kept her talking. "Yeah, she wouldn't shut up!" he said.
At one point, Hepburn even referenced that house of Cavett's in Montauk, which she implied held the same romance as her own beach getaway across Long Island Sound in Connecticut.
"Each one of us has a secret," Hepburn told him. "You go to Montauk and you try you rebuild your secret, and I go to the mouth of the Connecticut River and my childhood, and I try to rebuild mine."
But after more than 50 years, the time has come, Cavett laments, to put his seaside treasure, and the 20 acres of moorlands around it, up for sale. Asking price: $62 million and change.
Cowan asked, "So why after all these years do you want to sell this perfect place?"
"I don't want to sell it," Cavett replied. "You'd have to be a fool to want to sell it."
The home's charm never wavered, but at age 80 Cavett's enthusiasm for its upkeep did. Even fairy-tales, he reasons, have to come to an end, just like summer.
"It's just a new chapter?" Cowan asked.
"That's good, let's call it that, yeah."

See also:

For more info:
Thanks for reading CBS NEWS.
Create your free account or log in
for more features.