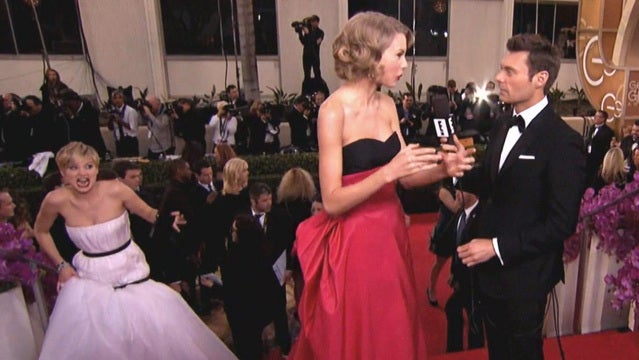 A Hollywood history of "Who are you wearing?"
The red carpet at awards shows is must-see TV with hordes of cameras, from the "mani cam" to a "clutch cam" to the "GlamCam 360." But now, there's been a bit of a revolt that could hit the Oscars red carpet with some of Hollywood's leading ladies taking a stand against superficiality, reports CBS News correspondent John Blackstone.
Stars like Jennifer Aniston and Julianne Moore have refused to parade their fingers down a camera built to show off manicures and pushed back at the obsessive attention to their attire.
Comedian Amy Poehler was so fed up with hearing "Who are you wearing?" that she teamed up with The Representation Project to promote their online campaign to #AskHerMore. Poehler's Smart Girls Community sent a tweet eliciting questions that focused more on an actress's talent than her taste in clothing.
But for many viewers, the procession of celebrity arrivals has become more anticipated than the awards themselves.
"It's our Super Bowl in a lot of ways," E!'s "Live from the Red Carpet" executive producer Gary Snegaroff said. "It's really evolved and into something bigger than I could have ever imagined. But that's because people are interested in it and I think it's that sense of seeing the stars in an unrehearsed way, [a] candid way."
In the long history of the Academy Awards, the red carpet wasn't always such a big deal. In fact, until 1961 there was no red carpet. Back then, the color didn't matter much to TV viewers because the whole show was in black and white.
Initially, the red carpet was just a practical way to guide movie stars from their cars to the venue. But it increasingly became a place for the stars to shine: Barbara Streisand raised eyebrows in 1969 for wearing a sequined see-through pant suit; Cher sported a Mohawk in 1986; Demi Moore wore biker shorts in 1989; Celine Dion donned a backwards suit 1999; and Bjork turned heads with her swan-like dress in 2001.
It wasn't until 1995 that someone finally thought to ask the inevitable question: "Who are you wearing?"
"Joan changed it all," Snegaroff said."The four little words: 'Who are you wearing?' and that changed everything. But what she really brought was honest conversation to the carpet."
Joan Rivers' honesty suddenly turned the celebrities into targets.
"It became such an honor if she knocked you or made a joke about you," "Fashion Police" co-host Kelly Osbourne said. "Because if you were on Joan's radar, you mattered. She's the pop culture queen."
Rivers death last September means this year's Oscar red carpet will be without one of its essential ingredients, but her legacy lives on.
Snegaroff said it's become a default question. Some may find it annoying, but don't expect it to end anytime soon.
"It's become big business on the red carpet," "Entertainment Tonight's" Nancy O'Dell said.
She has been covering red carpets for almost 20 years and points out that for many actresses, success on the carpet can mean big money.
"Lupita Nyong'o - huge impact on the red carpet. Of course she was nominated and did tremendous work, but she was stunning on the red carpet and wore these gorgeous fashions," O'Dell said. "And as a result, she now has endorsements with Lancôme and with Miu Miu."
Osbourne said when the women walk down the red carpet, they know what they're doing.
"You're asking people to judge you. You're walking onto a red carpet," she said. "You don't have to put yourself out there if you don't want to and they're choosing to, so you can't complain."
So consider this a fair warning to all those in show business heading to the Oscars on Sunday night: we'll be watching, closely.
Thanks for reading CBS NEWS.
Create your free account or log in
for more features.