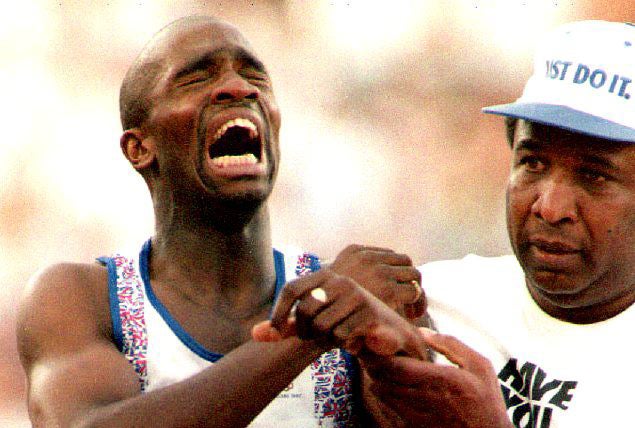 Olympics moment: Derek Redmond finishes 400m with dad in Barcelona
The 2016 Rio Olympics are underway, and there are sure to be many emotional moments in the coming weeks.
But 24 years ago, British sprinter Derek Redmond and his father provided audiences with one of the most heart-wrenching, goosebump-inducing moments in Olympic history.
At the 1992 Barcelona Olympics, Redmond had qualified for the semifinal of the 400m with the fastest time in his heat. He was looking strong when suddenly he pulled up -- his hamstring had torn.
Rather than crumble to the ground, Redmond continued hobbling toward the finish line. Surprisingly, he didn't have to finish the race alone.
Redmond's father, Jim, ran from the stands and brushed off security to join his son. With tears in both of their eyes, the Redmonds finished the race together.
Derek Redmond is now a motivational speaker, and he has a Barack Obama quote on the home page of his website:
"Derek Redmond bravely making it through with little help, moments of euphoria after years of hard work. Moments when the human spirit triumphs over injury that should have been impossible to overcome."
Thanks for reading CBS NEWS.
Create your free account or log in
for more features.