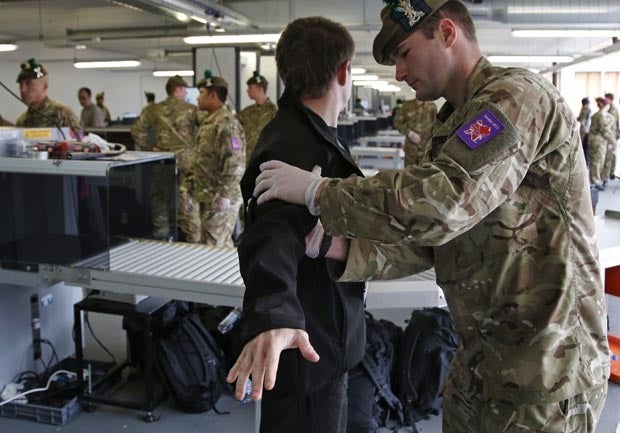 Olympic security shortfall called "absolute chaos"
(CBS/AP) LONDON - Britain's interior minister says security firm G4S repeatedly assured the government it would exceed its targets for recruiting Olympic staff, only admitting last week that it could not meet the terms of its contract.
Home Secretary Theresa May said Monday that G4S had "repeatedly assured us that they would overshoot their target."
Pictures: Security at the Olympics
"G4S only told the government that they would be unable to meet their contractual arrangements last Wednesday and we took immediate action," she said.
G4S, one of the world's largest private security firms, says it has recruited more than 20,000 staff for the games. But its failure to have them all trained and deployed, two weeks before the July 27-Aug. 12 Olympics begin, has left British officials scrambling to plug the gaps.
The original contract was for 2,000 G4S guards, CBS News correspondent Elizabeth Palmer reported. Then, last December, after advice from U.S. law enforcement, that figure ballooned to more than 13,000, and G4S simply couldn't keep up. (Watch Palmer's report at left).
Britain is deploying 3,500 troops to cover the positions G4S could not fill — in addition to thousands of service personnel already working at the games — and officers from nine police forces have been called in as short-term replacements at venues where G4S staff are not ready.
Olympic security contractor regrets shortfall
US-UK security experts unite for London Olympics
U.K. adds 3,500 military personnel to London Olympics security
G4S said its staff would be assigned to those venues in "the coming days" and police would be able to go back to their regular duties.
But West Midlands Police Federation chairman Ian Edwards said the situation was "chaos, absolute chaos."
"You shouldn't lose your local police officer because of the Olympics," he said. "Communities are suffering because a private company has failed to deliver on a contract."
G4S chairman John Connolly has said senior managers could lose their jobs over the fiasco.
Chief executive Nick Buckles has already waived his bonus for this year, and has said he considered — but ruled out — resigning.
The company said Monday its loss on the contract would range between 35 million pounds and 50 million pounds ($54 million-$78 million) in this financial year.
A loss of 50 million pounds works out to about 12-13 percent of the company's annual profit, analysts calculated.
"G4S has evidently over-stretched itself with a high profile contract, which could have wider implications for the group's ability to win work," analysts at Espirito Santo Investment Bank said. "Given the high-profile nature of this contract there is now a high level of reputational damage."
G4S shares closed 8.6 percent lower at 254.6 pence in London Monday. The shares have dropped more than 30 pence since the Olympic shortfall was disclosed.
Thanks for reading CBS NEWS.
Create your free account or log in
for more features.