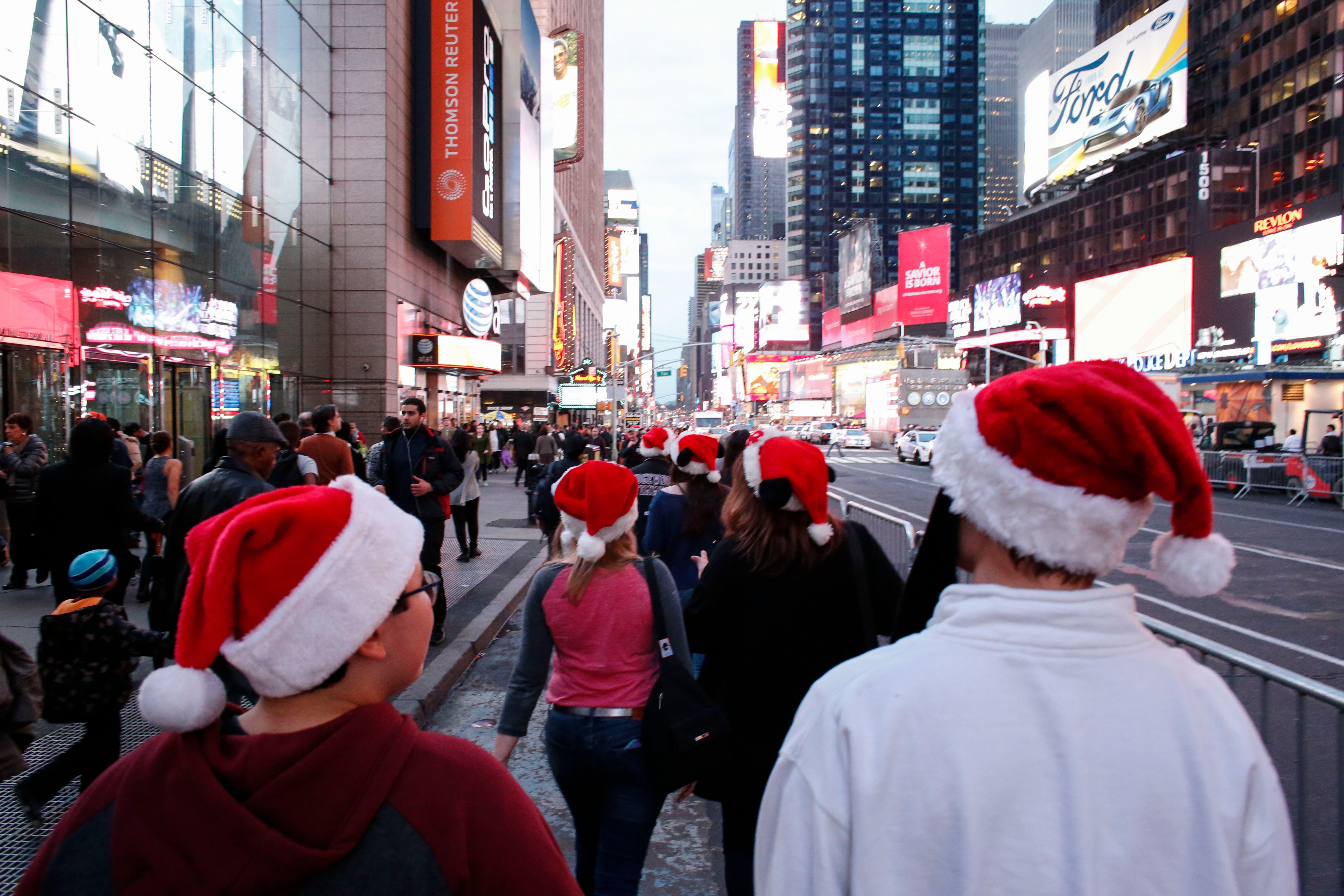 Oh, the weather outside's delightful
PHILADELPHIA -- Northerners accustomed to cozying up to a roaring Yuletide fire in a bulky sweater with a mug of hot chocolate may have to open the windows on Christmas.
Record-shattering temperatures in the 60s and 70s settled over the Northeast on Christmas Eve, allowing many people to trade coats and scarves for shorts and T-shirts and go jogging and golfing. Some announced plans to grill steaks in the backyard instead of putting a Christmas ham in the oven.
Depending on whom you asked, the weather outside was either frightful or delightful.
Not even overcast skies in Philadelphia on Thursday could dampen Michael Craven's spirits. Walking home after running errands in shorts and a T-shirt, he exclaimed with a huge grin: "It's beautiful out!"
"I'm ecstatic. I am not a fan of winter," he said. The Christmas spirit "is the people, not whether it's cold or not. I think people are in better spirits because it's warm out. They're on the streets. You're still able to eat outside at some of the restaurants."
While the Rockies and the Pacific Northwest have been getting heavy rain and snow, and the South has been hit by deadly tornadoes, much of the East Coast is in for balmy, springlike weather over the next few days.
Forecasters said El Nino, the warming of the Pacific Ocean near the equator, is partly to blame. The weather phenomenon is pushing the jet stream northward, bottling up the cold arctic air that often flows down into the U.S. from Canada.
Meteorologists said some Christmas Eve records could be broken by as much as 10 degrees.
"That's one thing about the temperature especially today - a lot of places will blow away their previous record highs," said Bob Oravec, a National Weather Service forecaster in College Park, Maryland.
The weather forced some traditional winter destinations to improvise. In the Adirondack Mountain village of Lake Placid, New York, home of the 1980 Winter Olympics, free golf was added to the list of holiday activities, and snow was trucked in so that people could go sledding.
Without the usual winter wonderland, some people clung to tradition to get in the mood.
Dozens skated at the ice rink in Cincinnati's Fountain Square, where the temperature was in the 50s. Many of them were part of the annual Mechley family Christmas Eve morning gathering.
"Ironically, it's the first year we had rented the warming hut," said Camille Gartner, who was part of the group, expected to reach up to 80 people spanning four generations.
Fran Convery of Valley Forge, Pennsylvania, tried to look the part, wearing red plaid shorts and a red pullover, but gave a bah-humbug scowl when asked about the weather. He was in Philadelphia with his family for a holiday tradition: looking at the decorations and having lunch at the Reading Terminal Market.
"I'd rather it be cold. I'd rather have snow on Christmas," he said. "This past week and the days leading up to it did not feel like Christmas with the warm weather. But when we start doing this stuff, it does."
In Warwick, Rhode Island, Stephen Malloney took advantage of the warm weather - the temperature hit a record of at least 65 in Providence - by playing a round of golf.
"Once I looked at the forecast, I packed my clubs," said Malloney, who was in town from Myrtle Beach, South Carolina, visiting family.
More than 50 surfers took to the waves on a 72-degree Christmas Eve in Manasquan, New Jersey, and 5-year-old Clare Tiedemann dug in the sand with the same toy shovel and pail she used over the summer at the beach.
In New York City, the noontime temperature in Central Park was 72, crushing the record of 63 degrees, set in 1996. Dozens of people in shorts and tank tops went running in Brooklyn's Prospect Park.
"It's kind of like this is our little gift for the last two winters," said Carlie Buccola at the National Weather Service in Upton, New York.
The warm weather across the Northeast made it coats-optional for a number of last minute shoppers, reports CBS News correspondent Anna Werner.
And the shopping season has also been hot-and-cold this year.
At the Flemington Department Store, in New Jersey, the warm weather has cooled apparel sales. Owner Martin Resnick said most of his heavy winter clothing items are sitting.
"A lot of the business from our industry went away because people just don't feel 'Christmasy' and they're not cold. They're not going to work and feeling cold," he said.
It's a similar story up and down the East Coast.
Data firm Planalytics estimates retailers have lost over $400 million in sales since November 1, compared to the same critical 7-week sales period last year.
In Chicago, sales of long-sleeved knits are down 16 percent. Snow thrower sales are off 15 percent in Cincinnati. And outerwear sales dropped 25 percent in Tampa.
"Retailers may have a great January or February clearing out winter merchandise, but it's gonna be marked down 50 to 70 percent," said Fred Fox the Planalytics CEO. "So they're not gonna make a lot of money off it."
Thanks for reading CBS NEWS.
Create your free account or log in
for more features.