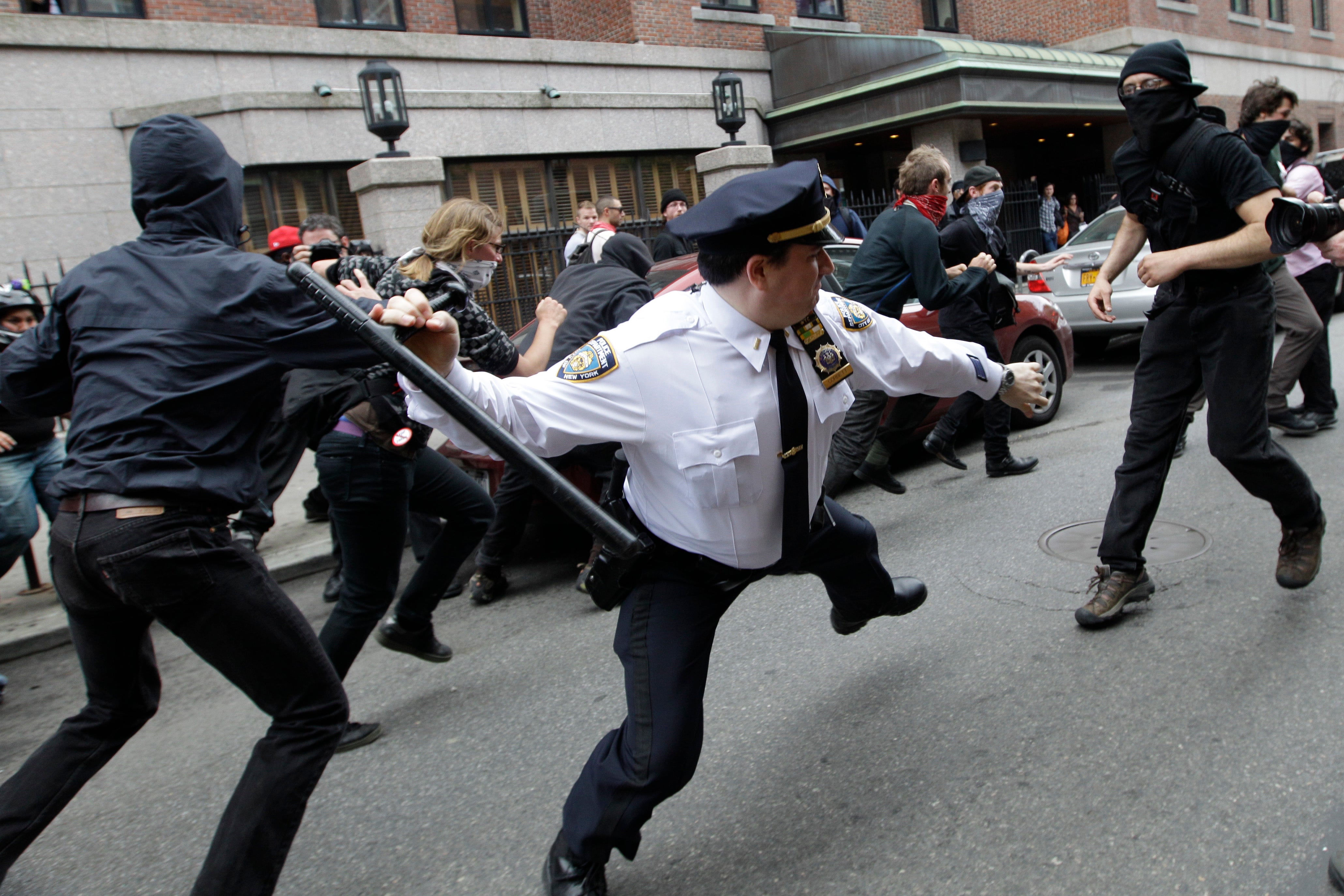 NYC reaches settlement with Occupy Wall Street protesters
NEW YORK -- The city has agreed to pay a total of $332,500 to six Occupy Wall Street protesters who said police unjustly blasted them with pepper spray in an episode that helped propel the movement into the spotlight.
The settlements, reached in recent weeks, range from $52,500 to $60,000 per person in cases arising from Occupy's early days in September 2011. They're among a number of payouts the city has OK'd over its handling of the protests against economic inequality while fighting some other claims.
The city's Law Department said Monday the latest settlements were in the city's best interest; the New York Police Department didn't immediately respond to a request for comment. The protesters' lawyers said the lawsuits held police accountable for their actions.
"We think it's an amount that reflects that the city is aware that its actions were entirely improper," said Mark Taylor, who represents three of the protesters, Damien Crisp, Kelly Hanlin and Julie Lawler.
Taylor and Aymen Aboushi, a lawyer for protesters Chelsea Elliot and Jeanne Mansfield, said the lawsuits aimed to alter police officers' approach to demonstrations.
"When you have neutral video that's exposing an unconstitutional practice, I think it really goes a long way in getting people's attention, including getting the city's attention and making them come to the table to discontinue this sort of practice," Aboushi told CBS New Yor.
The cases stemmed from a march a week after Occupy protesters first gathered and camped out in lower Manhattan's Zuccotti Park.
Online video showed police Deputy Inspector Anthony Bologna pepper-spraying a cluster of marchers, mostly women, who were corralled behind orange netting. The images helped galvanize Occupy.
Bologna deployed the chemical "without the slightest provocation" as the protesters stood peacefully, said Ron Kuby, a lawyer for Kaylee Dedrick, who was seen on video being sprayed and crumpling to the ground.
Bologna's union said he acted out of concern for safety and prevented more injuries and tumult. He wasn't charged with any crime, but he was found to have violated police department guidelines and was docked 10 vacation days.
The city has reached some other sizeable settlements concerning the Occupy demonstrations, including a $583,000 agreement with 14 protesters who said they were wrongfully arrested on New Year's Day 2012; $230,000 that the city and Zuccotti Park's private owner are paying over allegations that a book collection was destroyed when the park was cleared in November 2011, and $55,000 to a man arrested while shooting video at an Occupy demonstration, according to lawyers in those cases.
But a federal appeals court this winter dismissed a lawsuit over the arrests of more than 700 Occupy supporters marching on the Brooklyn Bridge on Oct. 1, 2011. Further filings in that case are now before a judge.
Some other Occupy-related lawsuits also continue, including cases involving police use of pepper spray.
Thanks for reading CBS NEWS.
Create your free account or log in
for more features.