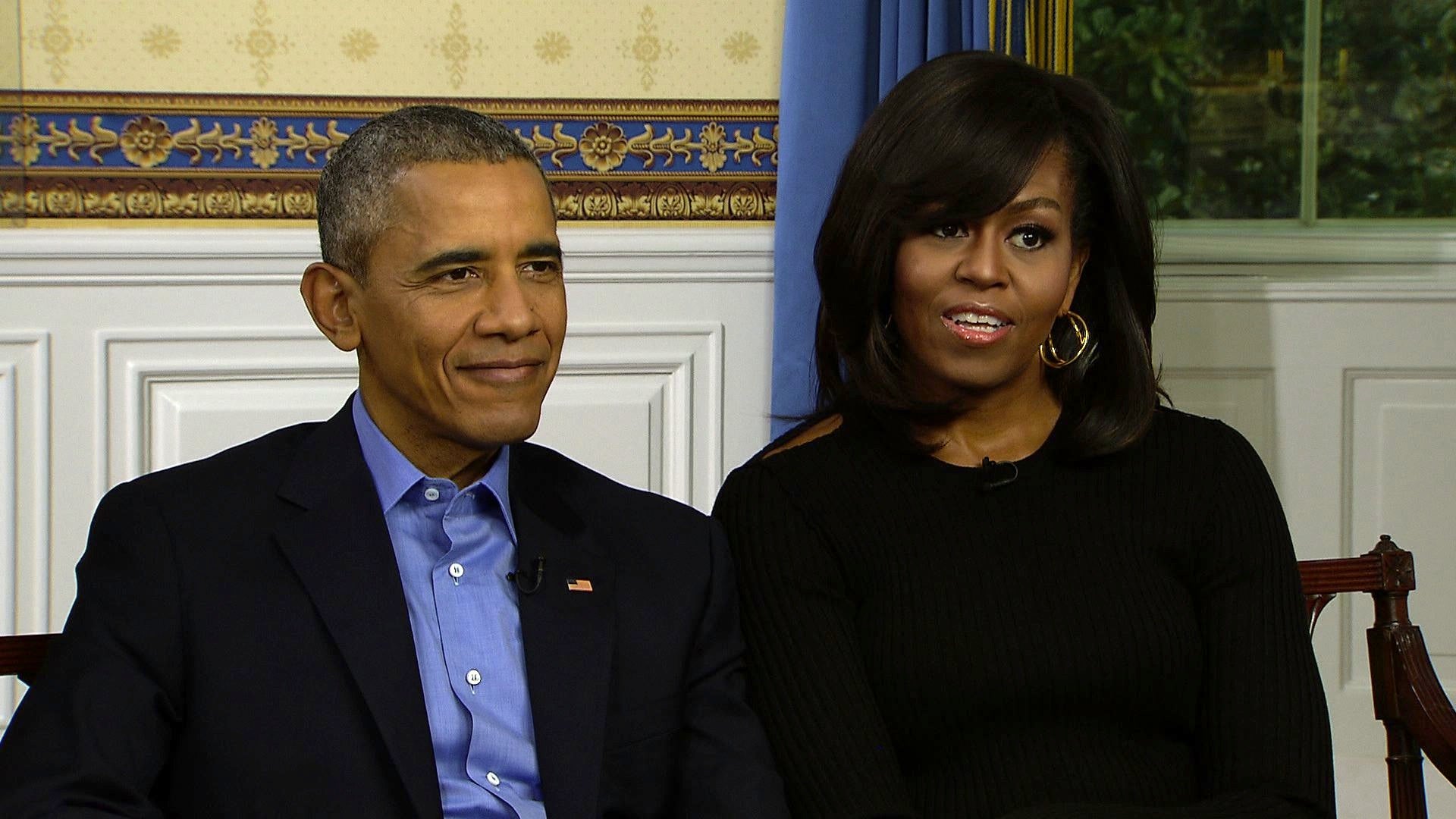 Obamas share Super Bowl traditions with CBS' Gayle King
There are three sections of the Super Bowl party at the Obama White House, according to the way Barack and Michelle Obama tell it.
"We have sort of three ways that we do the Super Bowl. We have the serious watchers. And that's the treaty room. If you're in that room, you're watching the game," Michelle Obama said. "Then there's the outside room where the kids are, where they're kind of fooling around. They're by the food."
"We keep them away," the president joked.
"Then there's what I call the champagne room. That's where my mother sits. Where you really don't know what's going on but you're close to the champagne," Michelle Obama finished.
The couple sat down with "CBS This Morning" co-host Gayle King ahead of Super Bowl 50 on CBS to talk about their annual traditions and to also play what King calls the "POTUS/FLOTUS" game where they talked about each other.
Their food spread is what you would expect from a Super Bowl party, the president said: Wings, pizza, nachos and guacamole. And, he added, there's "the little vegetable tray that nobody touches." But Michelle Obama said there would be two types of salads this year.
The couple said they don't do much yelling during the game - they haven't since the last time their team, the Chicago Bears, played - but they'll still all scream for a good play. Michelle Obama also said, "I care deeply about the halftime show."
"I got dressed for the halftime show," she joked. "I hope Beyonce likes what I have on."
King then prompted the couple to complete various sentences about each other, which she called the "POTUS/FLOTUS" game.
"I love it when he..." King prompted.
"Holds my hand," Michelle Obama said. "I love it when she laughs. She's got a great laugh," the president said.
Then King prompted, "I can always count on her to..." and Mr. Obama responded, "tease me about something."
Michelle Obama said, "Not disappoint me."
Finally King had them say what the other person wanted to do once they leave the White House. Michelle Obama guessed her husband would want to take a walk by himself outside, while the president said his wife would want to "travel and roam around the world in ways that we can't do when we're traveling in official capacities."
When King asked if they had advice for the next couple who will occupy the White House, Mr. Obama said they wanted to work on "the whole tech thing."
"We've been trying to get that straight for the next group of folks, because it is an old building, and so there's a lot of dead spots where Wifi doesn't work," Mr. Obama said.
"I was kidding about the Wifi not working," said Gayle.
"It can be a little sketchy," Michelle Obama said. "The girls are just irritated by it sometimes."
The president does not traditionally reveal his predictions for the Super Bowl, but King asked him to circle the name of the team he thinks will win and put it in an envelope. The results will be read on CBS This Morning Monday, where there will also be an additional interview with the president.
King also asked about the Obamas' first date -- a topic that made headlines earlier this year when a movie titled "Southside With You," which sought to retell the couple's origin story, debuted at the Sundance Film Festival.
Referencing the beat-up vehicle Mr. Obama drove to pick up Michelle for their first date, King asked, incredulously, "You got a second date after driving that car?"
"'Cause I'm so smooth," the president joked. "I could make up for the hole in the car."
His wife shot back, laughing, "I thought -- 'Imma upgrade this brother.'"
CBS News Associate Producer Reena Flores contributed to this story.
Thanks for reading CBS NEWS.
Create your free account or log in
for more features.