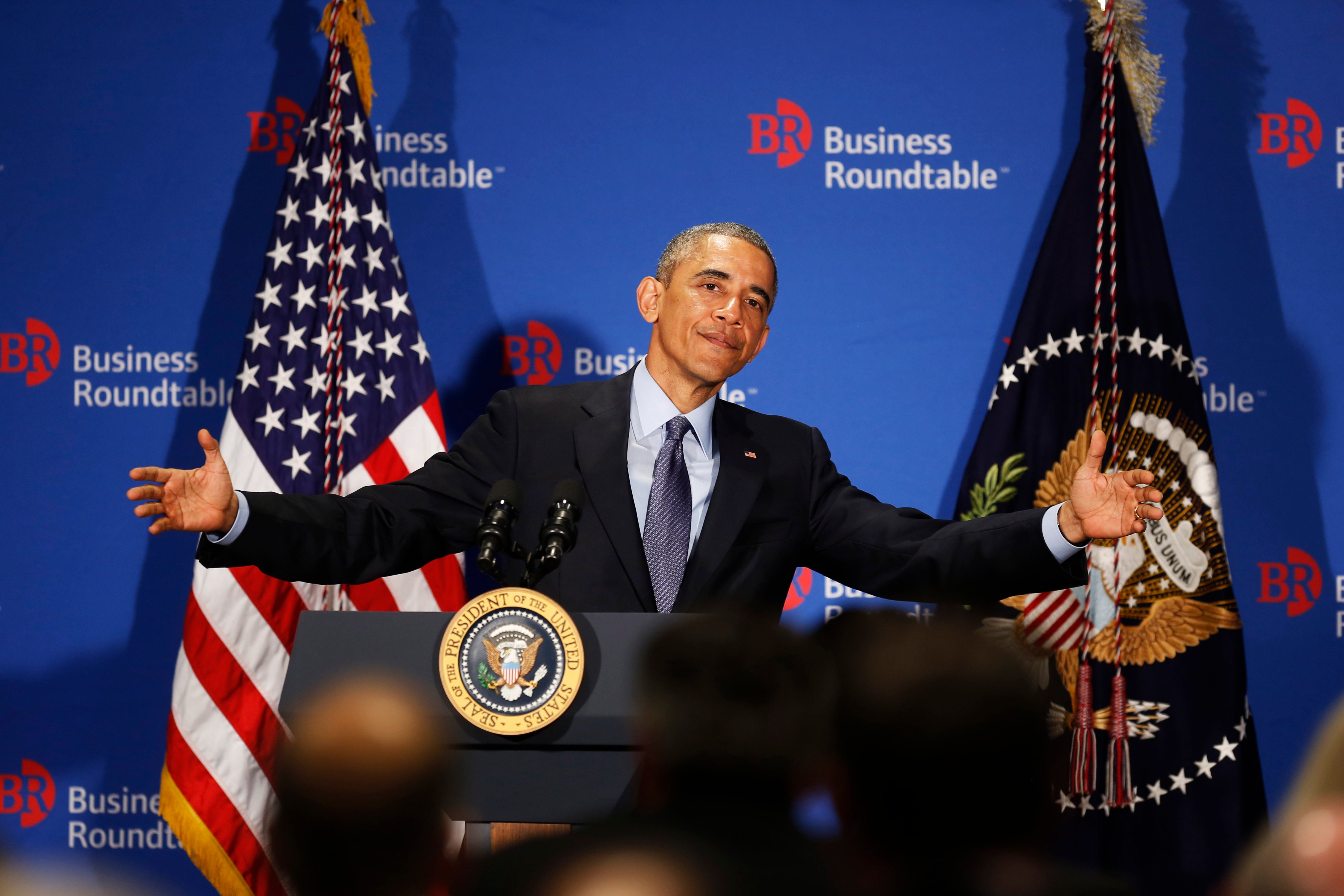 Obama woos GOP on tax reform, immigration, free trade deals
President Obama outlined several "enormous areas" of potential bipartisan compromise during a speech before the Business Roundtable on Wednesday, saying he's prepared to deal with Republicans to make progress on tax reform, free trade, and immigration - assuming they're willing to deal with him.
The president told the organization, composed of the CEOs of some of America's largest companies, that the U.S. has recovered from the financial crisis of 2008 by many measures, and he said the degree of optimism among foreign leaders about the future of the U.S. economy is "striking."
But he also said that "politics and ideological gridlock" are preventing progress on other fronts that could help accelerate the economic recovery.
On corporate tax reform, a high priority among Republicans in Congress, the president said he'd like to see a package that lowers rates and closes loopholes to create a more efficient tax system. He said his administration's proposals have a "lot of overlap" with a tax reform plan released earlier this year by House Ways and Means Committee Chairman Dave Camp, R-Michigan, and he also expressed some "openness" to a repatriation tax holiday that would allow corporations to bring offshore assets back to the U.S. without penalty.
There's "definitely a deal to be done," he said.
But the president also forecast some sticking points. He urged Republicans to decouple individual tax reform from corporate tax reform, saying the latter is "a more discrete problem" with "fewer variables."
"We may be able to get that done and then we can have a conversation about broader tax reform," he said. "That may not be how the Republicans view the situation."
The president said he's open to a short-term extension of several corporate tax provisions set to sunset by the end of the year. But he stressed the need to pair those extensions with proposals to help middle class families as well, including the earned income tax credit, the child tax credit, and the college tuition tax credit. He said he remains "cautiously optimistic" that such a deal will materialize.
Congressional Republicans have repeatedly touted their desire to work with the administration on tax reform, but they've questioned the administration's appetite for compromise. Incoming Senate Majority Leader Mitch McConnell, R-Kentucky, for example, underscored his desire to reform corporate taxes on Tuesday at the Wall Street Journal CEO Council's annual meeting, but not if significant new revenues are part of the deal. "We're not going to pay a trillion dollar ransom to do something that would make the country more competitive," he said.
On Wednesday, Mr. Obama also hailed fresh progress in negotiations over two new free trade agreements prized by Republicans. He cited a "great hunger" among Asian nations for the Trans-Pacific Partnership and said that effort is "moving forward." He also said his administration, led by U.S. Trade Representative Michael Froman, is "reinvigorating negotiations" with European countries on a Transatlantic trade deal.
Those deals have drawn fire from labor and environmental interests on the left, but the president sought to blunt that criticism by arguing the deals would mandate higher labor and environmental standards among nations participating in the free trade zone. He stressed the need to finalize an agreement and "explain it to the public" so they more fully understand the benefits.
Republicans have sounded more bullish on the prospects for compromise on trade agreements than on some other issues. "At least on trade, I think there's a potential for agreement," McConnell said Tuesday.
The president also reiterated his desire for bipartisan legislation to reform the nation's immigration system, even as Republicans remain steamed about his recent decision to use his executive authority to shelter millions of undocumented immigrants from deportation.
The business community has largely supported immigration reform efforts, particularly provisions that would increase America's supply of highly skilled workers. Mr. Obama praised the Business Roundtable for its "extraordinarily helpful" advocacy on the issue, and he said he remains "hopeful that we can get legislation done" despite the GOP's complaints.
He acknowledged, though, that "temperatures [may] need to cool" before Congress can act on the issue.
Of the agenda items he discussed, he said he'd like to "get a process started" on tax reform first as a means of building trust and credibility to assist talks on other issues. He suggested infrastructure and trade deals could come shortly thereafter, and he admitted immigration reform "probably comes last."
Thanks for reading CBS NEWS.
Create your free account or log in
for more features.