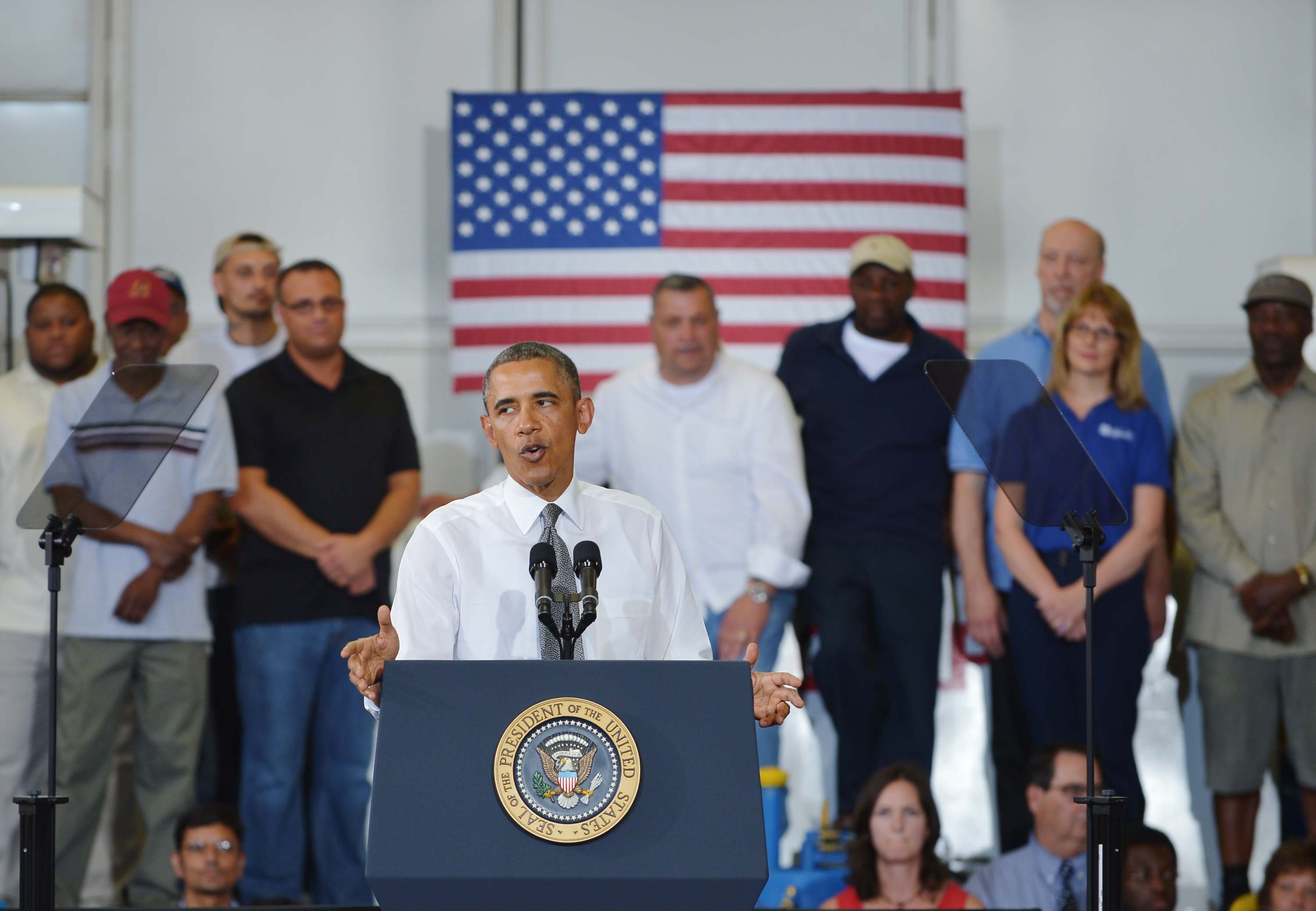 Obama unveils new rule to speed up infrastructure projects
On the second leg of his "Middle Class Jobs and Opportunity Tour," President Obama on Friday unveiled a new effort to cut through red tape and reduce by half the time it takes to approve infrastructure projects.
"We've got to step up our game when it comes to infrastructure," Mr. Obama said at the Baltimore company Ellicott Dredges, which manufactures dredge equipment that is sold for infrastructure projects. The new rule, he said, "means more money going to back into local economies, and it means more demand for outstanding dredging equipment that is made right here in Baltimore."
The rule the president announced today was borne out of a government-wide initiative Mr. Obama launched last year to improve efficiency in the federal government. The rule institutionalizes the best practices identified through that initiative.
Getting away from the ongoing IRS and Associated Press scandals swirling in Washington, Mr. Obama traveled to the Baltimore company to illustrate the staying power and quality of manufacturing jobs. "Our workers are at our best when we're building stuff," he said, noting that dredging equipment built by the company was used to help dig the Panama Canal. He noted that the Panama Canal is currently being revamped once more, in order to accommodate larger cargo ships.
"These cargo ships are so big that if we don't remodel our ports here in the United States, they can't dock at our ports...We'll lose that business," he said, making the case for infrastructure investment.
Friday's stop in Baltimore was part of Mr. Obama's multi-city jobs tour, during which he's making the case for investments in job creation, but also for investments in education and policies that strengthen the middle class and raise wages.
"We've got to make sure if and when you're working hard, that leads to a decent living," he said.
Before visiting Ellicott Dredges, Mr. Obama visited Moravia Park Elementary School, where he participated in a literacy lesson with pre-kindergarten students. The students are part of the school's Judy Center, which provides comprehensive early childhood services like Head Start, child care, intervention services and family engagement. "Their kids are getting a head start learning skills they need to succeed," he said of the school.
After his stop at the dredge equipment company, Mr. Obama was headed to a community center, which helps low-income fathers and others get training and guidance to find work and support their families.
"Probably some of the folks I'm meeting, they didn't get the early childhood education that put them on the right track," Mr. Obama said. "If they missed out early one we still want to give them opportunity on the back end."
Mr. Obama said that building a strong middle class is always his primary focus, even Washington is distracted with other passing issues.
"I know it often seems like folks down there are more concerned with their jobs than with yours," he said.
While he said he's had "a little difficulty" working with Republicans to fund his initiatives, the president promised, "I'm going to keep trying to work with both parties in Washington to make progress. Our challenges are solvable."
Thanks for reading CBS NEWS.
Create your free account or log in
for more features.