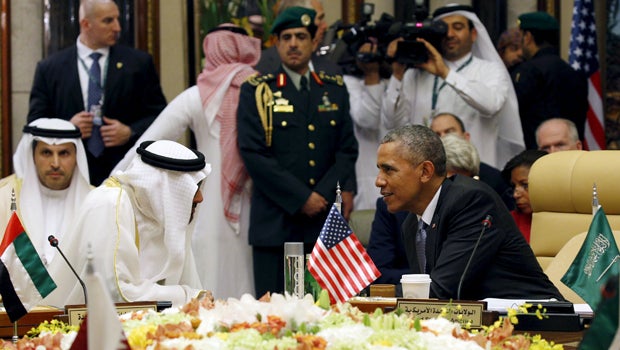 Obama, Persian Gulf leaders agree to step up ISIS campaign
RIYADH, Saudi Arabia --President Obama strained to ease tensions with Persian Gulf allies Thursday, pledging U.S. help in confronting Iran and other security threats. Yet he failed to win the commitments he sought to boost economic aid to Iraq.
Mr. Obama's trip to Saudi Arabia - the fourth and probably last of his presidency - did not result in any major breakthroughs. Mr. Obama said Gulf leaders attending the regional summit had agreed to step up the campaign against the Islamic State of Iraq and Syria, or ISIS, but did not lay out specifics. He described the talks as a chance to clear up misperceptions among allies, insisting the U.S. and Gulf partners had "tactical differences" but similar goals.
"A lot of the strain was always overblown," Mr. Obama said as he closed a two-day trip here.
Saudi Arabia, like other Sunni-led countries in the region, has been wary of Mr. Obama's nuclear deal with Iran and skeptical of his approach in Syria. Mr. Obama came to the Gulf Cooperation Council meeting not only to urge its members to do more to tackle thorny security challenges but also to offer his own reassurance.
The U.S.-brokered nuclear deal made rulers deeply suspicious of Mr. Obama's intentions, CBS News correspondent Margaret Brennan reports. Saudi leaders in particular feel he has jeopardized their status as America's key ally in the Mideast.
Mr. Obama's arrival on Wednesday was not met with the usual pomp and ceremony given to visiting leaders. It also wasn't broadcast on state TV, but U.S. officials denied that was a snub, Brennan reports.
His brief visit illustrated the limits of what can be achieved when Gulf budgets are stretched by a slump in oil prices and the region is eagerly looking beyond Mr. Obama to his successor. Mr. Obama leaves office in January after eight years that Saudi leaders saw as heralding a shift in traditional U.S. loyalties away from Saudi Arabia and toward Iran.
Mr. Obama, in meetings with Saudi King Salman, the ruling emirs of Qatar and Kuwait and others, appealed for more financial and political support to help Iraq. Yet the leaders appeared reluctant to invest until Iraq's government overcomes a political crisis and better integrates Sunnis into the process.
In a shift in tone from just a day earlier, Mr. Obama said the U.S. and its Gulf partners should wait to see whether Iraq can resolve the crisis before committing more aid. He warned that the paralysis is impeding U.S.-led efforts to defeat ISIS and reconstruct war-damaged Iraq.
"Right now in Baghdad, there's some big challenges," Mr. Obama said. "Until that's settled, I think it's important for us to make sure that any additional stabilization dollars that we put in are going to be effectively spent."
Mr. Obama praised Iraqi Prime Minister Haider al-Abadi as a "good partner" for the U.S. but said he was concerned about his grip on power. Increasing pressure on Iraqi leaders, Mr. Obama said it was vital for the country to finalize a Cabinet so the nation can focus on profound long-term problems.
"They've got a lot on their plate," Mr. Obama said. "Now is not the time for government gridlock or bickering."
Ben Rhodes, Mr. Obama's deputy national security adviser, said there was no discussion of calls in the U.S. for the release of 28 pages of a report on the Sept. 11 attacks that, as CBS' "60 Minutes" reported this month, lay out the possibility of official Saudi assistance for two of the hijackers who settled in Southern California.
In an interview with "CBS This Morning" co-host Charlie Rose on Monday, Mr. Obama said Director of National Intelligence James Clapper has been reviewing the material to ensure that whatever is made public does not damage U.S. national security interests.
"My understanding is that he's about to complete that process," the president said.
The controversy has led some in Congress to push legislation allowing families of 9/11 victims to sue the Saudi government for compensation.
The White House opposes the legislation, arguing it could expose Americans overseas to legal risks.
The Gulf states remain concerned about Mr. Obama's willingness to negotiate with Shiite powerhouse Iran, amid fears that the deal to curb Iranian moves toward nuclear weapons will lead to a rebalancing of regional stances at their expense. Mr. Obama said the U.S. would live up to its commitments under the deal to grant sanctions relief to Tehran while remaining vigilant about destabilizing activities including arms shipments to Houthi rebels in Yemen that the U.S. has helped intercept.
"None of our nations have an interest in conflict with Iran," Mr. Obama said before flying to London, the next stop on his three-country trip.
The president's hopes of winding down U.S. military engagement in the Mideast have repeatedly been confounded by conflicts that have flared in countries struggling to contain extremists. Mr. Obama said the U.S. would boost security cooperation to address threats in Libya and support a fledgling U.N.-brokered unity government there. He urged all parties to abide by a nascent cease-fire in Yemen, where a Saudi-led coalition is fighting on the side of an internationally recognized government against Shiite rebels and their allies.
Though many of the Mideast allies are participating in the U.S.-led coalition against ISIS, they harbor serious doubts about Mr. Obama's approach to resolving Syria's long-running civil war, which has left President Bashar Assad in power to the dismay of Sunni leaders elsewhere in the Middle East. Mr. Obama warned that a cease-fire in Syria that the U.S. and Russia brokered was under "tremendous strain," blaming Assad's forces in part for what he said were repeated violations.
"It may be breaking down," Mr. Obama said.
Thanks for reading CBS NEWS.
Create your free account or log in
for more features.