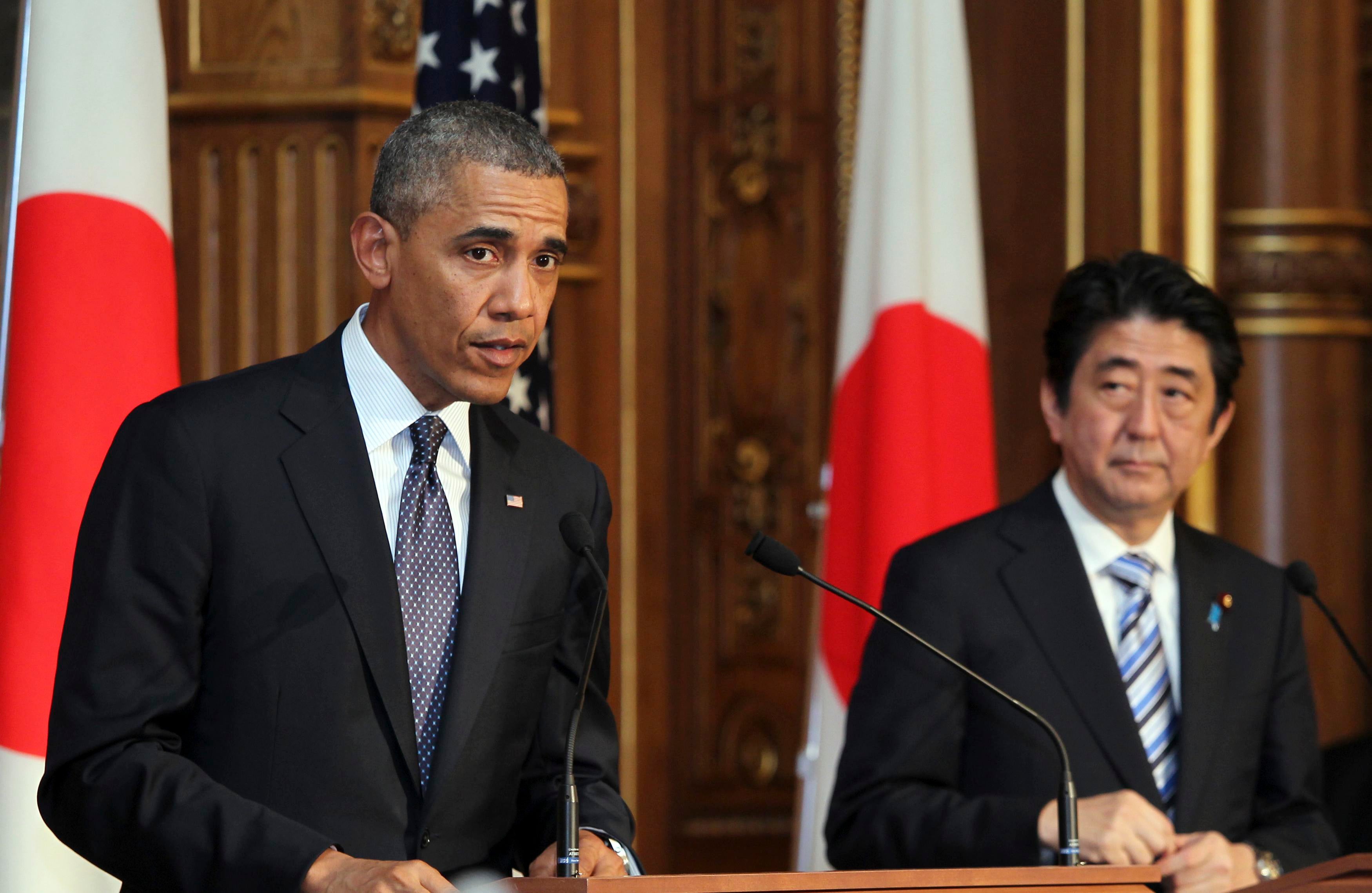 Obama: New Russia sanctions are "teed up," but Putin can change course
President Obama warned that the U.S. has prepared a fresh round of sanctions against Russia as a consequence for Moscow's refusal to condemn destabilizing violence in eastern Ukraine. But, he said, there is still time for Russian President Vladimir Putin to change course and uphold promises to engage with the Ukrainian government.
The heart of the problem, Mr. Obama said during a news conference in Tokyo, is that Russia has not abided "by the spirit or the letter" of an agreement brokered by diplomats in Geneva earlier this month that called for all illegally armed groups - including pro-Russian separatists -- to be disarmed and turn back control of buildings to authorities.
"We have been preparing for the prospect that we're going to have to engage in further sanctions. Those are teed up. It requires some technical work, and it also requires coordination with other countries," the president said.
But he made clear that the goal is not to levy the next round of sanctions as soon as possible, but rather "to change Mr. Putin's calculus" and find a diplomatic resolution to the crisis, particularly because of the ripple effect that could occur if the U.S. targets entire sectors of the Russian economy.
"Sanctions hurt Russia more than anybody else, but they're disruptive to the global economy, and they're unnecessary if in fact Russia would recognize that the government in Kiev is prepared to have serious negations that preserve the rights of all Ukrainians, including Russian speakers, and is prepared to decentralize in ways that originally Mr. Putin said were of utmost importance to him," Mr. Obama said.
The timeline is still a matter of days, not weeks, he said, making it clear that cooperation from other European and international partners on the sanctions will be key to changing Putin's course, though even that might not be enough.
The ongoing conflict in Ukraine followed Mr. Obama to Japan, his first stop on a four-country trip through Asia aimed at strengthening ties with allies in the region and refocusing some of his administration's attention there.
Bilateral talks with Japanese Prime Minister Shinzo Abe and his government did not lead to a conclusion on the Trans-Pacific Partnership (TPP), a 12-nation trade pact that is currently stalled by differences between the U.S. and Japan on issues like agricultural products and automobiles. In his opening remarks, Abe pledged the two countries would work together "energetically" to resolve differences and move the negotiations forward.
Mr. Obama, for his part, said, "now is the time for bold steps" and he believes it will be possible to conclude the treaty, noting that the two countries are closer together on both issues.
His optimism belies a deep well of discontent with the treaty back home in the U.S., where Democratic lawmakers worry any agreement will cost U.S. workers their jobs and harm the environment. For once, Republicans are the ones who indicate they would give Mr. Obama the support he needs for the fast-track consideration of the treaty that would likely be necessary to ensure its passage.
While Mr. Obama acknowledged at the news conference that there are always "political sensitivities" in trade discussions, he said it was time for everyone to "move out of our comfort zones" and "push our constituencies beyond their current comfort levels because ultimately it's going to deliver a greater good for all people."
"Prime Minister Abe's got to deal with his politics; I've got to deal with mine," the president said.
There was arguably more success in reaffirming U.S.-Japanese security ties, one of the principle goals of the trip. Mr. Obama reasserted his intent to defend Japanese territory under treaty obligations, including a group of disputed islands in the East China Sea that are administered by Japan.
The U.S. is not taking a position on the sovereignty of the Senkaku Islands, which are also claimed by China under the name Diaoyu. Still, his public statement of support - consistent with presidential policy that precedes his birth, Mr. Obama noted - is sure to help quell Japan's fears about China's increasing aggression in the region.
Mr. Obama walked a fine line during the news conference between offering his assurances to Japan while taking care not to isolate China, whose help will be critical in managing the threat presented by North Korea.
"We want to continue to encourage the peaceful rise of China. I think there's enormous opportunities for trade, development, working on common issues like climate change," the president said.
At the same time, he noted it is critical to "maintain basic rules of the road and international order so that large countries [and] small countries all have to abide by what is considered just and fair and that we are resolving disputes in a peaceful fashion."
He urged both countries to maintain a dialogue and not resort to heated rhetoric in the dispute.
There is common ground to be found on confronting North Korea, an issue on which Abe said China "holds the key."
Mr. Obama said he is not optimistic about a potential change in North Korea's behavior, but that a united front from countries like China, Japan and South Korea can help increase pressure on the nation to change course on its nuclear ambitions.
"We have to make sure we are guarding against any provocations of getting out of hand," the president said. He said that the country's "irresponsible behavior - which includes indications of a possible forthcoming nuclear missile test from the North Koreans - was not surprising for the U.S.
After the news conference, he met with three relatives of Japanese citizens who had been abducted by North Korea to relay his condolences and reaffirm the U.S. commitment to working with Japan on the issue.
Later Thursday, Mr. Obama was to tour a science museum in Tokyo and visit the Meiji Shrine. In the evening, he was to attend a full state dinner with Abe at the Imperial Palace. His official arrival ceremony in Tokyo Wednesday morning included a state call with the Emperor and Empress of Japan.
Thanks for reading CBS NEWS.
Create your free account or log in
for more features.