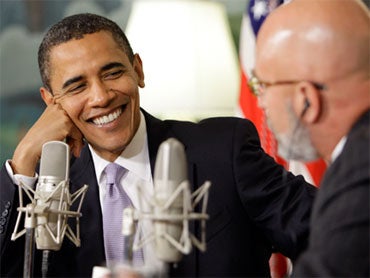 Obama Mum on What's in "Book of Secrets"
Yes, President Barack Obama has seen the fabled book of secrets from the "National Treasure" film sequel. And he's staying zipped on what's in it.
"I would tell you but I'd have to kill you," Obama joked in a White House interview with talk radio show host Michael Smerconish.
Read more about Obama's interview with Smerconish
Smerconish said his sons have seen "National Treasure: Book of Secrets," the Disney sequel to its 2004 hit, and know Obama has been provided the book of secrets that only Oval Office occupants are privy to.
"I have," Obama said, going along with the radio host's reference to the fictional "book of secrets" from the movie.
Smerconish said his sons wanted to know what secret impressed him from the book, but Obama stayed mum.
In the movie, the book contains secrets on Area 51, a secretive site in the West popular in UFO folklore, and John F. Kennedy's assassination among others.
"I get the impression you've seen the movie, too," Smerconish said.
"Absolutely," Obama told him, smiling.
"And I don't want you messing with my Resolute desk, you know, with all the gizmos and gadgets," the president said, referring to the historic desk in the Oval Office.
The Philadelphia-based host and the president chatted before the start of Smerconish's show, but their comments ahead of the program were televised.
"It's sort of a surreal environment for a guy like me to be seated here," Smerconish said, noting the historical surroundings of the Diplomatic Reception Room.
"Me, too," Obama told him.
Obama told the host to check out the West Wing and, in particular, a painting of Kennedy and a ramp built for Franklin D. Roosevelt. "It gives you a real sense of history," Obama said.
The president said his wife, Michelle, and their two young daughters - Malia, 11, and Sasha, 8, - were settling in sooner than he expected since taking office in January.
"The staff here is wonderful," he said. "And they made Michelle and the girls really feel at home. And the girls' adjustment to school was better than I expected. So, they're gone this week. But they seem to be doing great."
Thanks for reading CBS NEWS.
Create your free account or log in
for more features.