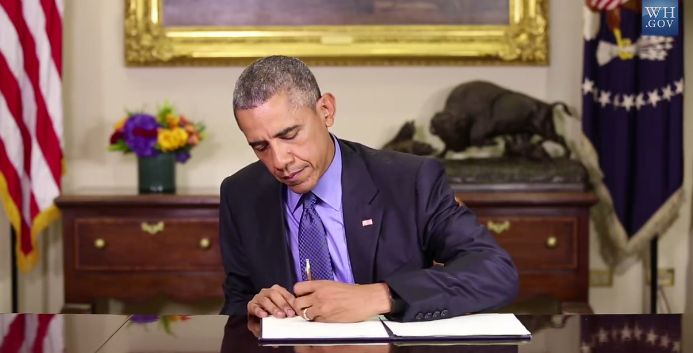 Obama commutes sentences for 46 nonviolent drug offenders
The White House announced Monday that President Obama had commuted the prison sentences of 46 nonviolent drug offenders, bringing the total number of commutations issued by the president to 89.
That's far higher than his two predecessors. Former President Bush commuted the sentences of 11 people, and Former President Clinton did so for 61 people.
"These men and women were not hardened criminals, but the overwhelming majority had been sentenced to at least 20 years. Fourteen of them had been sentenced to life for nonviolent drug offenses, so their punishments didn't fit the crime," Mr. Obama said in a video the White House released on Facebook. He noted that if they had been sentenced under today's laws, nearly all would have served their time already.
"I believe that, at its heart, America is a nation of second chances, and I believe these folks deserve their second chance," the president added.
The White House also released a copy of a letter Mr. Obama wrote to Jerry Allen Bailey, one of the people whose sentences he is commuting. Bailey was sentenced to 360 months' imprisonment and 10 years' supervised release in April 1996 for conspiracy to violate narcotics laws.
"I am granting your application because you have demonstrated the potential to turn your life around," the president wrote. "Now it is up to you to make the most of this opportunity. It will not be easy, and you will confront many who doubt people with criminal records can change. Perhaps even you are unsure of how you will adjust to your new circumstances. But remember that you have the capacity to make good choices."
"I believe in your ability to prove the doubters wrong, and change your life for the better," he adds at the end.
Criminal justice reform has emerged as a rare issue uniting politicians on the right and left. The Corrections Act, introduced by Sens. John Cornyn, R-Texas, and Sheldon Whitehouse, D-Rhode Island, aims to shorten sentences for low-risk federal inmates while also reducing their chances of returning to prison.
A handful of liberals and conservatives -- including Republican Sens. Mike Lee of Utah and Jeff Flake of Arizona, and Democratic Sens. Dick Durbin of Illinois and Cory Booker of New Jersey -- have introduced the Smarter Sentencing Act. Two 2016 Republican candidates, Ted Cruz of Texas and Rand Paul of Kentucky, have also signed on to the bill, which would give judges more discretion in sentencing those convicted of nonviolent drug offenses.
Paul and Booker have also introduced a bill crafted to complement other sentencing reform efforts, called the Redeem Act (the "Record Expungement Designed to Enhance Employment" Act) to reduce recidivism.
At the federal level, the Obama administration has attempted to reform the criminal justice system without the help of Congress. In 2013, Attorney General Eric Holder announced a change in Justice Department policy to avoid draconian mandatory minimum sentencing rules. The department now charges low-level, non-violent drug offenders with offenses that don't impose mandatory minimum sentences.
The White House also asked the Justice Department to develop criteria for identifying and recommending non-violent, low-level offenders for clemency if they might have been given less harsh sentences under today's policies.
"The President's decision to commute the sentences of 46 more individuals today is another sign of our commitment to correcting these inequities. We will continue to recommend to the President appropriate candidates for clemency, and we will continue to work with Congress on recalibrating our sentencing laws for non-violent drug offenders," Deputy Attorney General Sally Quillian Yates said in a statement after the president's announcement.
Mr. Obama will discuss criminal justice reforms when he addresses the NAACP convention in Philadelphia on Tuesday. On Thursday, he will visit the El Reno federal prison and will take part in the taping of an HBO special on the criminal justice system, making him the first U.S. president to visit a federal prison.
CBS News Political Reporter Stephanie Condon contributed to this story.
Thanks for reading CBS NEWS.
Create your free account or log in
for more features.