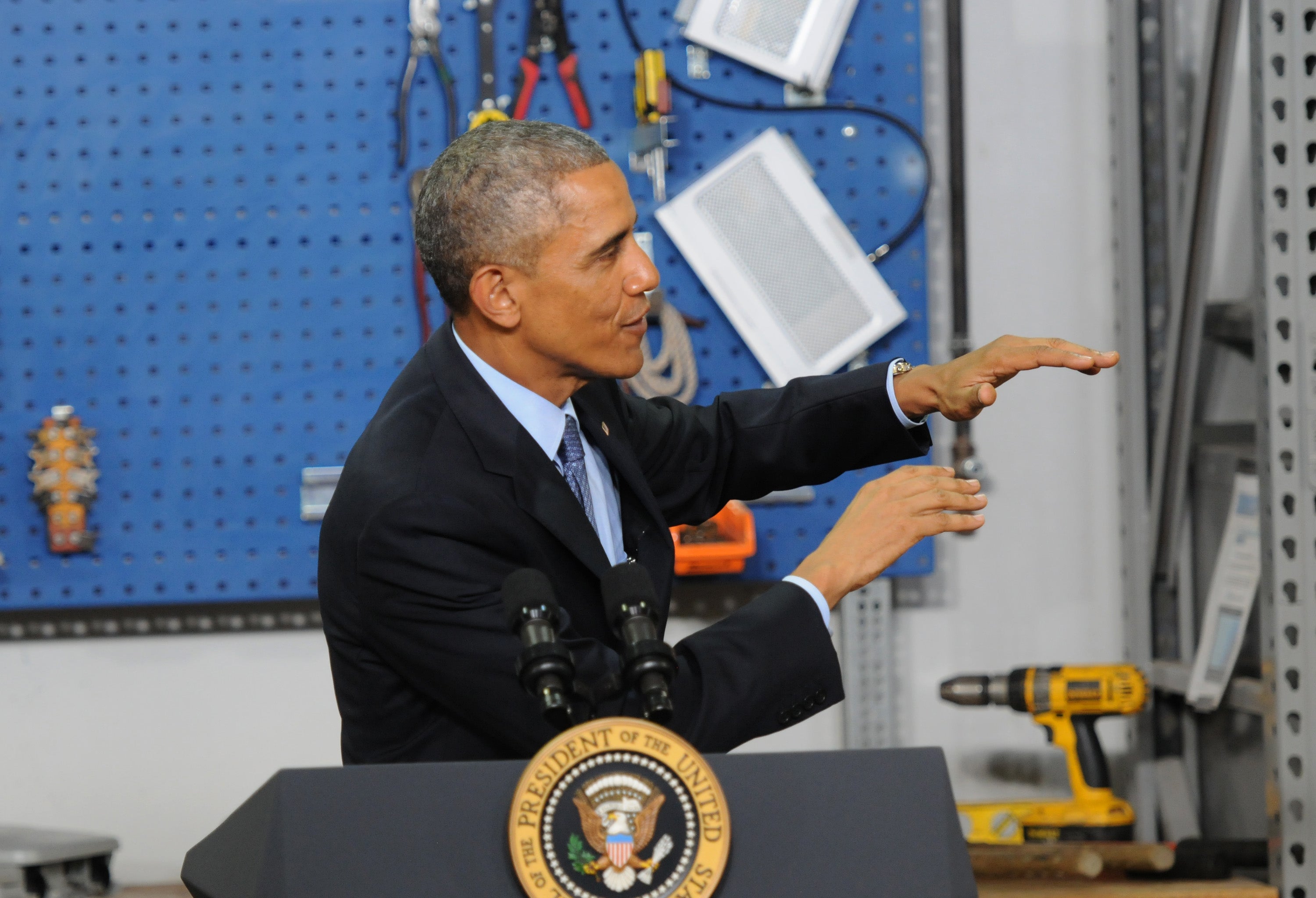 Obama calls for better broadband access
President Obama said Wednesday his administration will look for ways to increase Americans' access to faster, cheaper broadband internet, one of many initiatives he is rolling out ahead of his State of the Union address next Tuesday.
The president spoke from Cedar Falls, Iowa, the so-called "gigabit" city that became a pioneer in broadband expansion when the city voted to invest in a community broadband network. Five years ago, they also upgraded to a fiber network that runs through the city and the surrounding rural areas.
The president hopes that more cities can emulate Cedar Falls, so that more of the 45 million Americans who can't purchase next-generation broadband can benefit. The newest broadband is six or seven times faster than the basic speeds today.
"The high-speed broadband is not a luxury, it's a necessity," the president said from Cedar Falls Utiilties. "This isn't just about making it easier to stream Netflix or scroll through your Facebook newsfeed --although that's fun, and it is frustrating if you're waiting for a long time before the thing finally comes up. This is about helping local businesses grow and prosper and compete in a global economy. It's about giving the entrepreneur, the small businessperson on Main Street a chance to compete with the folks out in Silicon Valley, or across the globe. It's about helping a student access the online courses and employment opportunities that can help her pursue her dreams."
His efforts to foster community broadband networks like the one in Cedar Falls will likely collide head-on with existing telephone and cable companies that often provide the only available internet service in some parts of the country. Mr. Obama said his administration would urge the Federal Communications Commission to push back laws in 19 states that make it difficult for communities to provide their own broadband.
"I'm saying I'm on the side of competition," he said. "I'm on the side of students and schools. I believe that a community has the right to make its own choice and to provide its own broadband if it wants to. Nobody is going to force you to do it, but if you want to do it, if the community decides this is something that we want to do to give ourselves a competitive edge and to help our young people and our businesses, they should be able to do it."
He noted that Cedar Falls and other cities like Lafayette, Louisiana and Chattanooga, Tennessee, have benefited from their faster networks because they attract businesses.
His administration will also direct federal agencies to do away with regulations that are slowing down broadband expansion or limit competition. The Agricultural Department will operate reopen a loan program for rural areas to build networks. The Commerce Department is also launching an initiative to promote community broadband projects and the president said he will host mayors from around the nation for a broadband summit in June.
Mr. Obama has spent the past two weeks rolling out proposals he will highlight in his State of the Union address next week, including strengthening cybersecurity for consumers, encouraging private companies to share information about cyber threats, and making community college free for two years.
Thanks for reading CBS NEWS.
Create your free account or log in
for more features.