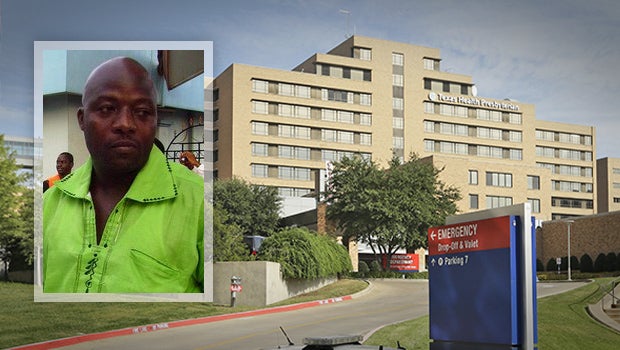 Nurses' union: Dallas hospital lacked Ebola protocols
A national nurses union is decrying an absence of protocols at the Dallas hospital where a man died of Ebola and a nurse was infected while caring for him.
Leaders of the National Nurses Union read a statement Tuesday which they said represented concerns from a number of nurses that work at Texas Health Presbyterian in Dallas. The union officials declined to identify the Dallas nurses or say how many were participating in the statement.
But they were vociferous in citing a lack of protocols on the day that Thomas Eric Duncan was admitted with extreme symptoms of Ebola.
Among the flaws cited by the group included:
insufficient garb worn by the emergency personnel
the fact that Duncan was left "for hours" in a non-quarantined zone
that his lab samples were sent in the same way that normal specimens are sent
hospital official allowed nurses involved with Duncan to take care of other patients
other ways in which the hospital did not immediately react to the situation.
"Were protocols breached?" said union spokeswoman Rose Ann DeMoro, "There were no protocols."
"These nurses are not well protected. They're not prepared to handle Ebola or any other pandemic," said DeMoro. "We are deeply alarmed."
DeMoro said the nurses who had come forward were afraid to reveal their identities "because of a culture of threat in the hospitals."
Tuesday night, Texas Health Presbyterian issued a statement in response to the nurses' charges.
"Patient and employee safety is our greatest priority and we take compliance very seriously. We have numerous measures in place to provide a safe working environment, including mandatory annual training and a 24-7 hotline and other mechanisms that allow for anonymous reporting. Our nursing staff is committed to providing quality, compassionate care, as we have always known, and as the world has seen firsthand in recent days. We will continue to review and respond to any concerns raised by our nurses and all employees."
Also Tuesday, the nation's top disease-fighting agency acknowledged Tuesday that federal health experts failed to do all they should have done to prevent Ebola from spreading from a Liberian man who died last week in Texas to the nurse who treated him.
Agency Director Tom Frieden outlined a series of steps designed to stop the spread of the disease in the U.S., including increased training for health care workers and changes at the Texas hospital where the virus was diagnosed to minimize the risk of more infections.
A total of 76 people at the hospital might have had exposure to Thomas Eric Duncan, and all of them are being monitored for fever and other symptoms daily, Frieden said.
That figure confirmed an Associated Press report on Monday that nurse Nina Pham was among about 70 hospital staffers who were involved in Duncan's care after he was hospitalized, based on medical records provided by Duncan's family.
The announcement of the government's stepped-up effort came after top health officials repeatedly assured the public over the last two weeks that they were doing everything possible to control the outbreak by deploying infectious-disease specialists to the hospital where Duncan was diagnosed with Ebola and later died.
"I wish we had put a team like this on the ground the day the patient - the first patient - was diagnosed. That might have prevented this infection. But we will do that from today onward with any case anywhere in the U.S.," Frieden said.
Frieden described the new response team as having some of the world's leading experts in how to care for Ebola and protect health care workers. They planned to review everything from how the isolation room is physically laid out, to what protective equipment health workers use, to waste management and decontamination.
Thanks for reading CBS NEWS.
Create your free account or log in
for more features.