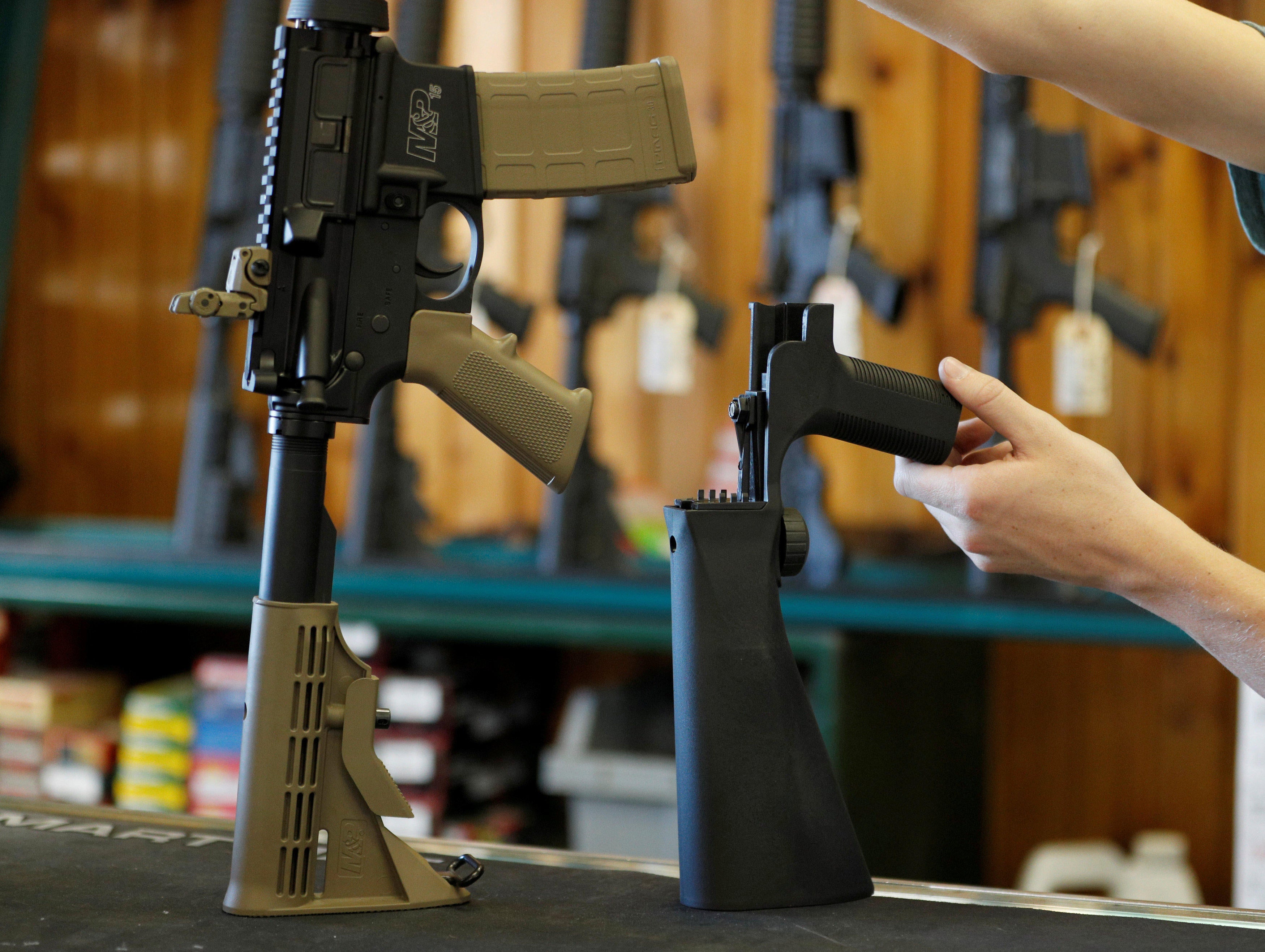 NRA says bump stocks, devices used by Las Vegas shooter, should be regulated
The National Rifle Association (NRA) said in a statement Thursday that the device the Las Vegas shooter used to convert his semi-automatic weapons to fire automatic should be subject to additional regulations.
"In the aftermath of the evil and senseless attack in Las Vegas, the American people are looking for answers as to how future tragedies can be prevented," said Wayne LaPierre, the NRA's CEO, and Chris Cox, executive director of the NRA Institute for Legislative Action in a joint statement.
While the two deemed it unfortunate that the first response from some politicians has been to call for gun control, they stated, "The NRA believes that devices designed to allow semi-automatic rifles to function like fully-automatic rifles should be subject to additional regulations."
A growing number of congressional Republicans have expressed that they're open to investigating the legality or even banning bump stocks.
Since the mid-1980s, machine guns that fire multiple shots with one pull of the trigger have been illegal but the bump stock, a gun accessory, is currently legal and enabled the gunman last Sunday to shoot more than 500 people at a country music festival. Stephen Paddock killed 58 people and wounded more than 500.
After past mass shootings, Republicans have been reluctant to tighten gun control laws. Back in 2013, after the Sandy Hook shooting, in which 20 children and seven adults were massacred by a man with a semiautomatic rifle, California Sen. Dianne Feinstein proposed banning those weapons. Congress voted it down. Lawmakers also considered expanding background checks and limiting the size of high-capacity magazine clips, a bipartisan proposal by Senators Joe Manchin and Pat Toomey, but this more limited measure also failed.
When then-Rep. Gabrielle Giffords was shot, and six others were killed at a mass shooting in Tuscon in 2011, Rep. Carolyn McCarthy and Sen. Frank Lautenberg introduced measures to ban high-capacity magazine clips and require background checks at gun shows, but those measures were not considered.
But a device that makes a semi-automatic function like an illegal automatic weapon may be something that Republicans, too, want to outlaw. Several, including House Speaker Paul Ryan, have said this week that they want to look into bump stocks and consider restrictions on them. Ryan told reporters Thursday that he didn't know what a bump stock was until this week. Bump stocks, he said, seemed designed to get around the laws against fully automated weapons, and he said lawmakers obviously need to figure out how to tighten up compliance and do more research to ensure that the spirit of the law is upheld.
Thanks for reading CBS NEWS.
Create your free account or log in
for more features.