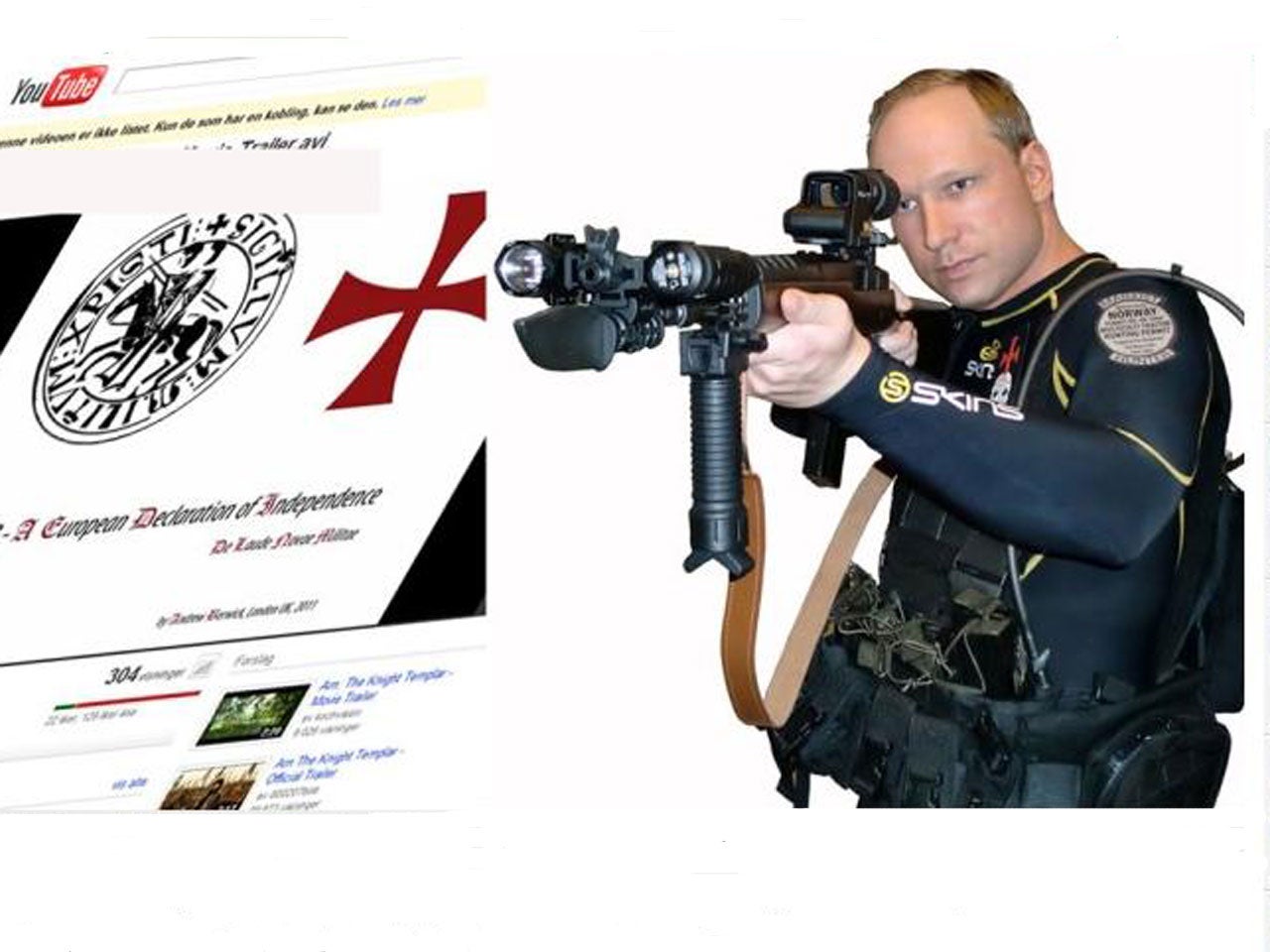 Norway suspect Anders Behring Breivik released manifesto, "A European Declaration of Independence"
(CBS/AP) OSLO, Norway - Anders Behring Breivik, the man who has confessed to carrying out a bombing and shooting spree that left 93 people dead in Norway, pleaded not guilty, saying he wanted to save Europe and send a strong signal, not to kill as many as possible, Judge Kim Heger said after a closed court hearing.
Pictures: Anders Behring Breivik
Breivik staged the bombing and youth camp rampage as "marketing" for his manifesto calling for a revolution that would rid Europe of Muslims, he said.
Breivik laid out his extreme nationalist philosophy as well as his attack methods in a 1,500-page manifesto entitled "2083: A European Declaration of Independence." The manifesto describes a hypothetical response to his perceived threat of "cultural Marxist/multiculturalism atrocities" and the "threat of Islam."
The writings reveal a delusional personality filled with hatred and self-aggrandizing dreams and includes passages lifted from the writings of Unabomber Ted Kaczynski.
He details how the fictional group "PCTS, Knights Templar" would choose to respond towards the so called "enablers" or those who allow Muslims to enter Europe. It contains strategies such as guerrilla tactics and instructions for executions.
According to the manifesto, the Justiciar Knight is "to act as a judge, jury and executioner until the free, indigenous peoples of Europe are no longer threatened by cultural genocide, subject to cultural Marxist/Islamic tyranny or territorial or existential threats through Islamic demographic warfare."
Breivik describes "using terror as a method for waking up the masses," though he admits that many would hate them for their actions, but his followers are "left no choice."
His preferred method, according to the document, is to "attack in a violent and deceptive form (shock attack)."
"Once you decide to strike it is better to kill too many than not enough, or you risk reducing the desired ideological impact of the strike," he writes.
Then he says after the attack it is important to explain what has happened and not to apologize. He then goes on to explain how to avoid ending up on watch lists, routines to avoid monitoring, how to stay motivated, how much ammunition a soldier needs and how to avoid death/arrest.
In one section he gives details about where to get weapons, some components of which he says can bought on eBay. When shipping the items Breivik says to use FedEx as much as possible because public postal services have more strict customs routines.
A trial, according to Breivik, is an opportunity for a Justiciar Knight to publicly renounce the authority. He then details an exact opening statement that should be given inside the court room. Based on the details in the manifesto it was clear he planned to turn his court appearance into theater, preparing the speech before even launching the attacks, then requesting an open hearing in which he would wear a uniform.
"To the jury and/or members of the court; I am standing here today as a Justiciar Knight Commander of the PCCTS, Knights Templar," he writes. "When I speak, I speak on behalf of millions of Europeans who do not want to see their culture and territorial rights taken from them, who do not want to live under current or future dhimmitude and who do not accept that their own leaders are selling them against their will to Islamic slavery."
Breivik's attacks rattled Norway, a country unused to political violence, and known internationally as a peace mediator, prominent foreign aid donor and as home of the Nobel Peace Prize. Survivors of the camp shooting on the Utoya island described how a gunman dressed in a police uniform urged people to come closer and then opened fire, sending panicked youth fleeing into the water.
Police say 86 people were killed. About 90 minutes earlier, a car bomb exploded in the government district in central Oslo, killing seven.
More than 90 people were wounded, and others remain missing at both crime scenes.
After his closed court hearing Monday, he was held for at least another two months without access to visitors, mail or media. The judge claimed Breivik could tamper with evidence if released.
Thanks for reading CBS NEWS.
Create your free account or log in
for more features.