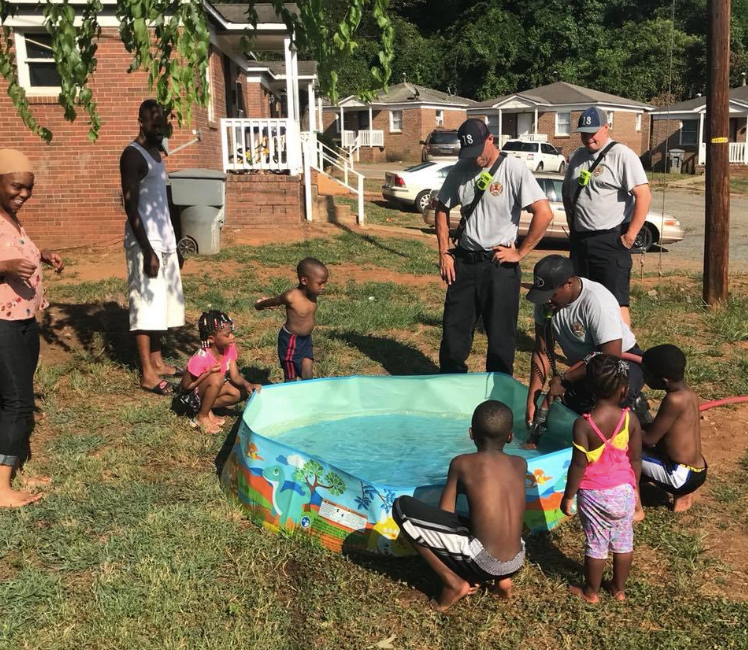 Firefighters lend a hand -- and hose -- to family filling pool on hot summer day
A North Carolina family was struggling to fill a pool using nothing but pots and pans, so when a group of firefighters passed by the scene, they knew they had to lend a hand.
Firefighters in Charlotte, North Carolina, had left a medical call when they stumbled upon a local family attempting to fill an entire kiddie pool for a little boy's birthday, reports CBS affiliate WFMY-TV. It was a sweltering afternoon Sunday and the task was nowhere near complete. That's when Engine 18 stepped in to help.
The firemen quickly filled the pool for the family with one of their hoses.
"What was just a simple task for us turned into laughter, smiles, and a lifelong memory for the neighborhood kids as well as the men on Engine 18. Proud to serve the WESTSIDE!" the fire station wrote in a post on Facebook.
According to the fire station, Engine 18 has a history of being there for the community they serve.
"18 has a great relationship with the community through many years on being there when needed in best of times and worst of times," the station told NBC affiliate WCNC-TV.
Thanks for reading CBS NEWS.
Create your free account or log in
for more features.