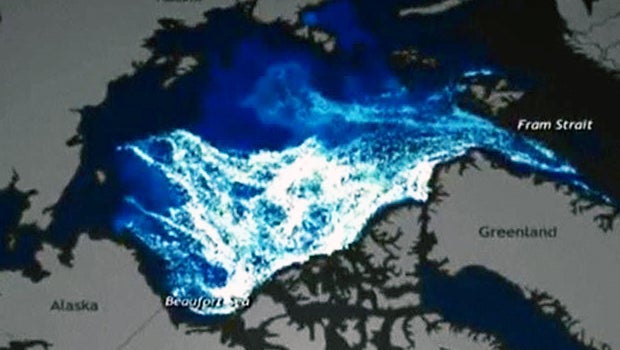 NOAA animation shows rapidly melting Arctic sea ice
As the National Oceanic and Atmospheric Administration (NOAA) shows in a new animation, Arctic sea ice is melting. It's melting fast.
The animation depicts the research of University of Colorado climate scientist Mark Tschudi. The data suggests that wind and ocean circulation patterns are combining with a warmer climate to reduce the amount of ice that remains in the Arctic circle all year.
Satellite records indicate that reduction has accelerated in recent years, "transforming the remaining ice into a younger, thinner version of its old self," according to NOAA.
Older ice, which formed four years ago or more, now accounts for just seven percent of Arctic sea ice.
That's a significant drop from 26 percent in 1988, and 19 percent in 2005, which indicates the thick ice has been unable to withstand the summer melting season.
Instead, scientists say it is being replaced by new ice, formed in the most recent winter. In 1988, first-year ice - the thinnest kind - accounted for 58 percent of Arctic sea ice.
By March 2013, that number had climbed to 78 percent.
Since the 1980s, scientists have relied on satellite observations to determine the age of Arctic ice, as well as on the information obtained by drifting buoys that monitor ice parcels over several years.
Thanks for reading CBS NEWS.
Create your free account or log in
for more features.