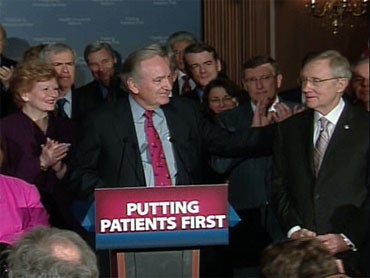 No Convention Bounce For Kerry
The Democratic convention did not generate a bounce for the ticket of John Kerry and John Edwards but apparently solidified the slim lead the pair held going into Boston, a CBS News poll finds.
Kerry and Edwards now hold a six-point lead over the Republican incumbents, 49 percent to 43 percent — only slightly wider than the 49 percent to 44 percent lead the Democrats had in a poll taken July 11 to 15.
However, the poll indicates the convention's focus on Kerry's decorated service in Vietnam boosted the Democrats among veterans.
While President Bush and Vice President Dick Cheney held a 47 percent to 41 percent lead among vets in mid-July, the tickets are now in a statistical tie: Kerry-Edwards with 48 percent, and Bush-Cheney with 47 percent.
Kerry was campaigning Monday in Grand Rapids, Mich., where he dismissed suggestions that a decision to raise the terror alert level was politically motivated.
"You take any threat seriously," said Kerry, who was briefed on Sunday about the latest threats against financial institutions in New York City, Washington and New Jersey. "What's important, however, is not to sort of bounce along from threat to threat. It's to win the war, and I believe that I can fight a more effective war on terror than George Bush is."
Kerry dismissed former Vermont Gov. Howard Dean's comment that raising the terror level might be politically motivated.
"I don't care what he said. I haven't suggested that and I won't suggest that," Kerry said. "I do not hold that opinion. I don't believe that.''
Kerry did say the Bush administration was moving too slow in implementing recommendations by the Sept. 11 Commission.
"I believe this administration, in its policies, is actually encouraging the recruitment of terrorists," Kerry told "American Morning" on CNN. The administration hasn't reached out to other countries and the Muslim community, he said, and hasn't done enough to protect U.S. ports, chemical plants and nuclear facilities.
The CBS News poll was conducted among a sample of 1,052 adults, interviewed by telephone July 30-August 1, 2004. There were 991 registered voters in the sample. The poll has a three-point margin of error.
The lack of a bounce out of Boston could be due to the small number of voters who were undecided before the convention began. Nearly nine in ten registered Democrats or Republicans say they intend to support the party's nominee.
While ratings for Kerry's Thursday night acceptance speech were higher than they were for Al Gore's four years ago, most people were not swayed by the convention. But among those whose minds were changed, most were positive.
However, while more voters now think the Democrats have a clear plan for the country — 44 percent up from 36 percent in July — the Democrats hold no advantage on that count: 45 percent say the GOP has a clear plan.
Yet more than half of those surveyed think Kerry will bring different groups of Americans together, compared to 31 percent who feel Mr. Bush has done so.
Seventy-two percent of those surveyed say the 2004 election is more importance than previous ones, versus 27 percent who say it holds the same importance. Those numbers mirror the responses in 1992, the last time the question was asked.
Also Monday, Kerry and Edwards were releasing a book-length blueprint for his White House campaign including plans to fight terrorism and improve homeland security. The book will be available on his campaign Web site and distributed to supporters.
The book, more than 250 pages long, offers a detailed description of the Democratic ticket's platform.
"We offer this plan because we believe this election should be about ideas to lift America up, not negative attacks that drag America down," the running mates wrote.
Edwards was campaigning in Orlando, Fla., as the candidates went their separate ways on a two-week, coast-to-coast tour through battleground states.
The book contains excerpts from speeches and photos from the campaign trail and adds detail to the ideas Kerry has talked about in the months leading up to last week's convention, when he officially became the Democrats' choice for president.
The first chapter outlines Kerry's plans to stop terrorism and improve domestic security. He has said he would rebuild international alliances, modernize the American military and use American influence in military, diplomatic and cultural matters to promote peace.
Kerry also embraced recommendations by the commission that investigated the Sept. 11 attacks, including a national intelligence director to oversee the numerous government agencies that collect and decipher threat information.
"John and I know that we can build a safer America by reaching out to other countries, bringing people to our side and remembering that never does the United States of America go to war because it wants to, we go to war because we have to," Kerry told supporters at a discount mall in Springfield, Ohio, on Sunday.
The Bush campaign said the president has already acted on most of Kerry's ideas, detailing actions in 31 of 33 cases where Kerry has called for change.
Mr. Bush also asked Congress to increase homeland security spending 14 percent next year to add money for law enforcement, vaccines and other terror prevention and response programs. Most of the rest of the budget, except for defense, proposed little to no additional spending to limit growing budget deficits.
Kerry said on CBS News' Face the Nation on Sunday that a new president can make a "fresh start" with world leaders who opposed the war in Iraq.
"If we demonstrate an America that has a foreign policy that is smarter, more engaged … and more respectful of the world, we're going to bring people to our side," Kerry said. "We're not only not going to put additional troops there, that's the way to bring our troops home."

Thanks for reading CBS NEWS.
Create your free account or log in
for more features.