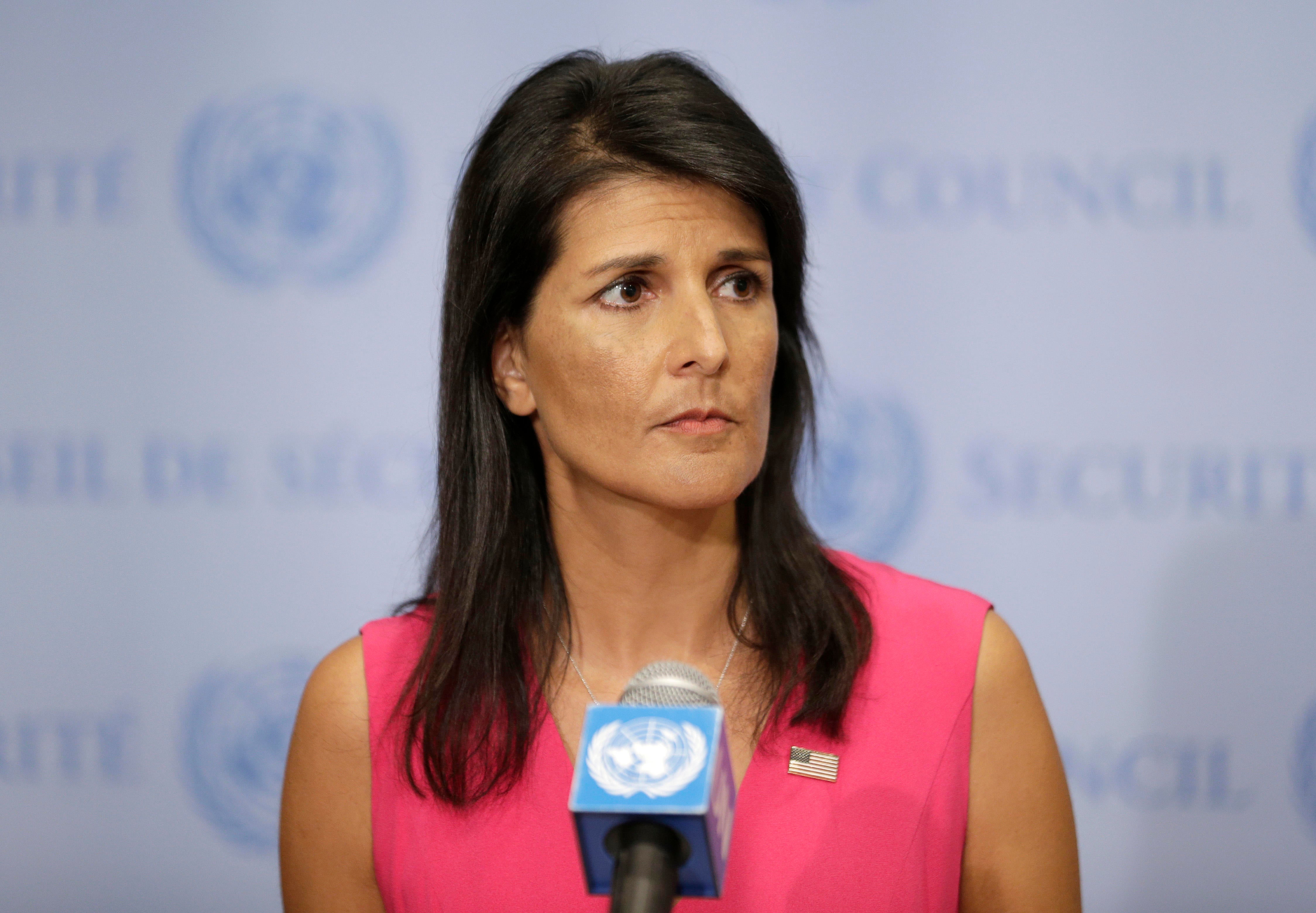 Nikki Haley says nuclear inspectors should have access to Iran military bases
UNITED NATIONS -- After returning from meetings earlier this week at the International Atomic Energy Agency (IAEA) in Vienna, U.N. Ambassador Nikki Haley made it clear on Friday that the U.S. wants inspection of Iranian military and non-military sites to determine compliance with the nuclear deal that was reached under the Obama administration.
Speaking at the U.N., Haley focused on military sites in Iran that the IAEA has not inspected.
"As good as the IAEA is, it can only be as good as what they are permitted to see," Haley said. "Iran has publicly declared that it will not allow access to military sites but the Joint Comprehensive Plan of Action (JCPOA) makes no distinction between military and non-military sites."
Haley's message was clear.
"There are also numerous undeclared sites that have not been inspected yet," Haley said. "That's a problem."
Haley met IAEA Director-General Yukiya Amano and some of the technical experts who monitor nuclear activities, including those in Iran governed by the nuclear pact signed by the U.S., a handful of its allies, Russia and Iran. She spoke with Amano to increase the Trump administration's understanding of Iran's compliance with the nuclear deal. She also asked questions about military dimensions of Iran's nuclear facilities.
"I have good confidence in the IAEA, but they are dealing with a country that has a clear history of lying and pursuing covert nuclear programs," she told reporters.
Haley's recent trip to Vienna came as the Trump administration's war of words with Iran is ramping up. Iran's nuclear chief, Ali Akbar Salehi, issued an ominous warning Tuesday, saying that his country could "resume 20-percent enrichment in, at most five days." Under the terms of the nuclear deal, Iran is banned from enriching uranium to that level, which can make it usable in nuclear weapons.
Haley says she is focused on trying, along with Western partners, to make what Mr. Trump has called the "worst deal" better by pressing Iran to stop test launching ballistic missiles.
The U.S. has imposed new sanctions in response to the missile launches, Iran's human rights record and its support of terrorism abroad. But the JCPOA does not explicitly deal with any of those issues.
One issue that Haley is pursuing at the U.N. is the interpretation of the nuclear agreement, and whether launching ballistic missiles is in violation of its terms.
In an Aug. 2 letter, Haley argued on behalf of France, Germany, the U.K and the U.S., saying that Iran had taken actions that were inconsistent with the nuclear deal by launching a Simorgh rocket into space. The Simorgh is capable of carrying a nuclear weapon.
"Access to facilities in Iran would be crucial to fulfilling this mandate," Haley said. "Including obtaining access to any locations in Iran, where the IAEA has information regarding activities related to the JCPOA."
The issue that Haley confronts is that the IAEA is not mandated to deal with missile tests. The agency says Iran has completed the steps required under the JCPOA and the U.N. resolution.
Haley's trip will have implications for the next report of the nuclear deal in late September, and for the U.S. certification in October. Experts point out there have been a few technical breaches by Iran in the terms of the nuclear deal. However, the June report appeared to show that those had been corrected.
A State Department spokesperson told CBS News that Haley's trip also had to do with the U.S.' review of its Iran policy and to understand how the IAEA monitors nuclear activities.
"The Administration is continuing to conduct a full review of U.S. policy toward Iran," the spokesperson said. "During the course of this review, the U.S. will continue to aggressively counter Iran's malign activities in the region and will hold Iran strictly accountable to the requirements of the JCPOA."
Thanks for reading CBS NEWS.
Create your free account or log in
for more features.