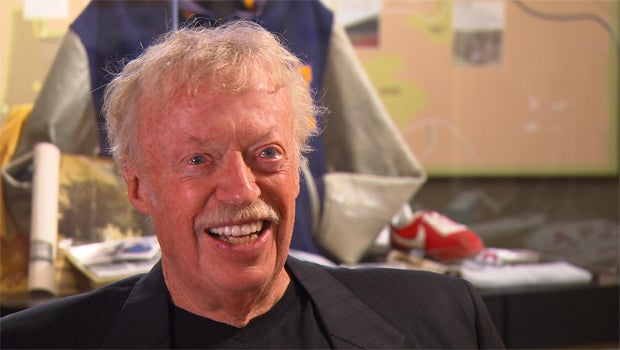 ​Nike's fiercely competitive Phil Knight
The name Phil Knight may not be exactly familiar to everyone. But the sporting goods brand he created almost certainly is. Lee Cowan has our Sunday Profile:
Not far from Portland, Oregon, sprawling across some 350 manicured acres, you'll find a cathedral to sports -- and a castle, in a way, to capitalism.
It's the home of the swoosh: the world headquarters of Nike, the largest athletic shoe and apparel company on the planet, with sales topping $30 billion last year alone.
It took to the starting line over 50 years ago, the brainchild of a young track athlete named Phil "Buck" Knight.
He's now 78, and one of the richest men in the world.
"There are times when the sun goes down and I look out the buildings and I get pretty choked up," Knight said.
"An empire is kind of a funny word, but it kind of is," said Cowan.
"Well, we don't use that word about ourselves, but it's gotten pretty big!"
Knight is a curious character: controversial, unpredictable, and fiercely competitive, possessing a "Just Do It" style of business that sometimes rubbed people the wrong way.
"You almost bristle at the suggestion that you're a businessman," said Cowan.
"No, not at all. I'm proud of that. But we do business the way we do business."
When he announced he was stepping down as Nike's chairman last year, Knight decided to reveal what he called his "crazy idea" of a business plan, in a memoir called "Shoe Dog," published by Scribner (a division of CBS' Simon and Schuster).
"It was a crazy idea to the outside world, but it never really was to me," Knight said. "It was always a big hope."
That hope first flickered at storied Hayward Field at the University of Oregon, where Knight was a mid-distance runner.
Did he like roar of the crowd? "Very much! I didn't get that many..."
He wasn't the fastest, but he just might have been the smartest. "I came here as a 17-year-old, just very uncertain of everything, and I met Bill Bowerman, and I've often said if there's no Bill Bowerman, there's no me."
Bill Bowerman was Knight's coach. He was obsessed with tearing apart track shoes and reassembling them, creating a sort of "Franken-shoe" of his very own.
"He would make 'em out of goat skin, so there would be almost no form in the upper, and then he'd get a spike plate off another shoe and glue it on," Knight said. "They were pretty ugly, but they were light, and I was one of his guinea pigs, and that kind of planted a seed."
That seed took root while getting his MBA at Stanford. Knight wrote a paper outlining a strategy of manufacturing running shoes in Japan, where the labor was cheaper.
"Ever since I wrote it, it was sort of ticking away in there," he said. "It just kept kind of growing."
After graduating, Knight put his paper into action, convincing a Japanese company to let him distribute their brand of running shoe, called Tigers, here in the U.S. He began selling them out of the trunk of his car.
His initial investment? A thousand bucks, that he split 50/50 with his new partner and former coach, Bill Bowerman.
"People used to say, 'Oh did you hear what Knight is doing with a Stanford MBA? He's peddling Japanese track shoes!' That was a pretty big joke at the time," Knight recalled. "But I wanted it, so I said, I gotta try, I gotta try it."
By 1971 their little shoe company had sales of $1.3 million, and a new innovation, thanks to Bowerman's unlikely experiment with his wife's waffle iron.
"He put urethane in there and said, 'Maybe that's the pattern, it's a different pattern that breaks up and should give you more traction and more cushioning,'" Knight said.
The result was the "waffle trainer," a new kind of sole that Knight wanted to manufacture under his own brand, one he initially wanted to name "Dimension Six."
"You'd have a hard time fitting that on a heel tab," Knight laughed.
Why Dimension Six? "Well, there was a 5th dimension right? So we wanted it to be an extra dimension."
But nobody liked that idea. Mercifully, an employee proposed another name: Nike, the Greek goddess of victory.
But Knight wasn't crazy about it, nor did he like the logo. The "wing" as it was called then (a design he paid a college student just $35 to draw) was supposed to symbolize the sound of speed. Knight thought it looked like a big fat checkmark.
"Nothing ever stands out and says, 'Boy, that's it!' There's not a 'Eureka!' moment, for me. In almost all these things, I just say, 'Okay, that's the best we can do, let's go.'"
Marketing was never Knight's thing. In fact he hated advertising. But he soon realized that well-known athletes wearing his shoes could speak and sell volumes.
Romanian tennis pro Ilie Nastase was the first big name signed. John McEnroe would soon follow.
But then came a 21-year-old basketball phenom from the University of North Carolina.
"Fortune magazine ran a story about how Nike has lost its way paying so much money for this basketball player," Knight recalled.
Nike paid Michael Jordan about $250,000 for the first year; he hadn't played a single game in the NBA at that point. "No, but he'd been Player of the Year in the NCAA," Knight explained.
The Air Jordan became so popular people were willing to kill for them, and they did. In the early '90s a string of shootings and stabbings over the shoes made headlines.
"That was just a shock. I think the reaction was, this is insane and it's a shock."
"In terms of just the desirability, it had reached this cultural [point], it was more than just a shoe," said Cowan.
"Yeah, that's true."
Nike rarely shied away from controversy. Sometimes, in fact, they courted it, signing athletes whose early promise (such as Tiger Woods and Lance Armstrong) was later tarnished.
Cowan asked, "There are those who have been critical, for example of Dennis Rodman and people whose reputation on the court is phenomenal, off the court is a little different. Do you ever worry about those two sides?"
"Sure. We like a little wackiness," said Knight. "We just don't want too much!"
Athletes going rogue wasn't his only trouble. His use of cheap overseas labor, while economical, proved disastrous in the field of public relations. In the '90s, Nike was accused of fostering sweatshop labor; human rights organizations called for boycotts of Nike products.
While Knight resisted the charges at first, he now insists conditions and wages have been improved.
"Initially your reaction to it, you said [it] was making things worse -- you were a little defensive about it," Cowan said.
"I was, yeah. We tried to find the best factories you could to work with, and good shoes come out of good factories. The fact that they could be better is what we should have concentrated on, and what we ultimately did concentrate on."
Knight has softened in his later years. His personal fortune is now estimated to be around $25 billion.
Money, he says, was never the reason he started selling shoes, but now that he has it, he intends to use it.
"By the time, you know, the lives of my children and their kids run out, I will have given most of it to charity," Knight said.
Together with Penny, his wife of 48 years, they've already donated well over a billion dollars to various causes. They pledged $500 million for cancer research at the Oregon Health & Science University.
At Stanford, where he drew up that blueprint for Nike, they've given more than half-a-billion dollars and counting.
But it's at the University of Oregon where Knight's mark is most obvious, from the law school named after his father, to the gleaming new basketball arena, named after his son, Matthew, who died tragically in a diving accident.
"I can get pretty emotional about this place, too," he said at Hayward Field. "After all, I was born here."
The University of Oregon has given Nike something back, too -- a high-profile platform to launch uniforms, helmets and, of course, shoes.
Phil Knight wanted to make history as an athlete himself. But instead he ran a different race -- one that has put that "big fat checkmark" on the face (or at least the feet) of athletics forever.
Cowan asked, "Can you imagine yourself doing anything else?"
"No. I am blessed," Knight replied. "I couldn't imagine a better life."

For more info:
Thanks for reading CBS NEWS.
Create your free account or log in
for more features.