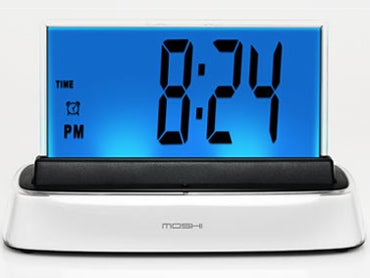 Next-Generation -- Alarm Clocks!
With Daylight Saving Time about to kick in and all of use in line for an hour's less sleep, "The Saturday Early Show" decided there's no better time to take a look at what's happening with alarm clocks.
So, Men's Journal magazine Senior Editor Jonathan Wilde, a gadgets expert, spotlighted several new high-tech wonders.
Suffice is to say, there aren't your father's alarm clocks!
The following descriptions were developed with information provided by the manufactuers
Moshi, voice control digital alarm clock
Where To Buy: Brookstone stores or Brookstone.com
Price: $50.00
Details: Simply say "Hello Moshi," followed by what you want. Moshi responds to 12 basic commands. Commands include "time," "alarm," "set time," "set alarm," "turn off alarm," "sleep sound," "night light" and more. Plus, you can choose from three different alarm sounds and three soothing sleep sound programs. Uses three AAA backup batteries (not included). AC adapter included. The Voice Interactive Alarm Clock.
iLuv iMM178 Vibe Plus
Where To Buy: I-Luv.com
Price: $90
Details: Need a bit more than a regular alarm to get you up in the morning? Then you might just be a prime candidate for iLuv's new iMM178 Vibe Plus iPod dock / alarm clock, which will not only let you wake up to a favorite track, but shake your bed in the process. Of course, "shake" is likely a bit of an overstatement, but the bed shaker attachment (placed under a pillow) does have its own speaker and volume control, and promises to "wake up the heaviest of sleepers." Otherwise, the dock is pretty standard fare, and includes a large LCD display, dual alarm settings, an FM radio, and a pair of jAura speakers that promise added "depth and clarity." Look for this one at all the usual sources right now for.
Clocky
Where To Buy: ThinkGeek.com
Price: $50.00
Details: This little wonderful wheeled alarm clock started as an engineering student's project. Having trouble waking up herself, Gauri Nanda developed Clocky to shriek annoyingly and effectively, waking you up. It also leaps off of your night stand, and drives around your room, making random turns and racing away from your grasp. Now you have to get out of bed and hunt the little bugger down to turn it off.
Sonic Bomb
Where To Buy: AlarmClocksOnline.com
Price: $43.00
Details: The new Sonic Bomb SBB500 AKA "The Bomb", has been designed for guys of all ages on a mission. Stealth grey color with red controls, night vision display and pulsating alert lights won't keep you in the dark. Complete with ground shaking super-charged bed shaker, and turbo-charged 113db extra loud alarm. Good luck sleeping through this blast Batman… Packaged with a powerful 12-volt bed shaker.
Peaceful Progression Wake Up Clock
Where To Buy: Hammacher.com
Price: $70.00
Details: More gentle than traditional jarring alarms, this clock uses gradually increasing light, stimulating aromas, and peaceful nature sounds to awaken sleepers. At 30 minutes before wake-up, the clock's light begins to glow softly, brightening over the next half-hour (Play Video). The warmth from the lamp releases faint aromatherapy scents into the air to stimulate the olfactory senses. Fifteen minutes before wake-up, the clock generates your choice of six soft nature sounds, such as ocean surf or songbirds. A beeper sounds at the end of the cycle. Can also be used with sound or beeper only. Included are four types of aromatherapy beads (Energy, Morning Café, Stress Relief, and Lavender) along with 10 felt disks for your own aromatherapy oils. With snooze, headphone jack, volume control. AC powered; requires two AA batteries for backup power)
Thanks for reading CBS NEWS.
Create your free account or log in
for more features.