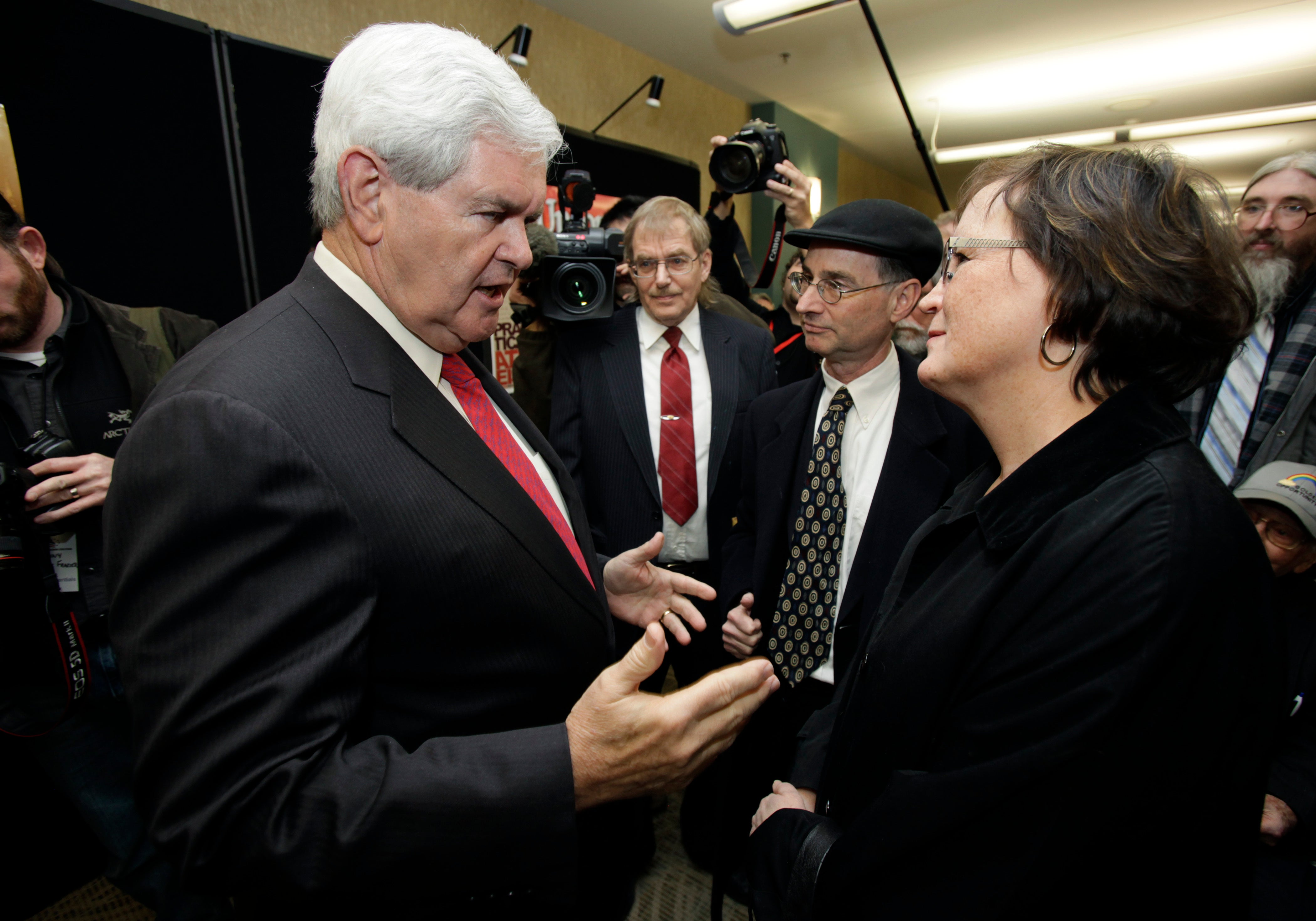 Newt Gingrich confronted over Paul Ryan comments
An Iowa voter angrily confronted Republican presidential candidate Newt Gingrich in Dubuque, Iowa over his comments about Republican Rep. Paul Ryan's budget, telling him as they shook hands, "Why don't you get out [of the presidential race] before you make a bigger fool of yourself?"

The video, captured by Fox News and viewable at left, shows the unidentified Iowan telling Gingrich, "What you just did to Paul Ryan is unforgivable."
Gingrich responds that he "didn't do anything to Paul Ryan."
The voter then claims that Gingrich "undercut" Ryan and adds: "You're an embarrassment to our party."
"I'm sorry you feel that way," responds Gingrich.
The former House speaker, who is in the midst of a 17-stop tour of Iowa, has come under heavy fire from Republicans for suggesting Sunday that the Ryan budget, passed earlier this year by House Republicans, amounts to "right-wing social engineering." Gingrich suggested that Ryan's plan to transform Medicare into a voucher-like program was "too big a jump" and suggested it was an effort at "imposing radical change" on Americans.
The fallout came quickly. Ryan responded by asking, "With allies like that, who needs the left?" The Wall Street Journal suggested that Gingrich had told House Republicans to "drop dead," writing that "Gingrich chose to throw his former allies in the GOP House not so much under the bus as off the Grand Canyon rim."
"By using the word 'radical,' Mr. Gingrich deliberately chose to echo the liberal critics who want to write the Ryan plan out of respectable political debate," said the newspaper's conservative editorial page.
Freshman GOP Rep. James Lankford, meanwhile, said dryly, "typically, you'll find people in a presidential campaign running against the current president of another party, rather than running against his own party."
It wasn't just the comments on Ryan's budget that prompted conservative anger. In the same interview, with NBC's "Meet the Press,"
Gingrich also seemed to express support for a health care individual mandate -- a requirement that all Americans purchase health insurance -- which he had clearly supported in 1993, when it was seen as the conservative, social-responsibility option. That mandate is at the center of conservative objections to President Obama's health care legislation.
"You ought to have some requirement where you either have health insurance or you post a bond or in some way you indicate that you're going to be held accountable," he said. Pressed on whether he was supporting the individual mandate, Gingrich responded, "it's a variation on it."
Gingrich later released a YouTube video in which he said an individual mandate is wrong and unconstitutional, but the damage was done. In response to those comments and the comments about Ryan's plan, Rush Limbaugh said on his radio show Monday, "I am not going to justify this."
"The attack on Paul Ryan, the support for an individual mandate in health care? Folks, don't ask me to explain this," Limbaugh said, as Politico reports. "There is no explanation." Another radio host, Bill Bennett, said Gingrich "has taken himself out of serious consideration for the race."
Gingrich spokesman Rick Tyler told CBS News that Gingrich favors a significant change for Medicare, but that Gingrich does not believe it should be mandatory to enter the new system. (That's the "right-wing social engineering.") Gingrich's position, Tyler said, is that you should be able to stay on the current Medicare plan or switch into a new, better plan. The idea is the new plan would be so much better that everyone would make that choice. But they should have the choice.
As for a health care mandate: Tyler said that Gingrich opposes a federal health care mandate, but believes that if states want to have a mandate that's their business. Asked if that means Gingrich supports Mitt Romney's health care law in Massachusetts, which has an individual mandate, Tyler said no. But he said Gingrich believes states should be able to deal with the "free rider" problem of people not paying for their health care, and if they choose to do that through a mandate, so be it.
Thanks for reading CBS NEWS.
Create your free account or log in
for more features.