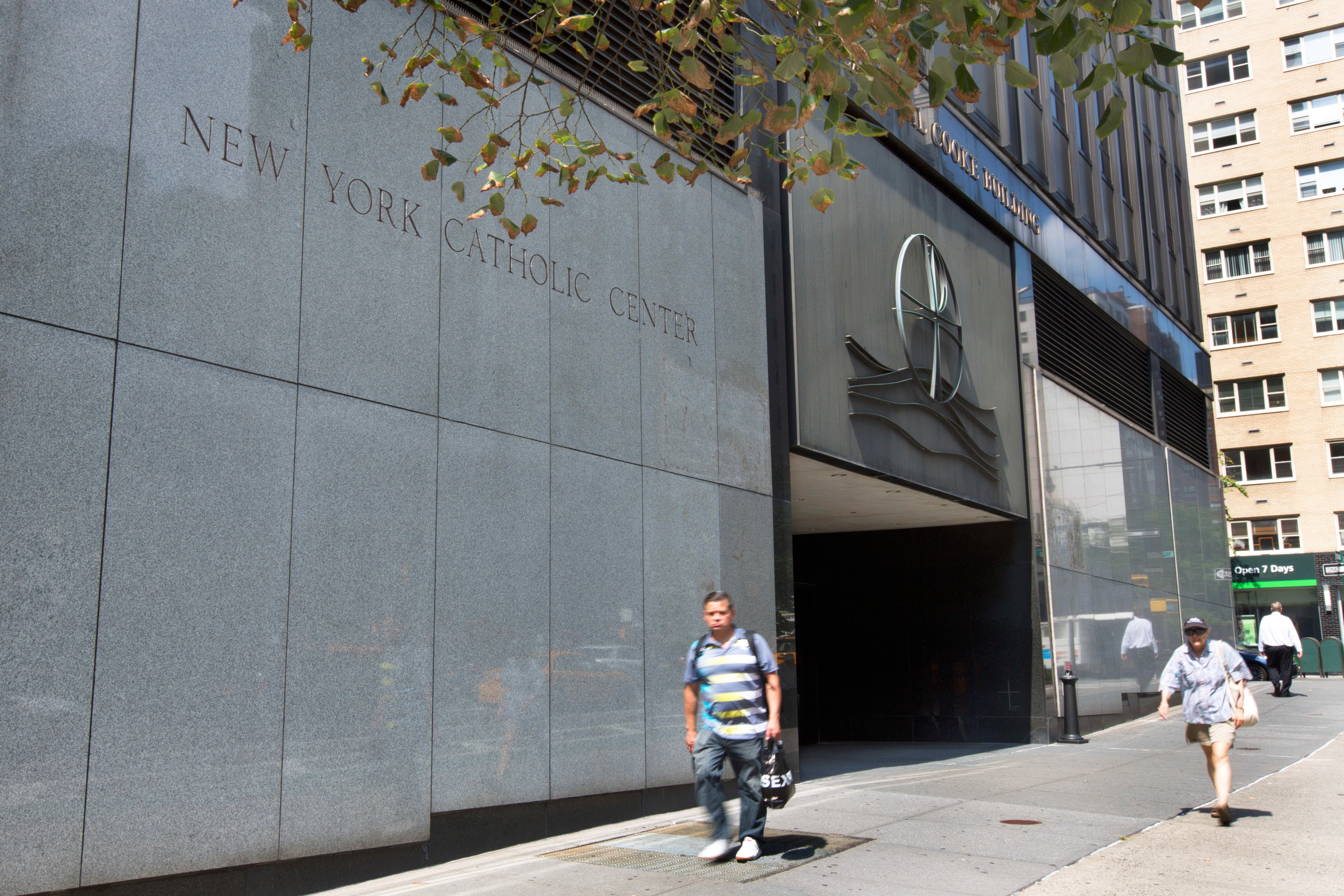 New York, New Jersey launch investigations into Catholic Church's handling of sex abuse allegations
ALBANY, N.Y. -- New York and New Jersey launched new investigations into the Roman Catholic Church's handling of clergy sex abuse allegations Thursday as the number of similar inquiries around the country continues to grow. In New York, the state's attorney general issued subpoenas to all eight of the state's Catholic diocese seeking any and all documents pertaining to allegations, findings from internal church investigations and payments to victims, according to a law enforcement source familiar with the investigation but not authorized to speak publicly.
Church leaders confirmed receipt of the subpoenas and vowed to work with Attorney General Barbara Underwood's civil investigation -- as well as any potential criminal investigations to come. The subpoenas were issued to the Archdiocese of New York in New York City as well as the dioceses of Albany, Brooklyn, Rochester, Syracuse, Buffalo, Ogdensburg and Rockville Centre.
"It is not a surprise to us that the attorney general would look to begin a civil investigation, and she will find the archdiocese of New York, and the other seven dioceses in the state, ready and eager to work together with her in the investigation," New York archdiocese spokesman Joseph Zwilling said.
Underwood's office is pursuing a civil investigation into the church's response to abuse reports and has also reached out to local prosecutors, who are authorized to convene grand juries or pursue criminal investigations. In New York the attorney general doesn't have that power, so the involvement of local district attorneys would be critical to any criminal prosecutions.
In New Jersey, state Attorney General Gurbir Grewal announced a new task force that will look at how abuse allegations were handled in the seven dioceses in that state.
Underwood and Grewal also announced hotlines for individuals to report allegations of clergy abuse. The numbers are 855-363-6548 in New Jersey and 800-771-7755 in New York. New York has also set up a confidential online complaint form that can be found at ag.ny.gov/ClergyAbuse.
"The Pennsylvania grand jury report shined a light on incredibly disturbing and depraved acts by Catholic clergy, assisted by a culture of secrecy and cover ups in the dioceses," Underwood, a Democrat, said in a statement. "Victims in New York deserve to be heard as well -- and we are going to do everything in our power to bring them the justice they deserve."
Albany Bishop Edward Scharfenberger proactively asked Albany County District Attorney David Soares to review his diocese's records on Thursday, before the subpoena from Underwood was received.
"Rest assured, since the Charter for the Protection of Children and Young People in 2002, when the impact and depth of the sex abuse scandal began to emerge, things have vastly improved," Scharfenberger wrote in a letter to parishioners announcing his request. "Survivors need to know that we are truly here to accompany them. Inaction has had devastating consequences, as we have witnessed recently. We have to do what is right, even if it is not easy."
A spokesman of the Archdiocese of Newark said the "Archdiocese certainly will cooperate with the work of the task force, especially as it concerns compliance since 2002 with the Memorandum of Understanding with the Attorney General and the county prosecutors to report accusations to law enforcement."
Patrick Brannigan, executive director of the New Jersey Catholic Conference, said "New Jersey's Catholics believe every parent and child deserve a safe environment to learn and explore their faith. This means that all spaces where teaching, worship and ministry take place must be free from fear. There will be no compromise on this principle. This is essential. We will remain vigilant to ensure the safety of every child we serve."
The subpoenas come three weeks after a grand jury investigation found rampant sexual abuse of more than 1,000 children by about 300 priests in Pennsylvania.
Florida attorney Michael Dolce is an expert on abuse cases and successfully pushed lawmakers in his state to relax the statute of limitations on civil and criminal child sex abuse allegations. He summed up Underwood's decision to subpoena the state's dioceses as "huge and welcomed." Dolce, of the firm Cohen Milstein Sellers & Toll, is also abuse survivor.
"It shows a determination to see if what happened in Pennsylvania also happened in New York," he said. "I shudder to think about what they will find."
New Jersey's task force will be led by Robert Laurino, a former Essex Country prosecutor. The panel will have the power to establish a grand jury and issue subpoenas.
The state's Catholic Conference said it welcomes the investigation and would "fully cooperate." The conference, which represents the state's bishops, stressed that since 2002 the church has complied with a memorandum of understanding with the attorney general and all 21 county prosecutors in New Jersey that every abuse complaint would be forwarded to law enforcement. "One thing I want to emphasize is that New Jersey is not Pennsylvania -- more than the Delaware River separates us," said conference executive director Patrick Brannigan.
The developments in New York and New Jersey come after attorneys general in Nebraska, Illinois and Missouri also announced investigations into allegations of clergy abuse or cover ups in local dioceses.
Statements from area dioceses:
Diocese of Brooklyn said it received the subpoena and are "in the process of reviewing it." The statement continued: "In 2002, the Diocese of Brooklyn handed over all allegations of sexual abuse of a minor by a priest or deacon, to the district attorneys in Brooklyn and Queens. Since that time, we have adopted a zero tolerance policy and have reported any and all allegations of sexual abuse to law enforcement."
Diocese of Rochester: "We have a longstanding policy of cooperation with law enforcement and certainly it will continue in this process. We encourage all victims to report to civil authorities. We report to civil authorities allegations of the sexual abuse of a minor." They pointed to a detailed list of initiatives that they say provides a safe environment.
Diocese of Buffalo: "Our diocese will cooperate with any investigation initiated by the New York State Attorney general or District Attorney."
Diocese of Ogdensburg: "Since 2002, the Diocese of Ogdensburg met the District Attorneys in the eight counties within our borders and agreed to inform them of all allegations of sexual abuse and to provide any information requested by them. In that time, we have notified those District Attorneys of all abuse claims and have provided those District Attorneys information as requested related to any sexual abuse allegations. It has consistently been our policy to cooperate with law enforcement, and we will continue with that policy. As a diocese, we remain focused on the safety of our youth and working with victims toward healing and reconciliation."
Diocese of Rockville Centre: "We have received a subpoena and we are in the process of reviewing it with counsel. The Diocese of Rockville Centre has long cooperated with local law enforcement authorities in reporting and investigating child sexual abuse and we anticipate that such cooperation will continue."

Thanks for reading CBS NEWS.
Create your free account or log in
for more features.