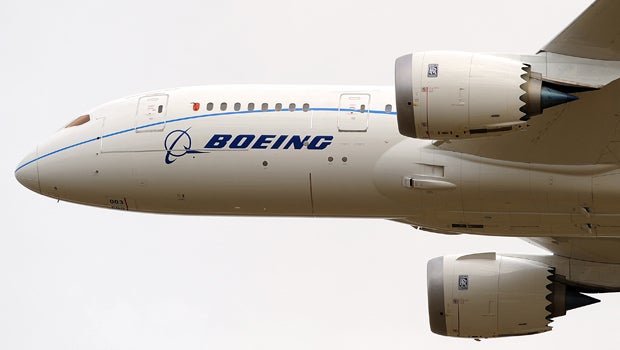 New tech to blame for Boeing 787 Dreamliner woes?
(Moneywatch) The state-of-the-art technology in Boeing's 787 Dreamliner is creating state-of-the-art problems, potentially further stalling delivery of the already late arriving commercial airplane.
In the past week there have been a number of . Analysts agree that fuel leaks on planes in Boston and Tokyo were likely no more than the standard "growing pains" common to plane launches. But they were more troubled by a battery fire, which hit another plane in Boston, because it suggests problems with how the aircraft is built and raises questions about whether it will be as efficient as promised.
UPDATE: 9:19 AM Japan Air Lines and All Nippon Airways both grounded all their 787s following an emergency landing by a Dreamliner in Japan. The jet landed at Takamatsu airport in western Japan after a cockpit message showed battery problems and a burning smell was detected in the cockpit and the cabin.
"Until the battery fire happened, everything was pretty standard teething troubles," says Guy Norris, a senior editor for Aviation Week. "The issue with the battery is more significant because it goes into new realms."
The 787 was designed to be the most fuel-efficient large commercial jet ever built. That has meant saving weight wherever possible. For example, much of the jet is made from carbon fiber reinforced plastic, rather than the usual aluminum. Boeing also replaced traditional hydraulic systems with electrical ones, and those require a lot of electricity.
"The systems are all electric, and Boeing's design priority on the 787 -- aside from safety -- was to have a system that could generate enough electricity," Norris said. "This thing produces as much as electricity as a small village; you could power 400 houses or thereabouts just with electricity generated on this airplane."
The almost 1.5 megawatts of power the Dreamliner generates also requires a lot of battery space for storage. In order to save weight, Boeing's designers used lithium-ion batteries that weigh about half as much as the usual nickel-metal hydride batteries. The National Transportation Safety Board said Monday that it was analyzing the lithium-ion battery and burned wire bundles as part of its investigation into the fire.
If the lithium-ion batteries do turn out to be the problem, it likely wouldn't deter airlines from buying the 787.

"I don't think anyone is going to cancel orders because of it, but it's still a massive deal for Boeing," Norris said. "They have to figure out do you stick with this technology or take a weight penalty in adopting the older technology. That's probably what they are wrestling with now."
In addition to its breakthrough technology, the Dreamliner is also pioneering in how it is put together. Instead of building the entire jet from the ground up as is usually done, Boeing designed the 787 to be built in a modular fashion, with subcontractors supplying completed subassemblies for final assembly. This approach was supposed to mean a simpler assembly line and faster production.
"This is the most outsourced plane every built in the history of aviation," said CBS travel editor Peter Greenberg. "Subcontractors were having a problem delivering in the first place, which resulted in a plane that was three-and-a-half years late in terms of delivery. Then you've got a speed-up of the production line, and that's where problems can happen."
If that is the case, then the issues the NTSB and the Federal Aviation Administration must address don't have to do with the Dreamliner's design, material or equipment, but rather with its production line and assembly. That could be a problem. Because of budget cuts, the Federal Aviation Administration has far fewer inspectors than it once had. Some analysts believe that the Dreamliner's troubles may stem from inadequate supervision of the entire supply chain.
"It may not be equipment; it may be the installation and the people who are doing the work," Greenberg said. "So for the planes that are already flying, you have to inspect those. For the planes that are being built, you've got to inspect the production line and stop the problem where it starts, and that's what's taking time. If you're Boeing, that's why you're freaking out. It's because you may be faced with a delivery delay again."
That may represent the greatest threat to Boeing, although for now the company's carrier customers appear to be taking the latest incidents in strike.

"Typically, airlines only become especially annoyed if they feel the airframer is not being adequately responsive to the problems that arise," said Stephen Trimble, a writer for the industry news publication FlightGlobal. "We've seen a bit of that in the 787, but mostly the carriers do not seem unusually bothered thus far. It's more likely that most of airlines are still more disappointed about the three-year delay to entry-into-service."
Investors also have remained relatively calm. Although Boeing's stock took a hit when the problems were first reported last week, they have climbed steadily since then.
Thanks for reading CBS NEWS.
Create your free account or log in
for more features.