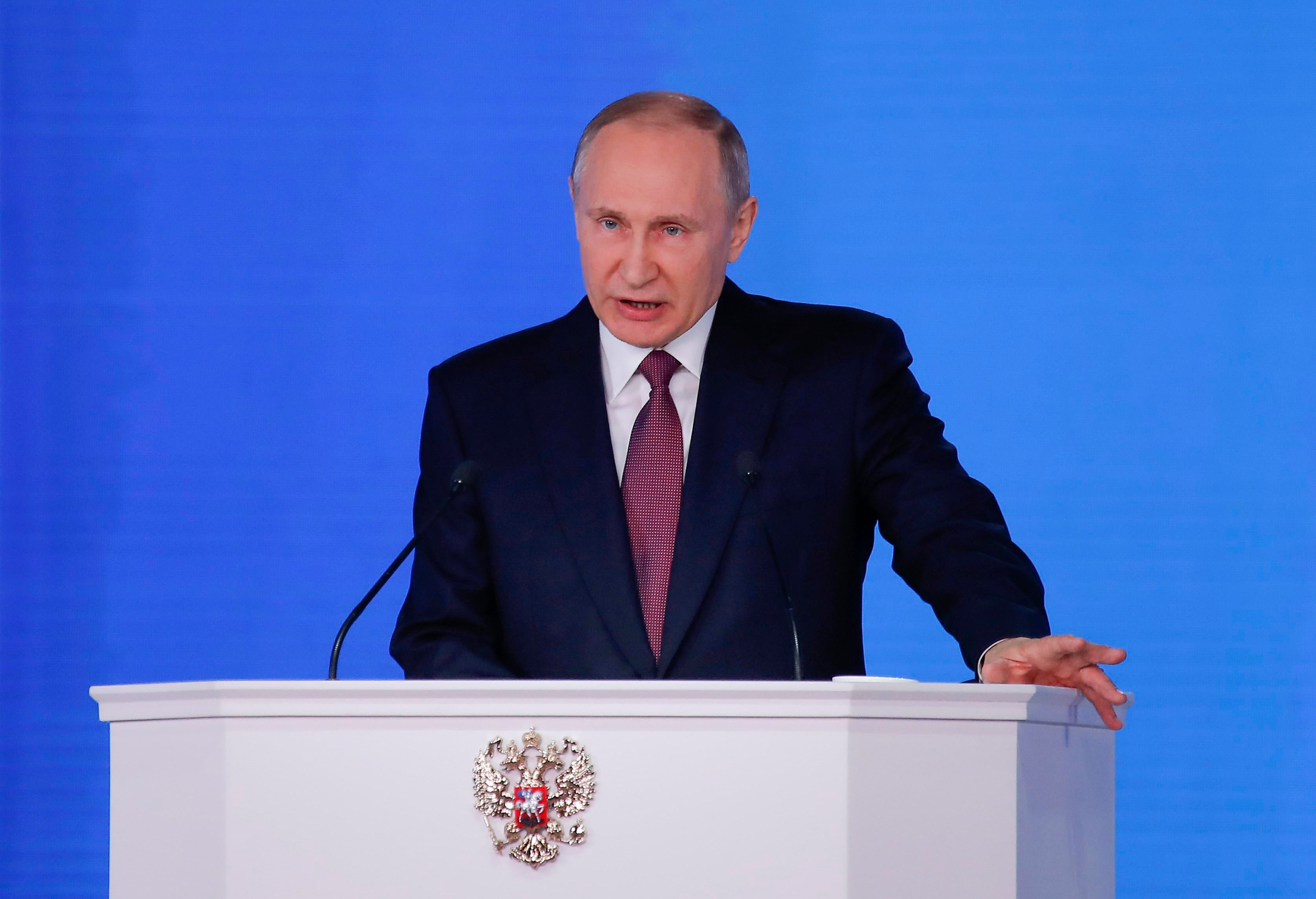 Putin touts new weapons in Russia's nuclear arsenal
MOSCOW -- Russia has tested an array of new strategic nuclear weapons that can't be intercepted, President Vladimir Putin announced Thursday, marking a technological breakthrough that would dramatically increase Russia's military capability and boost the Kremlin's global position. Speaking in a state-of-the-nation speech, Putin said the weapons include a nuclear-powered cruise missile, a nuclear-powered underwater drone and new hypersonic missile.
He said the creation of the new weapons has made NATO's U.S.-led missile defense "useless," and means an effective end to what he described as Western efforts to stymie Russia's development. The announcement comes as Putin is set to easily win another six-year presidential term in the March 18 election.
"I want to tell all those who have fueled the arms race over the last 15 years, sought to win unilateral advantages over Russia, introduced unlawful sanctions aimed to contain our country's development: all what you wanted to impede with your policies have already happened," he said. "You have failed to contain Russia."
"This speech was classic sabre-rattling" and "a finely-tuned political moment by a politician who is heading for re-election in three weeks," said Mathieu Boulègue, a Russia security expert at Chatham House, a London-based think tank. "He needs to be seen as a military leader at home."
"We have heard this before - Putin was using the old rhetoric of great power politics," Boulègue said.
Putin said the nuclear-powered cruise missile tested last fall has an unlimited range and high speed and maneuverability allowing it to pierce any missile defense.
Boulègue said he is not sure what the nuclear-powered cruise missile is, but is very sceptical that the Russians have developed something new and truly ground breaking. As far as anyone knows, their most advanced next-generation missile is the RS-28, which the U.S. calls Satan 2. It's been in testing for weeks according to a program and protocol well known to military watchers in the West. It does not have a nuclear engine, but a conventional, liquid-fueled rocket engine. The RS-28 is not operational, but is supposed to be deployable around 2020, if everything goes according to schedule, Boulègue said.
Putin said the high-speed underwater drone also has an "intercontinental" range and is capable of carrying a nuclear warhead that could target both aircraft carriers and coastal facilities. He said its operational depth and high speed would make it immune to enemy intercept.
He added to applause that names for the nuclear-powered cruise missile and the drone haven't yet been chosen, and suggested that the Defense Ministry run a nationwide contest for the best names.
Putin accompanied his statement to an audience of hundreds of senior officials and lawmakers with videos and computer images of new weapons, which were shown on giant screens at a conference hall near the Kremlin.
"No one in the world has anything like that," he said. "It may appear someday, but by that time we will develop something new."
The Russian leader said that another new weapon called Avangard is an intercontinental hypersonic missile that would fly to targets at a speed 20 times the speed of sound and strike "like a meteorite, like a fireball."
Putin said that Russia also tested a new heavy intercontinental ballistic missile, called Sarmat, with a range and number of warheads exceeding its Soviet-era predecessor, known in the West as Satan.
The Russian leader emphasized that the development of new weapons that have no equivalent in the West came in response to the U.S. withdrawal from a Cold war-era treaty banning missile defenses and U.S. efforts to develop a .
He said that the U.S. has ignored Russian complaints.
"No one has listened to us," he said. "You listen to us now."
Putin said the new weapons will help ensure global stability and draw a line under attempts to weaken Russia. He said that another weapons system, called Kinzhal, already has been deployed in Russia's Southern Military District – a hypersonic missile carried by an aircraft that can strike targets 2,000 kilometers (1,250 miles) away.
Thanks for reading CBS NEWS.
Create your free account or log in
for more features.