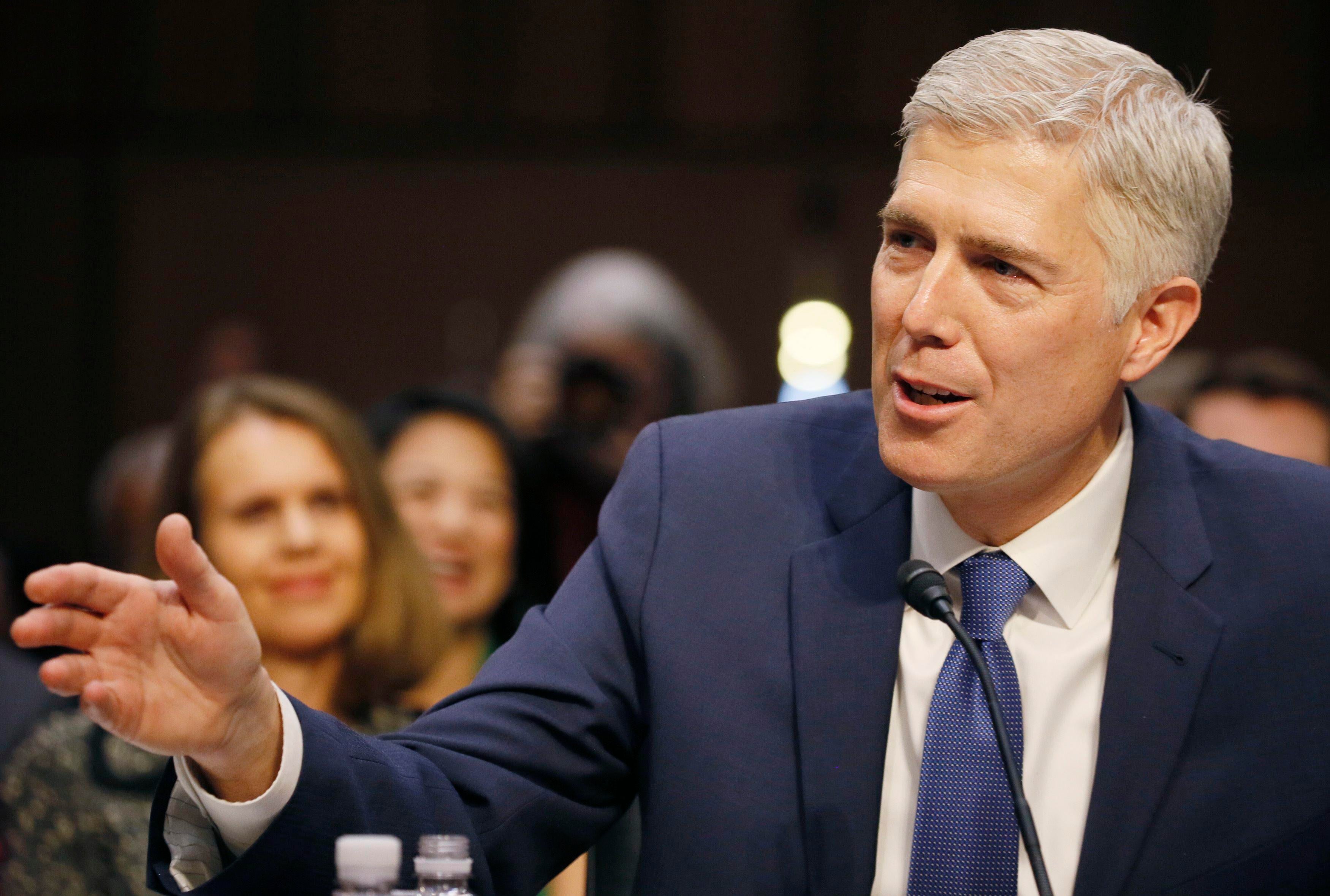 Supreme Court nominee Neil Gorsuch on what makes a good judge
Neil Gorsuch, the man President Trump chose to fill the vacancy left on the Supreme Court by the death of Justice Antonin Scalia in 2016, began his Senate confirmation hearings on Monday.
Although Gorsuch was present for the first day of hearings, which began at 11 a.m. ET, his only remarks were a brief opening statement at the conclusion of the more than 4-hour hearing. The first day was made up of the 20 members of the Senate Judiciary Committee making their opening remarks.
The hearings are expected to last three or four days. On the second day, senators will be questioning Gorsuch. The third day will include testimony from outside witnesses.
Because Republicans control the Senate, Gorsuch is expected to eventually be confirmed to the court. Senate Judiciary Chairman Chuck Grassley has said he expects the entire process to last roughly six weeks, and hopes to have Gorsuch on the court before the Senate leaves for its Easter recess.
Should he be confirmed, Gorsuch, 49, would be poised to remain on the bench for decades. He is considered to be a conservative judge with a philosophical bent, and is known for his well-written opinions and verdicts.
Follow along here for live updates.
3:14 p.m. ET Gorsuch has finished his opening remarks. Chairman Grassley said the hearings will reconvene at 9:30 a.m. ET on Tuesday.
3:12 p.m. ET Gorsuch noted that he's decided cases for and against all types of people, saying a good judge focuses not on the people involved in the case but the facts of the case.
"A good judge can promise no more than that and a good judge can guarantee no less," he said.
3:09 p.m. ET Gorsuch spoke about how important it is for justices to make their decisions free of politics. He noted that the first case of his which made it to the Supreme Court -- which the Court upheld 5-4 -- paired Justices Thomas and Sotomayor on one side and Justices Scalia and Stevens on the other, despite the seemingly strange ideological pairings involved.
"Actually it's exactly the sort of thing that happens, quietly, day in and day out in the United States Supreme Court and in courts across the country," he said.
3:05 p.m. ET Gorsuch also thanked his fellow judges across the country.
"Judging is sometimes a lonely, hard job," he said. "But I have seen how hard these men and women work … their work that helps make real the Constitution and laws of the United States for all of us."
He also spoke about the three Supreme Court justices with whom he worked or interacted, including Justice Anthony Kennedy and the late Justice Antonin Scalia.
"These judges taught me about the rule of law and the importance of an independent judiciary," he said.
2:59 p.m. ET Gorsuch began by thanking the senators he's met with, as well as Mr. Trump and Vice President Pence for nominating him.
"Sitting here, I'm acutely aware of my own imperfections," he said. "But I pledge to you and the American people that if I'm confirmed, I will do all my powers permit to be a faithful servant of the laws of this great nation."
He also thanked his family, including his wife, daughters, parents and an uncle who recently passed away.
2:57 p.m. ET Judge Gorsuch was sworn in and will deliver his opening statement.
2:54 p.m. ET Neil Katyal, the former acting solicitor general from 2010-11 under former President Obama, talked about his time working with Gorsuch and praised his nomination to the Supreme Court.
As someone who has frequently argued cases before the Supreme Court, Katyal said the main thing he looks for is "just an opportunity to be treated fairly: to have your position listened to, not caricatured, and treat it with the gravity it deserves."
He said Gorsuch's "brilliance, experience, his fairness and his meticulous attention to detail" will make him an excellent Supreme Court justice.
2:45 p.m. ET Next up are three officials who will introduce the outside witnesses for Gorsuch, starting with both of Gorsuch's home-state senators, Cory Gardner (R) and Michael Bennet (D).
Gardner praised Gorsuch for his "temperament" and "remarkable humility," and quoted from current and former Democratic lawmakers in Colorado who have also praised the federal judge.
Bennet called Gorsuch a "son of Colorado" with a "distinguished record of public service," saying he "exemplifies some of the finest qualities of Colorado."
He added that he believes the Senate has a "constitutional duty" to give Gorsuch a fair hearing and a vote, saying the Senate's previous denial of that same right to Judge Garland was an "embarrassment." He added that he is "keeping an open mind" about Gorsuch's confirmation and expects to clarify his thoughts throughout this week's hearings.
2:34 p.m. ET Sen. John Kennedy (R-Louisiana) said the American people have entrusted the role of the final guardians of "liberty" to the Supreme Court.
"That's why, in my judgment, this hearing is important -- and that's why we need, if we can, to go beyond politics, beyond the person who lives in the White House, beyond whatever the issue of the day happens to be," he said. "And we need to try to truly understand our role in this process which is to advise and consent.
Kennedy added that he hopes the committee can focus on "temperament, on legal philosophy, on legal reasoning, on qualifications, on experience -- and for just a minute I hope we can forget that we're all politicians here."
"Let me be blunt: I'm looking for a judge, not an ideologue," Kennedy continued, adding that he is also looking for someone "intellectually curious" and "willing to fight for his view of justice." He quipped that he's looking for someone who is a mix of Socrates and Dirty Harry.
2:23 p.m. ET With Sen. Mazie Hirono (D-Hawaii)'s opening statement, the hearing is nearing the end of senators' opening statements.
Hirono said Gorsuch's confirmation is about more than just a seat on the Supreme Court -- it's about "the future of our country," she said.
"I've heard from thousands of people who are deeply worried about their families, their kids and the future of the country under the Trump administration," she said. "Many of them are worried about what will happen if you are confirmed to the bench."
She spoke of Mr. Trump's "litmus tests" for a Supreme Court nominee, such as being pro-life and pro-Second Amendment, saying a judge who meets those tests could have a major impact on the people of the country.
2:14 p.m. ET Next up were two GOP senators, Mike Crapo (R-Idaho) and Thom Tillis (R-North Carolina).
Crapo spoke about the ideal of judicial independence, saying "the true American vision of justice is one in which the judge fairly and impartially finds the facts."
He added that he believes Gorsuch will be such a judge, noting that "no one seriously questions Judge Gorsuch's fitness and credibility to serve on the highest court in our land." Gorsuch's "admirers span the political spectrum," Crapo said.
Tillis noted that Gorsuch gave him reassurances that he views his role as a potential Supreme Court justice as one that is intended to uphold the law, not to craft the law.
1:58 p.m. ET Noting to laughter that he is "from the western part of Connecticut" -- a play on Sen. Flake's praise of Gorsuch's Western upbringing -- Sen. Richard Blumenthal (D-Connecticut) began his remarks cordially before laying in to Mr. Trump's repeated criticisms of the judiciary.
Blumenthal said Gorsuch had a "special responsibility" to defend the judiciary in public this week. The senator also spoke of a "looming constitutional crisis" involving the investigations into Mr. Trump's ties to Russia, a topic that is certain to come up repeatedly in Gorsuch's confirmation process.
He spoke of Mr. Trump's "litmus tests" for judges and the role of conservative groups such as the Federalist Society, an association of conservative jurists. "You must be clear that your views are not theirs," Blumenthal said.
Blumenthal also said he spoke to persons involved in cases decided by Gorsuch, and that he is troubled by some aspects of the judge's record. "We are here to judge that record," Blumenthal said, adding that the vote would be one of the most "consequential" he makes as a senator.
1:50 p.m. ET Joking that Gorsuch may soon be known as "Judge Grouch," Sen. Jeff Flake (R-Arizona) began his testimony by saying Gorsuch has respect for the rule of law, and that he would "understand he's not a legislator."
"Judges, in a democratic society," Flake said, should rule according to the law regardless of his or her own personal morality or opinions. Flake also praised Gorsuch's record concerning religion, particularly "unpopular" religious beliefs.
Flake also praised the fact that Gorsuch hails from the Western United States in a court currently dominated by easterners, particularly New Yorkers. "In the West we pride ourselves on being a free people," Flake said. Gorsuch is from Colorado.
1:41 p.m. ET Sen. Chris Coons (D-Delaware) began his remarks by despairing that Judge Merrick Garland's nomination was never considered by the Senate. He later called the Constitution America's "secular scripture" and noted that conservative groups like the Heritage Foundation back Gorsuch's nomination, and that such support would have no bearing on Coons' vote.
Coons, who referenced his own Christian faith, repeatedly emphasized his belief in the separation of church and state. "Religious freedom," he said, "must not be the freedom to push our beliefs into the public square."
1:30 p.m. ET Grassley has called a five-minute recess before the remaining opening statements are delivered.
1:29 p.m. ET Sen. Ben Sasse (R-Nebraska) spent his opening statement discussing the significance and symbolism of a Supreme Court justice's black robe.
The robe "changes the way our eyes see the Court" as well as "reiterates the calling of the judge to the judge," Sasse said.
"Before he can put back on the black robe he must answer this committee's questions," Sasse said of Gorsuch, noting that he believes the nominee will "faithfully embody that spirit of the black robe."
1:20 p.m. ET Sen. Al Franken (D-Minnesota) called Gorsuch a "man of considerable qualifications," but said that at such a "critical juncture in our nation's history" that Gorsuch's positions must be more closely examined.
"The task before this committee is not to determine whether you are a man of conviction, rather it is incumbent upon us to … take proper measure of the challenges the American people face every day," he said.
Franken said it is an "important moment in our history," when citizens have less trust in government and public institutions than at any time in recent memory. He specifically referred to Trump chief strategist Steve Bannon's stated desire for the "deconstruction of the administrative state" as one of the many dangerous things facing the country -- and which the Court may have to deal with at some point during Mr. Trump's presidency.
1:05 p.m. ET Sen. Ted Cruz (R-Texas) began by discussing the late Justice Antonin Scalia, saying, "had [Scalia's] vacant seat been filled by Barack Obama or Hillary Clinton, his legacy would have been in grave danger."
By waiting to choose a nominee until the new president was inaugurated, Cruz said, "the American people played a very direct role in helping choose this nominee.
Cruz also noted that Gorsuch was unanimously confirmed to his current position on the federal court, calling on Democrats to put aside politics and vote similarly now that Gorsuch has been nominated to the Supreme Court.
12:57 p.m. ET Sen. Amy Klobuchar said it's not politics to question Gorsuch on how he would apply his experience and principles to real-life cases -- and that he is not being confirmed in a vacuum.
"These hearings will not just be about your legal experience, they are about trying to understand what you would actually do on the Court," she said. "We need to know how you approach the law."
12:38 p.m. ET Next up is Sen. Lindsey Graham (R-South Carolina) noted that he could have gone off on his objections to Obama Supreme Court nominees Elena Kagan and Sonia Sotomayor, but he didn't "because I thought they were qualified."
"And if you believe this has been a great plan to get a Trump nominee on the Court, then you had to believe Trump was going to win to begin with. I didn't believe that," Graham, the former 2016 hopeful, said to laughs from the audience. "Obviously, I didn't believe that, saying all the things I said, followed closely by Ben [Sasse]."
"No matter who would have won our primary no one could have chosen better than Neil Gorsuch to represent conservatism on the Court," he said.
12:32 p.m. ET Sen. Sheldon Whitehouse (D-Rhode Island) spent his opening statement discussing the various 5-4 Supreme Court decisions which helped support Republicans at the polls and corporate and special interests.
"The question that faces me is what happens when the Republicans get five appointees on the Supreme Court? I can't help but notice the array of 5-4 decisions … helping Republicans at the polls," he said, citing cases like McCutcheon, and Shelby County. "Each decision, predictably, helped Republicans win elections," he said.
Whitehouse also cited studies that call the current Supreme Court is the most "corporate-friendly" in history.
12:27 p.m. ET Sen. Mike Lee (R-Utah) noted during his opening remarks that confirmation hearings can feel like political campaigns these days.
"These days it seems like standing for a confirmation hearing in the United States Senate after being nominated to the Supreme Court of the United States can appear a little bit like running for political office," he said.
Lee noted that when he was a lawyer, he argued a case before Gorsuch, saying, "I know from my own personal experience that you're one of the best judges in the country."
12:10 p.m. ET Like his Democratic colleagues, Sen. Dick Durban (D-Ill.) blasted Senate Majority Leader Mitch McConnell's handling of the Garland nomination last year, telling Gorsuch that McConnell chose to "ignore the tradition and precedent of this senate so that you could sit at this table."
Senate Democrats, he continued, will "extend to you a courtesy which Senate Republicans denied to Judge Garland: a respectful hearing and a vote."
He said he is concerned about the Supreme Court, under Chief Justice John Roberts, and its rulings in favor of corporations and corporate interests (referring to cases like Citizens United and Hobby Lobby). He also noted that he wants to hear more about Gorsuch's opinions on the rights of workers.
12:07 p.m. ET Sen. John Cornyn (R-Texas) said in his opening statement that the attention being paid to these confirmation hearings is good for the civic education of American citizens.
"The nation is watching and I think that's a really good thing," he said. "At a time when fewer and fewer American citizens know our founding story and the principles on which it is based, I think this is a wonderful opportunity for a teachable moment and I would encourage you to take every opportunity to engage in that."
Cornyn said Gorsuch's "jurisprudence reflects brilliance and the humility of a man committed to the constitution and the law."
11:56 a.m. ET Leahy said it is especially important to know the Senate is confirming an independent judge, given the fact that the current president "has demonstrated hostility to our constitutional rights and values."
"It's not enough to say in private that the president's attacks on the judiciary are disheartening," he continued, referring to Gorsuch's comments on the topic in a meeting with Democratic Sen. Richard Blumenthal last month.
Leahy also noted that he has not yet decided how to vote on Gorsuch's nomination.
11:49 a.m. ET Like Feinstein, fellow Democratic Sen. Patrick Leahy (D-Vermont) blasted Senate Republicans for their refusal to give a hearing to Judge Garland last year.
That move was an "extraordinary blockade, it was totally unprecedented in our country's whole history," Leahy said. "Some liken it to the action of the tyrannical kings that claim that they have sole control." It was "one of the greatest stains" on the Judiciary Committee's history, Leahy said.
Leahy noted Gorsuch's pedigree as a judge: a decade on the federal bench and a degree from Harvard Law School, to name a few. However, he said, if those qualifications themselves were enough to confirm someone to the nation's highest court, "Judge Merrick Garland, who had exactly the same qualifications … would be sitting on the Court today."
11:43 a.m. ET The third senator to speak, Sen. Orrin Hatch (R-Utah), noted that the Senate should give some "deference" to President Trump when it comes to his Supreme Court pick. That's especially true when the pick is as qualified as Gorsuch, Hatch continued.
"Judge Gorsuch's legal experience is well-known. … he has the highest level of professional qualifications including integrity, competence," Hatch said.
11:39 a.m. ET Feinstein noted the Supreme Court's decisions have "real-world" implications, and said she is concerned by Gorsuch's originalist take on the Constitution.
"I firmly believe the American Constitution is a living document intended to evolve as our country evolves," she said. "In 1789, the population of the United States was under 4 million … at the time of our founding, African Americans were enslaved .. the idea of an automobile, let alone the internet, was unfathomable."
"I am concerned when I hear that Judge Gorsuch is an originalist and a strict constructionist. Suffice it to say the issues we are examining today are consequential," she added. "There is no appointment to the Court that is more pivotal than this one."
11:30 a.m. ET Feinstein continued by noting some of the important issues that hinge on the Supreme Court's future rulings, including abortion rights, privacy rights, regulations, and more.
She specifically mentioned a case involving a freezing-cold trucker, in which Gorsuch ruled the trucker's company did not break the law for firing him after he left the trailer on the side of the road instead of waiting for a repair truck.
And on abortion rights, Feinstein said the 1973 landmark case Roe v. Wade "ensured that women and their doctors would decide what's best for their care, not politicians."
11:28 a.m. ET Next, Judiciary Committee ranking member Dianne Feinstein (D-California) gave her opening statement, beginning by bringing up Republicans' refusal to give Judge Merrick Garland a hearing last year when former President Barack Obama nominated him for this same Supreme Court vacancy.
"Due to unprecedented treatment, Judge Garland was denied a hearing," she said. "I'm deeply disappointed that it's under these circumstances that we begin our hearings."
She said for Democrats, their job in these hearings "is to determine whether Judge Gorsuch is a reasonable mainstream conservative or is he not."
11:26 a.m. ET Grassley praised Gorsuch, quoting from various decisions of his and noting his commitment to defending the separation of powers.
"Fortunately for every American we have before us today a nominee whose body of professional work is defined by an unfailing commitment to these principles," he said.
11:20 a.m. ET In his opening statement, Grassley spoke about the importance of maintaining the separation of powers in the federal government, no matter your politics.
"The single most important feature of our Constitution isn't any particular enumerate right or even the Bill of Rights taken together," he said, but the "design of the document itself."
"In recent months I've heard now more than ever that we need a justice who is independent and who respects the separation of power," he said.
He noted that "some of us have been alarmed by executive overreach" under the Obama administration, and that many are concerned about similar issues today.
"No matter your politics for these reasons you should be concerns about our constitutional order," he said.
11:09 a.m. ET Chairman Chuck Grassley welcomed Gorsuch and asked him to introduce his family. Gorsuch mentioned his wife, his brother-in-law, his nephew, his cousin and her daughter, all in the audience, and his daughter watching back home. He also asked his law clerks in the audience to stand up, saying he considers them family as well.
11:05 a.m. ET Gorsuch has arrived for his hearing. After shaking the hands of members of the Judiciary Committee, he has taken his seat in the hearing room.
Thanks for reading CBS NEWS.
Create your free account or log in
for more features.