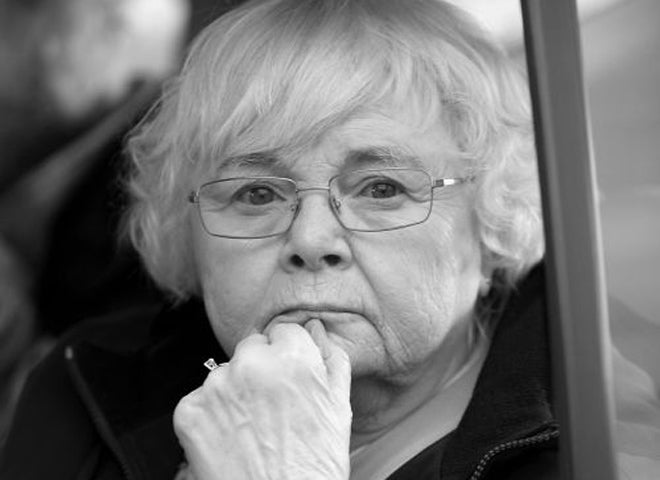 "Nebraska" star June Squibb: Fame after all these years
June Squibb has created a lot of awards buzz with her performance in the movie "Nebraska." So will it be her name we hear when they ask for "The envelope, please..." for Best Supporting Actress? Here's Mo Rocca:
June Squibb isn't used to all the attention.
But is there, Rocca asked the star of "Nebraska," "at least a small part of you that's thinking, 'It's about time'?"
"Sure, sure there are. I mean, you know, I've been doing this for so many years."
After a more than 60-year career, the 84 year old actress has been discovered.
Her scene-stealing role in "Nebraska" has her up for Best Supporting Actress at the Golden Globes tonight -- and in the conversation for an Oscar.
She plays Kate Grant, whose aging husband Woody (played by Bruce Dern) is convinced he's won a sweepstakes:
"I never knew the sonuvabitch even wanted to be a millionaire. He should have thought about it years ago and worked for it."
Rocca asked Squibb to describe her character. "Well, she has no filter," she replied. "Absolutely whatever she thinks comes out of her mouth."
Also, "She still thinks of herself as a sexy broad, even at the age she is."
Witness her scene standing over the grave of a former beau:
"He wanted in my pants, too. But he was so boring. [Lifts skirt] See what you could have had, Keith, if you hadn't talked about wheat all the time!"
"Did you base her on anybody in your life?" Rocca asked.
"I didn't when I did it; when I was working on it I was not thinking of anyone," Squibb replied. "But when I saw it, I saw my mother."
What was her mother like?
"Well, for one thing, she was an alcoholic, and that's hard. That's hard to deal with. She was not a nurturing person at all. But I think she thought she was."
Squibb grew up in a small town in Illinois, and always wanted to perform -- and she worked from a very early age:
"My grandmother and grandfather on my father's side used to take me to bars," she said, "and they would stand me up on the bar and I'd tap dance, 'cause they got free beer!"
Not long after high school, she moved to Cleveland to sing and dance with a theater company. Jack Lee was the music director. He and June have known each other since 1951.
"Uh-huh, we've been best friends from the very beginning," Squibb said.
Lee is enjoying Squibb's sudden breakthrough, too -- her success is everyone's.
"A friend of ours who was at the Cleveland Playhouse with us called me up when she found out about the movie," Lee told Rocca, "and she said, 'Jack, you know, we worked all these years and guess what? June is our jackpot!' I just love that."
From Cleveland they made their way to New York. At first June was too nervous to go to auditions solo: "So I said, 'I'll go if you'll play for me.' So he used to come with me to chorus auditions. And we'd be the two of us coming in and I would say, 'I have my pianist.' And he would sit down and play the 16 bars and we'd get up and leave. They all thought we were crazy, they really did. Nobody did that!"
She got her break on Broadway playing the stripper Electra ["You Gotta Have a Gimmick"] in "Gypsy," starring Ethel Merman.
"I don't mean to objectify you, but you're terrific looking here," Rocca laughed.
"I was terrific looking!" Squibb said.
"You still are!" Rocca added.
"No, but I mean, you know, I had a good body, and I used it. I really did. A rockin' body."
When she wasn't on Broadway, she'd perform in road companies, on cruise ships, and USO tours.
And when those jobs were hard to come by, she'd model.
"They had those awful True Detective magazines then," she said. "I modeled in those. And you talk about slutty, i mean, those were slutty!"
"Was there ever a point where you said, 'You know, I gotta hang this up and try something else'?" Rocca asked.
"Never. I never felt that," she replied.
Along the way, she married twice, raised a son, then turned to movies when she was in her 60s, including Alexander Payne's "About Schmidt," playing Jack Nicholson's wife.
"We really worked well together," Squibb said. "I felt after that, what should I be frightened of? I worked with Jack Nicholson."
More than a decade later, director Payne hired her again, for "Nebraska." It was her biggest film role ever.
"Did you know you had it in you?" Rocca asked.
"Oh yeah. Yeah. I don't doubt myself when it comes to work," Squibb replied.
Neither does her son, filmmaker Harry Kakatsakis.
Her son, Harry Kakatsakis, a filmmaker, had no doubt either.
"When she dropped the F-bomb on screen," he told Rocca, "where it came from was kind of surprising, I guess. It was really like, wow, that came from a pit that I don't think I've ever seen, and I was happy that she was able to go there."
And if June Squibb does win the Golden Globe tonight, well, that's just a bonus.
"I'm not a Hollywood name," she said, "And I'm not someone they feel they should give it to or something like that -- you know, all the different reasons why somebody might get the award. And I feel that truly the work is all I have. So that's it, you know, that the work is what is being honored."
Then Rocca delved into delicate territory:"Through all these years, have you had any sort of torrid affairs with leading men?"
"Well, yes, I have!" she laughed. "I'm not gonna tell you names, though, for God's sake!"
"Can you give me initials?"
"No, no, no, no, no, no," Squibb laughed. "I mean, you work with people and you get to know them, and -- oh, we're so racy in the theater anyway, you know that!"
For more info:
More on "Nebraska":
Bruce Dern: The actor's marathon run
Extended interview: Bruce Dern
Alexander Payne's "Nebraska" trailer crops up
Thanks for reading CBS NEWS.
Create your free account or log in
for more features.