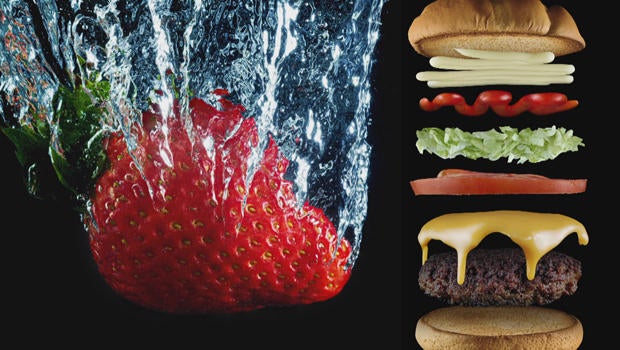 Picture perfect: Nathan Myhrvold's eye-popping pictures of food
Former Microsoft executive Nathan Myhrvold is a man of many talents. He has advanced degrees in economics, geophysics, and space physics, and he was a post-doctoral researcher with Stephen Hawking. And that's not all: "I publish on all aspects of dinosaurs," he told David Pogue. "I have been doing a lot of asteroid work recently. I'm also the CEO at Intellectual Ventures, which is this company that invents new technology that tries to help the developing world."
That zig-zagging career path brought Myhrvold to his latest passion: taking eye-popping portraits of food. The food photography is a spinoff of an earlier project: his 2011 magnum opus, a 50-pound, $625 encyclopedic cookbook called "Modernist Cuisine."
"After I retired from Microsoft, I wanted to do more cooking," he said. "I really naively thought there must be some big book of modern cooking. No! So, I wound up writing it!"
Actually, more than one.
Myhrvold's books became influential among chefs, but a lot of people seemed most interested in the pictures. And when he researched photography books, he noticed something: "There are some topics that are very well-covered. So, nude photography of women is a GIANT category. [Shocker!] Food photography is just not something that has been embraced in the same way."
Sure, plenty of people take pictures of their food, with their phones at lunch. But when Nathan Myhrvold takes pictures of food, he uses robots he's built himself to control timing precisely.
When Myhrvold wanted to photograph two liquids mixing in midair, there was only one solution: Robots, to give Myhrvold the repetition capability and the precision to get the shots he wants.
The photos are in his new book "The Photography of Modernist Cuisine."
Myhrvold also has art galleries just for his food photos, in Las Vegas, New Orleans and Seattle.
His photographs sell for as much as $1,000 each. But, as Myhrvold is the first to admit, it's not about profit; it's about passion.
"I think that food as art is tremendously underserved," he said. "So, I'm gonna make some that I love, and I'm gonna hope somebody else agrees!"

For more info:

Story produced by Sara Kugel.
Thanks for reading CBS NEWS.
Create your free account or log in
for more features.