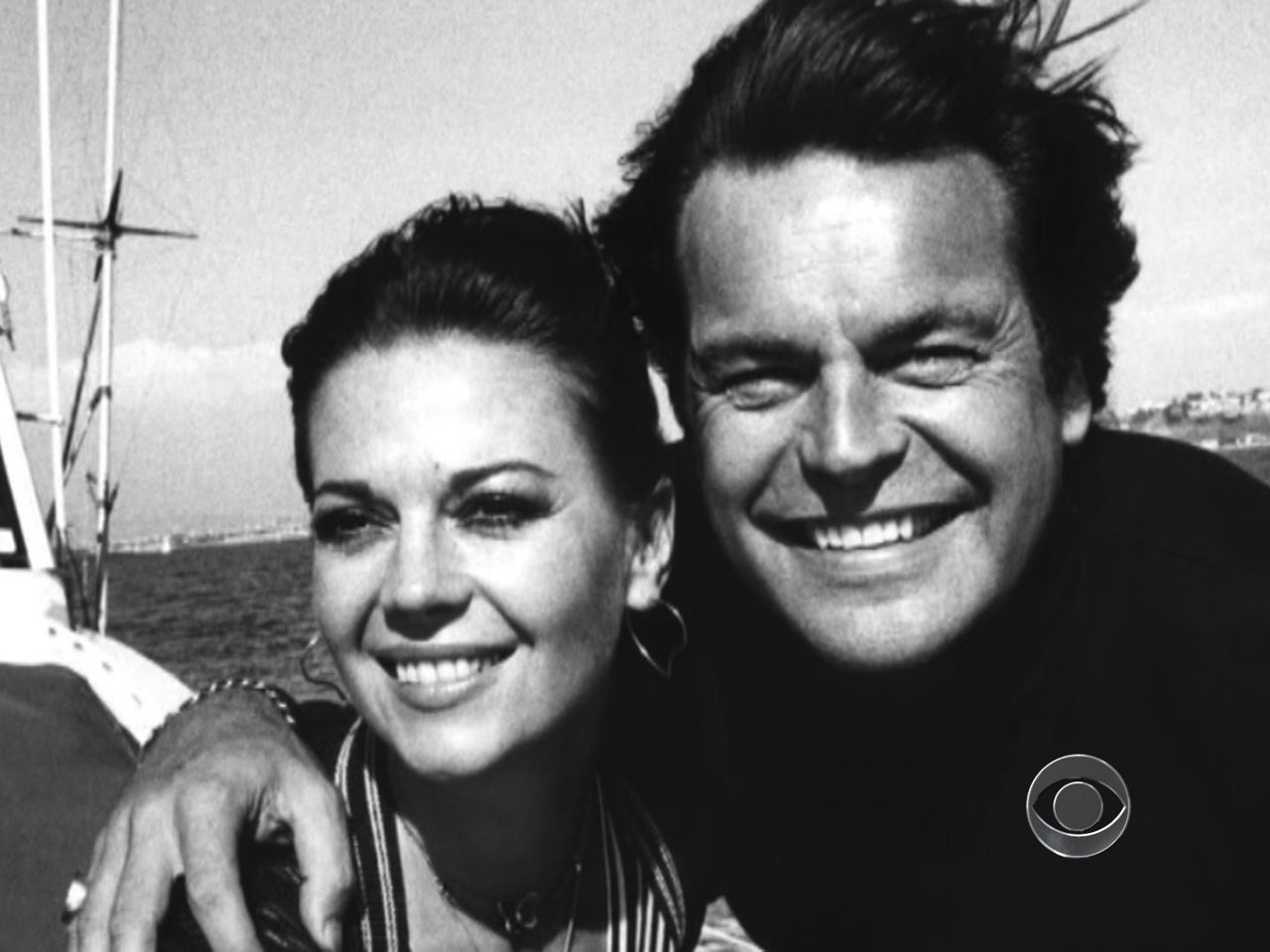 Natalie Wood's fatal voyage
Since 1981, the drowning death of Hollywood star Natalie Wood has been surrounded in mystery. Now, as Los Angeles County Sheriff's Department Homicide Bureau detectives continue to investigate her death, "48 Hours" reveals more evidence that raises additional questions about the official theory of what happened that fateful night.
"This is the Splendour, needs help."
Sam Kashner, Vanity Fair: "With those words, 51-year-old actor Robert Wagner and Dennis Davern, the captain of the Splendour, sounded the alarm."
"It was a difficult assignment...the sea captain of the Splendour wants to tell his story of the night Natalie Wood died...and one completely different than what he told the police."
Dennis Davern, Splendour captain: "I just didn't want my whole life to go by without having the truth come out."
Rumors of foul play have circulated ever since Natalie Wood drowned off the coast of California's Catalina Island. But no one could have predicted this.
Thirty years after Natalie Wood died, amidst a swarm of reporters and cameras, the Los Angeles County Sheriff's Department made a stunning announcement: It was reopening the investigation into the actress's death.
Lt. John Carino, L.A. County Sheriff's Dept. Homicide Bureau [press conference]: "This new information is substantial enough for us to want to take another look at the case."
Then came another major development. In July 2012, the coroner changed Wood's cause of death from an accident to undetermined.
Photo: Natalie Wood's amended death certificate
Special section: "48 Hours" Presents Vanity Fair: Hollywood Scandal
Suzanne Finstad, Natalie Wood biographer: Changing the death certificate to undetermined is huge. ...the only - possible statute of limitation that hasn't expired is murder. So I think you can - draw your own conclusions."
Ten months in, homicide detectives are still in the thick of a major investigation, interviewing witnesses and following leads - determined to find out what truly happened aboard the Splendour that terrible night.
Steve Whitmore, L.A. County Sheriff's Dept. Public Information Officer: "The endgame is to find out what occurred. That is the endgame of any investigation."
1981 press conference: The coroner's autopsy indicated Ms. Wood had died by accident. ...She...attempted to board this rubber dinghy. ...It was here that she fell and drowned.
Dennis Davern: "That story is 100-percent false... Natalie would never, in a million years, take that dinghy out by herself... She was...deathly afraid of the water."
Sam Kashner: "Dennis Davern was a member of their family...He was both a bodyguard and a confidant of Natalie's."
Through the years, Davern has been accused of exploiting that relationship. He tried to sell his story and collaborated on a tell-all book, but he insists he did it for Natalie.
Dennis Davern: "What I really wanted was to give Natalie a voice."
Sam Kashner: "Natalie was one of the biggest film stars imaginable. She was America's sweetheart. America had grown up with her. She was the little doubting girl in 'Miracle on 34th Street' and then she was running with the sort of troubled pack in 'Rebel Without a Cause.' ...She was in 'West Side Story,' 'Splendor in the Grass' and 'Gypsy.'"
"Robert Wagner was a beautiful young cat... kind of old Hollywood and he really found his metier on television in 'Hart to Hart'... The Wagner-Wood love story was one of the great Hollywood love stories."
Mart Crowley: "They really felt they were the loves of each other's lives... They were extremely devoted to each other. It's just tragedy that the...marriage was ended the way it was with her death."
Video: Mart Crowley on Wood/Wagner romance
FRIDAY MORNING, NOV. 27, 1981 | SOUTHERN CALIFORNIA
Dennis Davern: "We departed Marina Del Rey. It was Natalie Wood, Robert Wagner, Christopher Walken and myself onboard."
Sam Kashner: "As soon as Chris Walken walked up the gang plank to the Splendour in his pea coat with the collar turned up, Robert Wagner took an instant dislike to him...Chris was fresh off winning the Academy Award for the 'Deer Hunter.'"
Dennis Davern: "You could see a little bit of jealousy from Robert Wagner...And it just kept getting more tense."
Sam Kashner: "There was just volcanic amount of alcohol consumed... The weekend goes from bad to worse."
SATURDAY, NOV. 28, 1981 | CATALINA ISLAND
Dennis Davern: "Christopher and Natalie went ashore to the restaurant and had a few drinks. RJ and myself we went in later. When RJ...saw Natalie and Christopher sitting at the bar laughing and having a wonderful time, he started to...really really heat up.
"We go back to the boat...Natalie and Christopher continue to giggle just having fun. ...And then Robert Wagner, out of the clear blue, picked up the bottle of wine and smashed it right on the coffee table. ...RJ said to Christopher, 'What are you, what are you trying to do? F my wife?'
"Natalie went down below... Christopher went into his stateroom. Then RJ went into...Natalie and RJ's room and started arguing, yelling...things being thrown about. And then the fighting went back to the back of the boat and ... then it was quiet.
"When I had gone down below...Natalie wasn't there...and he says, 'You must search the boat and see where Natalie is.'
"She wasn't anywhere... the dinghy was gone. I said to Robert Wagner, 'Maybe I should turn on the searchlight.' He said, 'Don't do that.'"
On a nearby yacht, three people claim they heard cries for help sometime after 11:00. One of them was Marilyn Wayne.
Marilyn Wayne: "I heard a woman calling for help...'Help me somebody, please help me. I'm drowning.' We called harbor patrol several times. No one ever answered. ... At 11:25, call for help ceased. That was the beginning of the nightmare."
SUNDAY MORNING
Sam Kashner: "They found her floating in the water...wearing a red down jacket, socks and a flannel nightgown... In a way almost as if she was standing up in the water."
Mart Crowley: "It was a Sunday morning...when I picked up the phone it was RJ and he just screamed into the phone. 'She's gone.'"
Twenty-seven years later, on "CBS Sunday Morning," Robert Wagner described that loss:
Robert Wagner [CBS Sunday Morning 2008]: "We were so in love and we had everything ... and in a second, in a second it was gone... I wasn't there. I wasn't there for her and that's always within me."
After a two week investigation, Natalie Wood's death was ruled an accident. But the new detectives, Kevin Lowe and Ralph Hernandez, are searching for answers to some troubling questions: Like why did it take Robert Wagner so long to radio for help?
Suzanne Finstad: "The first call isn't made until 1:30 in the morning... That's two-and-a-half hours between the time that someone is heard screaming in the water."
Suzanne Finstad, author of "Natasha, the Biography of Natalie Wood," says it took another two hours - after 3 a.m. - for someone to call the Coast Guard.
Suzanne Finstad: "She had a lifelong fear that she would die in dark water...and then to be in this circumstance that is her greatest horror, it's just beyond imagining."
The local Baywatch rescue boat captain on duty, Roger Smith says he wasn't called until after five in the morning - six hours after Natalie went into the water.
Roger Smith: "I think she was at least alive for three of the hours, hanging on that skiff."
Smith brought Natalie's body to shore. He says rigor mortis had not yet set in and believes the decision to wait so long before calling for help cost Natalie Wood her life.
Video: Rescue boat captain says Natalie Wood could have survived
Roger Smith: "With our equipment and everything...and our expertise we would've found her. And she would still be alive today."
"I'm still having a problem with it 30 years later."
The original detective assigned to the case, Duane Rasure, stands by his investigation. He claims Davern and Wagner, interviewed in the freshness of time, told the same story.
Duane Rasure: "At that time, there was no sign of foul play in my mind."
"Natalie went to go to bed...Robert Wagner...he went to check and they found her missing."
Davern now says he lied to Rasure, claiming Robert Wagner concocted a story and ordered him to stick to it.
Dennis Davern: Robert Wagner was very serious about having the stories being the same to eliminate any investigation.
Remember that broken bottle? The one Davern claims Wagner broke in a fit of jealousy?
Duane Rasure: "I saw the shattered glass in disarray and I questioned Robert Wagner about that and says it ...happened sometime during their travels... just due to rough seas."
But Wagner changed that story in his 2008 memoir, admitting to breaking the bottle after all, but said it was during an argument with Walken over Natalie's career. Here he is reading from his audio book:
"At one point, I picked up a wine bottle, slammed it on the table and broke it into pieces. Natalie was below decks at that point."
Duane Rasure: "Now that I've heard that...he's changed his story, I'm a little uncomfortable with it because at the time I believed him. I'm not gonna change my mind about what happened. ...His story still shows that she just accidentally drowned."
Wagner talked with "CBS Sunday Morning" in 2008 about the last time he saw his wife.
Robert Wagner: "I looked below. I saw Natalie was doing something with her hair. She was gonna go to bed. And she shut the door. And Chris and I were still talking.
"And when I went down below, she wasn't there. The dinghy was gone...and I looked around for her, and I couldn't - I didn't know where she was..."
Walken has also said Natalie went to her stateroom while he and Wagner talked. The two men declined to be interviewed by Vanity Fair or "48 Hours," but both have said the most logical explanation is that Natalie got up to secure the dinghy, which they say was banging against the boat.
Wagner on audio book: "She slipped on the swim step on the stern...and was either stunned or knocked unconscious and rolled into the water. The loose dinghy floated away."
Sam Kashner: "There are great holes in that story ... why wasn't someone called earlier? ...Why did someone hear screaming in the water if, in fact, she's unconscious."
Because it didn't happen that way, Davern told "48 Hours".
Dennis Davern: "I believe that Robert Wagner was with her up until the moment she went into the water."
Duane Rasure: "That's like saying...Robert Wagner pushed her overboard. ...That's a murder investigation. But I don't believe him."
That may be, but detectives Lowe and Hernandez want to hear what Dennis Davern has to say. In July they flew him almost 5,000 miles - all the way to Hawaii - to probe his damning allegation on the very boat where it all took place.
Lt. John Corina, L.A. County Sheriff's Dept.: "We'll go where we need to go and talk to who we need to talk to...and look the evidence we need to look at...our investigation will take us where it will take us."
Less than a month after reopening the case, homicide detectives Kevin Lowe and Ralph Hernandez flew to Hawaii, where the Splendour, now owned by Ron Nelson, is docked.
Ron Nelson, Splendour owner: "The police were here about five hours...so they could analyze where people were at certain times and what actually happened."
Due to the ongoing investigation, the detectives aren't talking to the media. But "48 Hours" was in Hawaii shooting as they measured, photographed and tested the various accounts , including Wagner's banging dinghy theory.
Suzanne Finstad: "I think if there weren't serious suspicions...there wouldn't have been a reopening of the case, nor would it have been this substantive and sweeping as it is."
Natalie Wood biographer Suzanne Finstad shared her extensive archive with the detectives.
Photos: Natalie Wood's life and career
Suzanne Finstad: "I have boxes of research materials...that really can't be found anywhere else. I have tapes of all the interviews that I've conducted..."
Some of those tapes could be of vital importance to the investigation if - and that's a big if - the detectives determine there's any truth to them. And, if so, will they hold up in court.
Dennis Davern's former girlfriend: "One of the things he told me was that there was a fight going on like you wouldn't believe."
The woman who was dating Dennis Davern at the time of Wood's drowning spoke to Finstad in 2001 about a cryptic call she says she got from Davern shortly after Natalie Wood died.
Dennis Davern's former girlfriend: "He just said, 'Don't believe anything that you see in print...' 'What you're gonna be seeing about this, you know, it's all - it's all a lie.'"
Davern's former girlfriend declined to speak to "48 Hours" when we tried to verify this story.
This next call is from Natalie Wood's younger sister, Lana:
Lana Wood: "Dennis was obviously drinking."
Suzanne Finstad: "Right."
Lana Wood: "Dennis was not a close friend, and I don't know why he decided to call me."
Lana Wood is describing a stunning phone call she says she got from Dennis Davern in 1992, more than a decade after her sister's death. She tells Finstad that Davern told her he saw what happened to her sister.
Lana Wood: "He said it appeared to him as though RJ shoved her away and she went overboard. Dennis panicked and RJ said, 'Leave her there. Teach her a lesson.' ...Dennis said he was very panicky that he was sitting and RJ kept drinking and kept drinking. And he'd say, 'come on, let's get her.' And he said RJ was in such a foul mood at that point that he then shut up and was waiting for when, when are they gonna go to her rescue until all the sound stopped."
Lana Wood goes on to say that Davern didn't think Wagner meant for Natalie to die.
Lana Wood: "...even if he did not kill her, which is what I understand the guy's saying, it was - you know, that it - it was an accident. You know, he didn't mean for her to drown. But he didn't run to her aid."
Lana Wood has never told this story publically before or since. "48 Hours" tried to verify this account with Wood and Davern, but neither would speak to us. The sheriff's department has no comment on the tapes or details about their investigation.
Steve Whitmore: The Natalie Wood investigation is open, active and ongoing and because of those factors I cannot comment any further.
Sorting out the truth after all these years is no easy task. Detectives made a second trip to the Splendour in July , this time taking Davern.
Only Davern and the investigators know what was said or what it might mean to a case in which the statute of limitations has run out on every charge - except murder.
Lt. John Carino [press conference]: "Is Robert Wagner a suspect? No."
That was almost a year ago, and police still have not named a suspect.
In a written statement when the case was reopened, the Wagner family said they support the investigation and trust the detectives will judge the new information on the credibility of the sources.
Steve Whitmore: "They don't engage in investigations for theatrics. They engage in investigations to solve mysteries."
L.A. County Homicide won't say how long it will take to complete its work, but after years of shifting stories and the dimming of memory, the sea may finally release its secrets about the night Natalie Wood died.
Thanks for reading CBS NEWS.
Create your free account or log in
for more features.