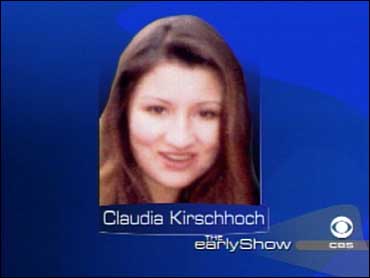 Natalee-Like Case, 5 Years Later
Natalee Holloway's story bears a striking similarity to the disappearance of another woman, 29-year-old travel magazine editor Claudia Kirschhoch, who vanished in May 2000 in Negril, Jamaica.

Claudia has never been found.

Her mother, Mary Ann Kirschhoch,

The Early Show co-anchor Hannah Storm Tuesday she's glad Natalee's mother is keeping up the pressure on authorities in Aruba.

"In some people," Mary Ann says, "it strikes that you try to find answers, and you're just so overwhelmed, but so determined to get answers. And I know that seems to be what's happening with Beth Twitty.

"And she is such a fighter. I can tell, because she's doing what we did. She's directing the investigation, basically. If it wasn't for Beth, I don't think it would be running the same way, absolutely not. I know it didn't happen in Jamaica unless we insisted on things happening and asked questions, and that's what she's doing."

Mary Ann and her husband, Fred Kirschhoch, sent Natalee's family an e-mail.

"We offered any kind of help we could give," Fred told Storm. "Naturally, we could empathize with their situation. And we pressed them to keep on and stay (in Aruba), and try to keep media attention on them. Pressure is required in order to keep (local authorities) in the investigation. We found that as soon as you drop that pressure, they stop."

When Claudia disappeared, Mary Ann and Fred hired a private investigator, and went to Jamaica several times.

Fred says Claudia befriended a bartender while she was in Jamaica, and he and Mary Ann believe the bartender may have had something to do with Claudia's disappearance.

"Initially," Fred recalls, "(the bartender) lied about whether he had been with (Claudia). Then it was proven that he was lying. Then we had a search-and-rescue dog there that indicated that Claudia had been in his car, and possibly in his house. Her scent was found on his boots. He had changed the seat covers in his car.

"He really looked like a suspect to us. But the police seemed to – and I think (Natalee's family) finds the same thing in Aruba, that they take an interview to a point, then they kind of back off. And that's exactly what happened to us. And that's why it didn't get pushed far enough, in our opinion."

The bartender was never charged with anything.

Mary Ann and Fred are suing the Sandals resort where Claudia stayed. They say surveillance videos were taped over, Sandals confiscated the film in Claudia's camera, and waited before reporting Claudia missing.

"They didn't report her missing at all," Mary Ann says. "It wasn't until we called on the day that she was expected back in her office here in the city that, when we called the office there, they said, 'Claudia isn't at her desk. It's not like her. We're worried.' So my heart just dropped. And we started calling. We called Sandals. They had to get back to us. They said they didn't know anything."

The Kirschhochs had Claudia declared legally dead in May 2002, so they could proceed with their suit against Sandals.

"That was overwhelming for us," Mary Ann says. "I mean, it took us months to recover after having done that, because you're going over the whole story."

Thanks for reading CBS NEWS.
Create your free account or log in
for more features.