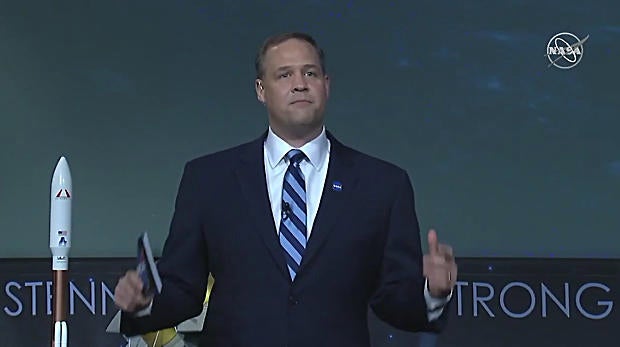 NASA turns to private companies for future moon missions
NASA has selected nine companies that will be allowed to compete for a share of up to $2.6 billion over the next 10 years to build and launch instruments, experiments and small robotic payloads to the moon. The goal is to collect valuable scientific data as well as to encourage private-sector development beyond low-Earth orbit.
"We're doing something that's never been done before," said NASA Administrator Jim Bridenstine. "When we go to the moon, we want to be one customer of many customers in a robust marketplace between the Earth and the moon. And we want multiple providers that are competing on cost and innovation so we as NASA can do more than we've ever been able to do before."
Unlike past programs where NASA managed every aspect of a space mission, the Commercial Lunar Payload Services program will enable the agency to "buy the service, we're not going to purchase, own and operate the hardware, we're going to buy the service," Bridenstine said.
"This is part of the president's Space Policy Directive 1, where he directed me, as the NASA administrator, to go to the moon and to go with commercial partners."
On Dec. 11, 2017, President Trump signed the new policy directive, officially making a return to the moon the near-term goal of America's human space program. The long-range goal remains eventual piloted flights to Mars, but only after first using the space station, the moon and lunar orbit as technology test beds to reduce or retire risks.
The Trump administration also directed NASA to seek and encourage additional private sector participation.
"The directive I'm signing today will refocus America's space program on human exploration and discovery," the president said at the signing ceremony. "It marks an important step in returning American astronauts to the moon for the first time since 1972 for long-term exploration and use.
"This time, we will not only plant our flag and leave our footprint, we will establish a foundation for an eventual mission to Mars and, perhaps, someday to many worlds beyond."
The Commercial Lunar Payload Services contracts announced Thursday have a combined maximum value of $2.6 billion over the next 10 years. NASA will evaluate bids as they come in for technical feasibility and cost. No money was awarded Thursday.
The selected companies are:
Astrobotic Technology, Inc.: Pittsburgh

Deep Space Systems: Littleton, Colorado

Draper: Cambridge, Massachusetts

Firefly Aerospace, Inc.: Cedar Park, Texas

Intuitive Machines, LLC: Houston

Lockheed Martin Space: Littleton, Colorado

Masten Space Systems, Inc.: Mojave, California

Moon Express: Cape Canaveral, Florida

Orbit Beyond: Edison, New Jersey

Bridenstine said the first lunar payloads could be launched as early as next year, but there were few details.
In a release, Draper said it planned to build an uncrewed lander dubbed Artemis-7 that would be able to "complete sample collection and return, demonstrate the use of in-space resources and reduce risk for the production of human landers. These missions pave the way for a human return to the moon, as well as enable human exploration of Mars and beyond."
Lockheed Martin, which built the InSight lander that successfully touched down on Mars Monday, said it plans to build a robotic moon lander based on a similar design that could carry a variety of payloads.
"We are excited to leverage our interplanetary lander designs and experience to help NASA build a new economy on and around the Moon, and beyond," Lisa Callahan, a Lockheed Martin vice president, said in a statement.
NASA said in its own statement that winning proposals "will enable important technology demonstrations that will inform the development of future landers and other exploration systems needed for humans to return to the lunar surface, and help prepare the agency to send astronauts to explore Mars."
The statement added NASA will periodically "re-examine" the commercial marketplace for "new and emerging lunar delivery capabilities, and may offer additional companies an opportunity to join Commercial Lunar Payload Services through a contract process called on-ramping."
NASA currently is building a huge new rocket, the Space Launch System, and the Orion deep space capsule to carry astronauts back to lunar orbit in the early 2020s and eventually to a Lunar Gateway space station that will serve as an outpost for visiting astronauts and a jumping off point for human and robotic flights to and from the lunar surface.
A major part of that renewed focus on the moon is establishing a commercial space infrastructure that could eventually reduce government costs while opening up new opportunities for business in low-Earth orbit and beyond.
NASA already is utilizing the private sector on a commercial basis. SpaceX and Northrup Grumman are building and launching cargo ships to the International Space Station under commercial contracts that allow NASA to essentially purchase a given launch service rather than designing, developing and operating the vehicles in house.
Likewise, Boeing and SpaceX are readying new commercial crew ships to carry astronaut to and from the space station starting next year. In a departure from past practice, the companies own their rockets and spacecraft and can use them for other, non-government missions if a market develops.
NASA managers are hoping the Commercial Lunar Payload Services program will spur development of similar commercial expansion beyond low-Earth orbit, helping NASA establish a permanent presence on or around the moon before eventual flights to Mars.
NASA released a draft request for proposals April 27 that called for U.S. companies to "introduce new technologies to deliver payloads to the Moon," NASA said when announcing the initial request for proposals. "This request for Commercial Lunar Payload Services (CLPS) will further expand efforts to support development and partnership opportunities on the lunar surface."
Using commercial services, NASA will be able to "accelerate a robotic return to the moon, with upcoming missions targeted for two to three years earlier than previously planned."
Thanks for reading CBS NEWS.
Create your free account or log in
for more features.