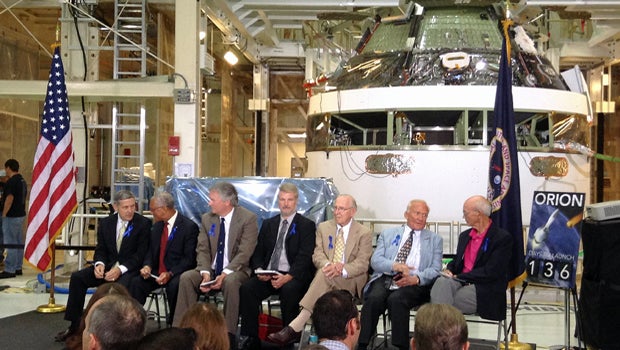 NASA, Apollo 11 crewmates honor Neil Armstrong 45 years after moon landing
Apollo 11 moonwalker Buzz Aldrin, command module pilot Mike Collins and Apollo 13 commander Jim Lovell joined NASA dignitaries and Neil Armstrong's family Monday to rename the historic Operations and Checkout Building at the Kennedy Space Center in honor of the first man to walk on the moon.
Seated on a podium before an unfinished Orion capsule scheduled for its maiden test flight later this year, Aldrin and Collins shared memories of Armstrong and enjoyed a live feed from the International Space Station where Expedition 40 commander Steve Swanson and flight engineer Reid Wiseman added their own congratulations.
"These are heroes that I've had my entire life, known these names every day I've lived," said Wiseman, an F-14 carrier pilot who was born in 1975, six yeas after the Apollo 11 landing on the moon. "I just want to say an enormous thank you. Thank you for putting our country on this path that we remain on today. Without you gentlemen, I wouldn't be up here today. So my dreams came true, thanks to them."
Armstrong, Aldrin and Collins took off for the moon aboard a Saturn 5 rocket on July 16, 1969. While Collins remained behind in lunar orbit, Armstrong and Aldrin landed on the moon 45 years ago Sunday -- July 20, 1969 -- and became the first humans to walk on another world. Armstrong famously described his first "small step" on the cratered surface as "one giant leap for mankind."
Armstrong died Aug. 25, 2012, at the age of 82. Earlier this year, NASA renamed its flight research center at Edwards Air Force Base, Calif., in honor of the first moonwalker and on Monday, the agency officially renamed the Kennedy Space Center's iconic spacecraft processing facility the Neil Armstrong Operations and Checkout Building.
Built in 1963 for the Apollo moon program, the "O&C" building was used to process two-seat Gemini capsules and later the command modules and lunar landers that went to the moon.
The building also houses NASA's "crew quarters," a suite of motel-like rooms where astronauts stayed during training in Florida and where they spent their final nights before flight, suiting up and then departing for the launch pad in heavily attended "walkout" photo ops.
After the Apollo program wound down, NASA used the building for the Skylab space station program, the Apollo-Soyuz Test Project, the space shuttle program and component testing for the International Space Station.
The building currently is being used to assemble the first Orion capsule, a Lockheed Martin-built spacecraft that NASA hopes will carry astronauts on eventual flights beyond the moon and, eventually, to Mars. The vehicle currently being outfitted is scheduled for an uncrewed test flight in December.
"It's altogether fitting that today we rename this facility the Neil Armstrong Operations and Checkout Building," said NASA Administrator Charlie Bolden. "Throughout his life he served his country as an astronaut, an aerospace engineer, a naval aviator, a test pilot and a university professor, and he constantly challenged all of us to expand the boundaries of the possible.
"He along with his crewmates, Buzz Aldrin and Michael Collins, are a bridge from NASA's historic journey to the moon 45 years ago to our path to Mars today."
Mark and Rick Armstrong, the astronaut's two sons, shared stories about their father with Mark thanking a throng of space center workers "for this tremendous honor."
"This Orion vehicle behind us is truly impressive, and it is our hope that the new name that graces this facility will inspire those that work here for many, many years to come."
Aldrin, the second man on the moon, praised his commander, saying Armstrong was "one of the best, certainly the best test pilot, I feel, that was selected for the NASA program."
Collins agreed, pointing out that Armstrong was unique even among super achieving astronauts. Like many pilots, Collins said, Armstrong built model airplanes. "But he also built a wind tunnel. How many kids do that?"
"That powerful, powerful combination of curiosity and intelligence propelled him to the top of his profession," Collins said. Then, speaking to the men and women who work in the building today, Collins said Armstrong would "enjoy prowling around this building, every nook and cranny."
"More than anyone else I have known, I felt he had an intuitive grasp of flight machinery and its complexity and of the intricate knowledge required by you in the jobs that you perform here daily," Collins said.
Armstrong "would not have sought this honor, that was not his style," Collins added. "But I think he would be proud to have his name so closely associated with this, the heart and the soul of the space business."
Thanks for reading CBS NEWS.
Create your free account or log in
for more features.