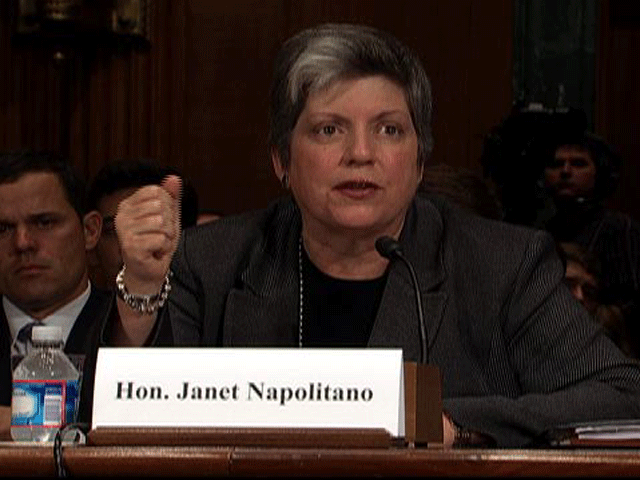 Napolitano on ATF Fast and Furious: "We're waiting for the Inspector General"
WASHINGTON - Homeland Security Chief Janet Napolitano said today she had no conversations with her one-time chief of staff former Arizona US Attorney Dennis Burke, about the Fast and Furious scandal that led to Burke's resignation. Burke was Napolitano's Chief of Staff when she governor of Arizona. He's the only government official to step down in the wake of the controversial operation that allowed thousands of weapons to be sold to traffickers supplying Mexican drug cartels.
At a Senate Judiciary Committee Oversight hearing today, Sen. Charles Grassley (R-Iowa) questioned Napolitano about what communications she had after two Fast and Furious guns were found at the murder scene of Border Patrol Agent Brian Terry last December. Napolitano answered that she met with Assistant US Attorneys in the case because "I wanted to be sure those responsible for his death were brought to justice and every resource brought to bear." Napolitano says she did have conversations in December 2010 about the murder of Agent Terry "but at that point in time nobody knew about Fast and Furious."
More coverage:
DOJ: No 3rd gun in "Fast and Furious" murder
Issa to press FBI for "gunwalking" info
Holder subpoenaed for documents in "Gunwalker"
AG Holder responds to critics on Gunwalker
An internal ATF email dated the day after Terry's death reveals the quick decision to not disclose the source of the weapons found at the murder when the primary suspect was charged: "... this way we do not divulge our current case (Fast and Furious) or the Border Patrol shooting case," wrote an ATF official.
As CBS News previously reported, an Immigration and Customs Enforcement (ICE) agent under Napolitano's Homeland Security agency was assigned to a team of federal agents responsible for the Fast and Furious case.
Napolitano told Sen. Grassley she has asked ICE to look into the matter, but that she has taken no further action pending the results of a Justice Department Inspector General investigation.
"We are waiting for the Inspector General," Napolitano said.
Thanks for reading CBS NEWS.
Create your free account or log in
for more features.