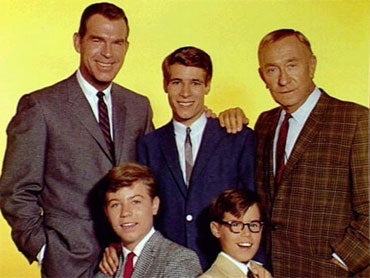 "My Three Sons" Cast Reunites, Reminisces
In 1967, as America was in the midst of a cultural revolution, one long running television hit was redefining what the American family could be. In "The Early Show"'s "Time Machine" series, we took a look back at the television series "My Three Sons."

Blast to the Past, 1967, with "The Early Show"
Photos: Remember 1967
Remembering Love and War: 1967
Relics of 1967
"Hair" Revives 1967 Energy

Movie star Fred MacMurray was the star of the sitcom, stunning the film industry when he made the jump from the big screen to the small one.

MacMurray played Steven Douglas, a widower raising his three boys with the help of Grandpa Bub and Uncle Charley. As one of the first single fathers on TV, MacMurray helped change the face of the American family.

In the mid-1960s "My Three Sons" moved from ABC to CBS, embracing the technology of the day, going from black-and-white to color.

After a 13-year run, to this day, "My Three Sons" is the second longest-running live-action family sitcom in history.

The stars of the history-making show reunited Friday on "The Early Show", including brothers Stan Livingston (Chip Douglas) and Barry Livingston (Ernie Douglas), Tina Cole (Katie Miller Douglas), and Don Grady (Robbie Douglas).

Stan said work on the trailblazing show felt like living in another world.

"It was sort of segregated from what was happening in the real world," he said. "I think it was simpler."

Barry Livingston added, "The real world was quite tumultuous and revolution was in the air, and we were still eating Uncle Charley's cookies and having milk."

But what was it like on the set of "My Three Sons"?

Stan said it was a huge deal for MacMurray to make the switch to television.

He said, "When the younger generation looks at the show, they don't realize it would be like if Mel Gibson or Michael Douglas decided to do a TV show."

But who was crankier on set -- William Demarest, who played Uncle Charley, or William Frawley, who played Grandpa Bub?

Don Grady said it was Demarest.

"Frawley was a kick," he said. "Frawley was just so much fun."

Stan said there wasn't the scandal, as seen on other shows.

He said, "There was not a lot of drama, and Fred MacMurray set the tone for that. He was a pretty conservative, straight-arrow guy."

Remembering 1990
Reflections on 1979
Blasting Back in Time to 1983
Recalling 1954

Grady said that conservatism extended to other scenes on the show, including the single beds for the married couple, Katie and Robbie.

"This was in '67,'68, something like that," he said. "Twin beds?"

"You know the roof was coming off the '60s at the time. John and Yoko were having sleep-ins, and so we should have a big bed with Robbie and Chip and Ernie and -- everybody," Grady joked.

Tina Cole, who played Katie, said after cast members weighed in on the bed, the show opted for a king-sized bed instead.

"It was a huge bed," Cole said.

However, Barry Livingston said, the couple couldn't be like a normal American real-life couple actually getting into bed.

Cole said the married characters couldn't even face each other by scene's end.

"We could talk, but we had to end by turning away," she said.

But, in one episode, Cole said, Frederick De Cordova, the show's director, found a way to end the scene with Katie and Robbie in a real embrace.

Stan joked, "That's how (the couple's) triplets came about."
Thanks for reading CBS NEWS.
Create your free account or log in
for more features.