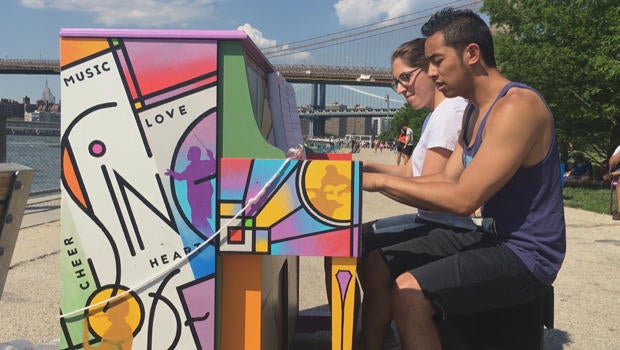 Music of the streets: New York City's public pianos
Thanks to the group Sing For Hope, it's Play Time all over town these days. Just ask Michelle Miller:
Spring is in full bloom, and in New York there's something else in the air: In parks and gardens, on boardwalks and street-corners, pianos are popping up like wildflowers.
"It's this thing that sort of unexpectedly stops us in our tracks," said Camille Zamore. "It takes a lot to get New Yorkers to stop in their tracks, but this piano does that!"
They're the work of a group called Sing For Hope, which has placed hundreds of pianos all over the city.
Zamora and Monica Yunus, the organization's founders, say it's about more than music. "What we are trying to do at Sing For Hope is give people opportunities to connect with people," said Yunus.
Public art is nothing new. Remember those cows in Chicago? Or the murals dotting walls all over Philadelphia?
New York's pianos are for the eyes, ears, even the soul.
"Without that baseline of hope and innovation and wellness that the arts allows for, you can't heal, you can't learn," said Zamora. "You can't do a lot of the basic building blocks that make for a well world."
Healing with sound – one note at a time.
The pianos are mainly used uprights purchased at a deep discount. Each piano is decorated – some by the likes of designers Diane Von Furstenberg and Isaac Mizrahi.
Still, these pianos are for PLAYING! Except, that is, when it rains.
Yunus said, "We have an army of Piano Buddies. And they get notifications on their phones to go and cover those pianos with a little rain jacket that's attached to the back."
The idea is an import from England, and these days it's gone global, from France and Ireland to Australia.
And it's an idea with star power. "Late Show" bandleader Jon Batiste told Miller he went to the people behind Sing For Hope: "I said, 'Look, I know what y'all are doing. I believe in this. This is what the world needs. This is very important to the culture.'"
He's more than a true believer; he's a member of the board.
"The context of where you experience music changes," Batiste said, "and then that brings a new experience into your life, a rich experience."
Most of the pianos will ultimately wind up in New York City schools, where they could have the greatest impact of all. Zamora refers to the donations as an "arts intervention."
"It's about social justice," she said. "We're in a city that is the arts mecca of our country in so many ways, and yet, a third of the kids here don't have regular access to arts education."
After seeing the piano donated to P.S. 8 in Manhattan, one student told Miller, "It makes us feel like some people actually care. They took some time from their life to make this piano for us."
Since getting their piano, teacher Erin Young says it's making beautiful music – and a big difference: "It's made a huge impact on kids that have struggled here," she said. "The more people they know care about them, the more likely they are to be successful in life."
A true lesson… in harmony.
For more info:
Story produced by Robbyn McFadden.
Thanks for reading CBS NEWS.
Create your free account or log in
for more features.